Spider-Man: Far From Home Stars Botched 40 Takes Laughing Through One Simple Scene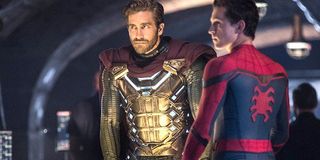 If you've seen Spider-Man: Far From Home, you've probably picked up on how much fun everyone had making it. Tom Holland, Zendaya, Jake Gyllenhaal, Jacob Batalon...they all eat up their lines and spit them out with gleams in their eyes and the appropriate emotions on their faces. But when it came to Tom Holland and Jake Gyllenhaal trying to do a scene together, efficiency and expediency were out of the question. According to Gyllenhaal, he and Holland could not, for the life of them, keep it together while filming a small moment. I smell a bromance?
Jake Gyllenhaal plays Quentin Beck, a talented illusionist who, like so many other MCU villains, had been slighted by Tony Stark. You can imagine, then, that meeting Stark's former charge would be a big moment for Beck and the film as a whole. Gyllenhaal (who apparently doubles as a puppy playground) recently revealed to Buzzfeed that filming with Tom Holland was next to impossible. Why? Check out what he had to say:
40 takes for an introduction? That's absolutely hilarious, and he's totally correct, too. The finished cut doesn't linger on pleasantries. Maybe because its good-natured stars and their funny bones wouldn't allow it? Either way, the version we saw in theaters is probably the best version of what they filmed. Especially considering the fact that neither Holland nor Gyllenhaal was interested in taking the scene seriously. Sounds like they understood the film's tone better than anyone.
It's unclear whether Beck will return or whether we'll get another villain for the inevitable sequel. The villainous illusionist apparently died after one of his drones shot him, but given his knack for tricks, it wouldn't surprise me if that was an illusion, too. Our hope is that Beck will return (maybe as a member of the Sinister Six?) to wreak more havoc and share more of that irresistible onscreen chemistry with Tom Holland. I love watching them banter, and a billion dollars and some change says audiences enjoy it, too.
Spider-Man: Far From Home is now playing in theaters. Have you seen it? It's pretty great. Plus, it's got one of the most surprising mid-credits scenes in the MCU. Keep up with everything heading to the big screen this year with our 2019 movie release schedule.
Your Daily Blend of Entertainment News