9 Great Movies Coming To Netflix In October 2019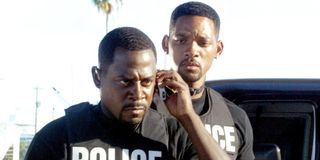 October is a big month for spookiness, as the Halloween season is headed our way. But that doesn't mean the normal programming season is put on hold, which is probably why Netflix has unveiled not only its full schedule for next month, but also a separate listing for the spookier options that are headed to their platform.
In the middle of the spooky season cranking up, it's still nice to have some titles that can give the audience a break from being frightened and disturbed. Though some of the movies we've chosen for this month's highlight reel still fit into those categories. I mean, it IS October! With that in mind, take a look at what we've selected as the best and brightest of October 2019's Netflix lineup.
Men In Black
While you'll be able to see the first two Men In Black movies on Netflix this month, it's unquestionably sound that we recommend that first movie director Barry Sonnenfeld used to introduce this particular world of extraterrestrial law enforcement. Will Smith and Tommy Lee Jones' chemistry made box office gold back in 1997, and even with the two immediate sequels being enjoyable in their own right, this one has to be the best of the lot. If you're gearing up for Smith's Gemini Man, or want to see some more Jones action after partaking in Ad Astra, have at it.
Sin City
Director Robert Rodriguez's Sin City is one of those movies that is a gem, both on a technical and storytelling level. Based off of co-director/writer Frank Miller's comic of the same name, the film was an early experiment in the age of totally digital sets. In lesser hands, the toys would have been the focus, but Rodriguez used this then-revolutionary technology to tell three interconnected crime stories in a heightened, more visually stunning reality. We're lucky to have a movie like Sin City in existence, and that luck has now offered you the opportunity to see it again, or for the first time, on Netflix in the coming month.
Good Burger
The nostalgia wave has caught the '90s by the snap bracelet, and we're finding all sorts of ways to relive those prime Nickelodeon days. Just as the All That revival has brought back the Good Burger sketch for a new generation, the cult classic film adaptation of that sketch is headed to Netflix once more. As talks of a Good Burger sequel have been served hot and delicious to the internet in the past couple of years, this is a good reminder of how those rumors became so precious in the first place. Let's just hope that sequel is as crazy as the follow-up book that dropped not too long after Good Burger hit theaters, Good Burger 2 Go.
Trainspotting
Director Danny Boyle had a hell of a 2019 with his hit film, Yesterday, making waves with critics and fans. Strangely enough, after reading that his classic Trainspotting was coming back to the Netflix streaming lineup, it started us to thinking: what would the world be like without the existence of that very film? It's a horrifying thought for sure, as the fresh cast of talent, comprised of the likes of Ewan McGregor, Jonny Lee Miller, Robert Carlyle, and Kelly McDonald may not have hit it big in their individual careers. Also, a world that doesn't have experience with a creepy hallucination involving a ceiling crawling baby is one we're not sure we want to live in.
Bad Boys
If you're really serious about that Gemini Man marathon we mentioned back when we were discussing Men in Black, we've got some more good news for you. Both Bad Boys films are available on the Netflix library next month, which means you'll have time to catch up and/or refresh yourself on Will Smith's younger/cockier self. It's also a good time to see Smith and Martin Lawrence's past exploits return to the front, as Bad Boys For Life is just a couple months away. What better way to celebrate than spending some time with Detectives Burnett and Lowery, and their adventures in their prime?
Ocean's Thirteen
As streaming libraries start to pop up, all in the name of keeping titles from specific studios in the family, there will come a day when a movie like Ocean's Thirteen, and its sequels/predecessors, will move to a new home. Thankfully, HBO Max (the presumptive home for the Warner Bros created Ocean's series) isn't up and running just yet, and Ocean's Thirteen is going to bring Danny (George Clooney) and his merry band of thieves' final ride back to your attention. Unfortunately, you won't be able to make it a triple feature in October, but you will be able to pair this film with Ocean's Twelve. Just in case you wanted more heist action.
The Island
The world has to wonder how much different director Michael Bay's career would have been had he actually scored a hit with the 2005 sci-fi/action thriller The Island. While it did feel a bit like a Logan's Run sort of dystopia, with Ewan McGregor and Scarlett Johansson running around to try and stop an insidious plot lurking behind their idyllic surroundings, it was most definitely a Bay movie that worked in every sense. In the grand scheme of things, the movie failed and Michael Bay moved on to take over the Transformers franchise. However, if more people had seen The Island, maybe that could have been prevented. We'll never know now; but it's not too late to enjoy the film for yourself.
Free Fire
Free Fire answers the age old question, "What happens when you give idiots a huge supply of guns, money, and egos, and let them run loose in a warehouse in the middle of the night?" Director Ben Wheatley provides the solution to that particularly comedic equation, and he's got the likes of Armie Hammer, Shartlo Copley, Jack Reynor, and Brie Larson to help him figure it out. While not as rapid fire as the trailers originally made it out to be, the film is actually a fun caper that makes for some easy entertainment, thanks to all of the evolving personalities that occupy its short and tight narrative.
Raging Bull
Looking at Netflix's incoming lineups of streaming entertainment, you can kind of see patterns emerge. Over the past couple of months, we've seen the big red envelope factory also bringing director Martin Scorsese's films into the fold, in preparation for November's debut of his latest film (and Netflix Original) The Irishman. Perhaps the greatest title they could use to set up the movie where Robert DeNiro is de-aged by a good 20 years or so is the classic he and Scorsese unleashed upon the world in 1980, Raging Bull. An Oscar titan that told the real life story of boxer Jake LaMotta, with DeNiro playing the title role and Joe Pesci co-starring, it's exactly the type of film the studio wants The Irishman to be. If this turns out to be the case, we're in for a hell of a show, and you can see why if you watch Raging Bull.
As usual, all of the titles above are subject to change. So you'll want to double check throughout the month of October to see when and if these selections come online. We'll see you this time next month, when November promises to give Netflix subscribers the perfect line-up to prepare them for the tentpole season ahead.
Your Daily Blend of Entertainment News
Senior Movies Contributor
CinemaBlend's James Bond (expert). Also versed in Large Scale Aggressors, time travel, and Guillermo del Toro. He fights for The User.
Your Daily Blend of Entertainment News
Thank you for signing up to CinemaBlend. You will receive a verification email shortly.
There was a problem. Please refresh the page and try again.