Taylor Kitsch Credits Netflix For The 'Mini-Resurgence' Of Disney's John Carter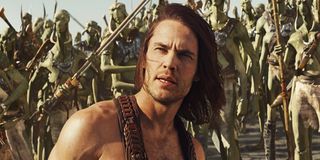 Few films from this decade have become as synonymous with failure as Disney's John Carter. The 2012 sci-fi epic was a costly endeavor, and ended up being one of the studio's biggest bombs. And the ensuing headlines called Taylor Kitsch's rising star into question. But now that the dust has settled, the actor has realized that thanks to Netflix, John Carter is finding a new audience that's willing to give it a chance.
Taylor Kitsch has tried a bit of everything as an actor -- from critically-acclaimed TV dramas to movies that have been almost universally panned. He sat down with The Hollywood Reporter for an introspective conversation about his career highs and lows. When asked about John Carter, he told the magazine he made it clear that he doesn't regret making the film. And he shared that he thinks the movie is resonating with people, despite the initial backlash:
Taylor Kitsch's perspective on John Carter, and his other career mishaps, is refreshing. And he spoke to a hard fact that is easy to forget -- that sometimes, we focus more on the narrative about a movie than we do on the movie itself. He went on to tell THR that he has nothing but love for his experience with John Carter:
After he became a breakout star on Friday Night Lights, it seemed like Hollywood was positioning Taylor Kitsch as the next A-list action hero. But after the one-two punch of Battleship and John Carter, he shifted gears and began to focus on character-driven projects, like Lone Survivor, Waco, and his latest film, 21 Bridges. And despite the renewed interest in his sci-fi warrior past, he seems to be focused on the future. He's ruled out an FNL reunion, so it's safe to guess he probably wouldn't want a part in any John Carter reboot, either.
Keep up with everything still headed to the big screen this year with our 2019 movie release date schedule.
Your Daily Blend of Entertainment News