The 21 Most Hilarious Bill Murray Encounters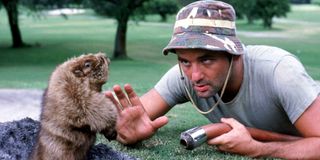 Bill Murray is, obviously, a legend of screens big and small. From his star making turn on Saturday Night Live to a host of films across almost four decades the man has made himself known as a force to be reckoned with in comedy and drama. Many of his films are classics that people just can't get enough of. Meatballs, Caddyshack, Ghostbusters, Groundhog Day, What About Bob?, Rushmore, Lost in Translation...the list goes on and on.
Of course, in recent years Bill Murray has become almost as well known for something else that was totally unexpected: making random appearances in people's lives when they're least expecting it. While Murray still acts (he's popped up on Parks and Recreation, Vice Principals and in the Ghostbusters reboot in the past few years), he seems to be devoting an unusual amount of time to making the lives of regular old people a bit brighter. From crashing engagement photo sessions to offering words of wisdom to a random groom-to-be, Murray seems to be a fan of using his fame to give folks something cool and hilarious to talk about.
Here, we've complied the 21 most hilarious Bill Murray encounters that people have detailed for all the internet to behold.
Bill Murray is at your ice cream social
In 2014, the owner of the Los Angeles, CA ice cream shop CVT Softserve thought he might have a shot at meeting the actor when he held an ice cream social at his place that he actually titled "Bill Murray Ice Cream Social" in the hopes that the one and only Bill Murray would hear about it and show up. Well, it worked. The owner, Joe, heard that Murray was filming nearby and figured it was worth a shot to invite the whole cast and crew to his social, and ended up getting a couple of pretty cool pictures for his Instagram feed.
"
Bill Murray is washing your dirty dishes
In one of the earliest tales of Bill Murray dallying with the regular folk, a 2006 story from Lykke Stavnef, a Norwegian student who was studying in Scotland, details the time she got the actor to go to a house party with her. Apparently, Murray was in St. Andrews, Scotland to participate in a celebrity golf tournament, and decided to take off on his own after hours to see the city. He ran into Stavnef and her friend, Marie Bergene, at a local bar and when she invited him to attend a party with them, he accepted.
Once they got there, Stavnef laments that there may not be enough clean dishes for everyone at the party, and, you guessed it, Murray decides to just wash the dishes. And then, shortly after finishing what's described as "piled high" dishes, he leaves.
Bill Murray is driving your taxi
During the Toronto Film Festival in 2014, we got a rare occurrence of Murray talking about one of his random interactions. During a Q&A for the festival's Bill Murray Day, the actor took to the stage and when talking about his notable off-screen behavior discussed something that happened the night before when he got into a cab in Oakland, CA. While talking to the driver, he mentioned that he played the saxophone but never really got a good chance to practice since he drove 14 hours a day. So, as one does, Murray told his driver that he'd drive so the man could work on his sax mojo.
As Murray drove, his taxi driver played. They stopped for BBQ on the way to Sausalito and the man ended up playing, according to Murray "in what some would call a sketchy, weird place in Oakland at 2:15 in the morning," which he also said "made for a beautiful night!"
Bill Murray is getting turnt up at your birthday party
Apparently, Bill Murray is not one to turn down an invitation, because when he was offered a chance to celebrate his birthday with Marvin Larry Reynolds in September of 2014, he accepted. Reynolds and his wife, Julie, invited the funny man to share Reynolds' birthday party, since they have birthdays that are just days apart from each other. This is one instance where his appearance wasn't completely by chance, as Murray is a long time friend of Charleston chef Brett McKee, who catered the party and posted video to his Facebook page of Murray enjoying the festivities in rural Jedburg, SC by dancing to the DJ Snake and Lil Jon hit "Turn Down for What."
Bill Murray is in your engagement photos
Since Murray has a home in the Charleston area, it's not crazy to think that one might run into him near the city, but it was still a surprise to wedding photographer Raheel Gauba as he was trying to finish a shoot with clients who wanted engagement photos taken, and he realized someone was goofing off with his subjects and distracting them from behind the camera, and that mysterious someone, of course, turned out to be Bill Murray. Gauba said of the 2014 incident "I thought who the heck is bothering them. I turn around and it's Bill Murray with his shirt up, belly out, tapping his belly and trying to make them laugh." Gauba asked if he'd like to pose with the couple, to which Murray replied, "Sure I would," and with the photo taken Murray then disappeared into the ether (well, not really, but he did immediately leave).
Bill Murray is tending your bar
While in Austin, TX for the 2010 South by Southwest festival, Murray dusted off his bartending skills, delayed his time hanging out with members of the Wu-Tang Clan and took over at the crowded Shangri-La to serve drinks to patrons at the well-known establishment. The only problem? No matter what anyone ordered, Murray handed them a shot of tequila. Well, honestly, what do you expect from a bartender working for free on a packed night?
Bill Murray is solving all your problems
Well, it looks like Murray was super busy during South by Southwest in 2010, because he also came to the rescue for band The Like as they played their annual post-festival BBQ concert. The issues started as lead singer and guitarist Z was rocking out and the straps to her dress kept falling down. They finish the song, and Murray appears, seemingly out of nowhere, with string and helps fix Z's shoulder straps. Then, as the band prepares to continue playing, he grabs the tambourine that was previously unattended and sits to join the band. Word comes down that the cops have shown up, and Murray instructs The Like to "just start playin' before they turn it off." Who wouldn't listen to Bill Murray in a situation like this? With Z's dress fixed and a bitchin' new band member, the band plays and the night is saved.
Bill Murray is walking down your hallway
If it's not obvious by now, Bill Murray is so far beyond just signing simple autographs for fans whenever they run into him. So, when David Walton Smith and his friends came upon the actor and asked him to help them recreate a bad ass, slow motion walk in a building hallway, he gladly accepted the challenge. Walton then used the footage to create a fake movie trailer and posted it to his Vimeo page, where he noted that granting this wish was "better than an autograph" and thanked Bill Murray. It's probably a good thing that Walton didn't tell the world where this mysterious hallway was, because I'm sure it would have been inundated with visitors looking for their own slow-mo shot with Murray for months after this video was posted in 2011.
Bill Murray is eating your fries
In March of 2010, reddit user Lurker32 took to the site to post a truly hilarious and odd encounter with Murray. Lurker was vacationing with friends in New York, and while they were sleeping in after a late night, Lurker headed to a nearby McDonald's to grab some French fries and a shake. After getting the food, Lurker was headed back to the hotel and stopped at the crosswalk when a hand came from behind and grabbed two of the fries. As you might expect, it was Bill Murray. Before Lurker could object, Murray yelled out "no one will ever believe you," crossed the street and disappeared, as is generally his wont.
Bill Murray is singing your karaoke songs
If you're ever at a karaoke bar and you see Murray, don't be afraid to invite the man to party with you. One man, known only as Mike, and his friends were having drinks at Karaoke One 7 in New York City when, not long after they arrived, a couple of women came in with (you guessed it) the man himself, Bill Murray. Mike eventually got up enough courage to find them and invite them to hang out in their private karaoke room, thinking that it would never happen, but, as we all know by now, if you're nice to Bill Murray he will probably see fit to grace you with his presence. And, after about 15 minutes he did, indeed, show up at their room. Murray bought the group fancy French liqueur made by monks, sang a duet with Mike and spent the entire night (roughly four hours) with the friends. See? It always pays to ask nicely, people.
Bill Murray is in your White House Briefing Room
Here's a Bill Murray sighting that the reporters who cover the White House Briefing Room were certainly not expecting. In late October 2016, just a few minutes after then White House Press Secretary Josh Earnest had finished his official briefing for the press, Murray showed up, took his spot behind the podium and began to discuss how he believed the Chicago Cubs would make it to the World Series that year (which, of course, they did). The long time Cubs fan, wearing a jacket and hat representing the team, was at the White House to receive Mark Twain prize for American humor from President Obama, and when the meeting was done, Murray clearly saw an opportunity to discuss the Cubs that he just couldn't turn down.
Bill Murray is playing in your kickball game
If you're ever playing kickball on a random Sunday in New York, know that it's entirely possible for your game to pick up an additional player in the form of Bill Murray. In 2012, a group of adults were playing the childhood playground favorite on a field on New York City's Roosevelt Island when, around 2 p.m., the actor appeared to have "popped out of nowhere" and started to get his kickball on, according to player Chris DiLella. After bouncing the ball, running to second base and playing the game for a bit, DiLella said that Murray gave everyone high-fives and let them all pose for a group photo with him. Once the picture was taken he ran over to the woman behind the camera, who happened to be a team member's mother, and "picked her up in his arms." He then posed for another photo, and left soon after with three kids, who were likely his young sons.
Bill Murray is belly flopping on your tarp
As noted earlier, Murray is a big baseball fan, so it shouldn't come as a major surprise that he co-owns a few minor league baseball teams. For one of those teams, the Charleston RiverDogs, he has the title Director of Fun and, apparently, he takes it pretty seriously. During a rain delay for one of the team's games at Riley Park in June of 2012, Murray took it upon himself to entertain the waiting crowd by running out on the tarp and, eventually, belly flopping and rolling around on the wet covering. So, if you're in the Charleston area during baseball season, it just might pay to take in a RiverDogs game.
Bill Murray is eating your airport food
The scene: Martha's Vineyard Airport in West Tisbury, Massachusetts. The incident: Well, we learned a few entries ago that Bill Murray loves a good French fry (as many of us do), and here's another instance of the funny man brazenly thieving a bit of salty, fried potato from an unsuspecting stranger. During a trip to the airport in late August 2016, Murray was caught on camera this time as he pilfered the treat from a man eating in the food court. For the love of all that is holy, people. Hide your fries lest Bill Murray gobble them up in front of you!
Bill Murray is destroying your property
While Murray generally seems pretty good-natured when it comes to fan interaction, that doesn't mean he's always totally unflappable. Reportedly, while attending Justin Timberlake's 901 Tequila party at the Carmel, California restaurant Vesuvio in February 2016, he got very annoyed as fans tried to take selfies with him. So annoyed, in fact, that he is said to have chucked the cell phones of three of those fans off of the terrace of the rooftop bar for infringing too much on his personal space. The police were called, but by the time they arrived on scene he'd already dissolved into the night. According to police commander Paul Tomasi, however, they were able to contact Murray and he agreed to pay for the damaged phones. Lesson learned: ask nicely and let Bill Murray come to you.
Bill Murray is giving good advice at your bachelor party
Over Memorial Day weekend in 2014, a group of bachelor party celebrants got quite the surprise when Murray showed up to give the guys some advice. The group was at a steakhouse in Charleston when one of them went downstairs to go to the bathroom and saw him sitting with a group. While he originally declined the drinks they tried to send over and gave a "no thanks" when asked if he'd say a few words to the party, Murray quickly changed his mind, as about two minutes later he appeared in front of the guys and delivered the inspiring words you see above.
Bill Murray is conducting your college marching band
When Cornell's football team played Harvard in March of 2011, the band from each school (and the football fans) got quite the surprise when Murray turned into an amateur conductor. First, the third quarter saw Harvard's band play the Ghostbusters theme song, which prompted him to approach them and request that they "play that song again," according to the university's band manager. After seemingly watching the end of the game from his seat, Murray showed up again, this time to help conduct Cornell's Big Red Marching Band as they played The Who's "Pinball Wizard."
Bill Murray is letting you sit next to him at the Cubs game
2016 was a big year for Cubs fans, as their team finally made it to the World Series. When fan Karen Michel stopped by the Progressive Field box office before Game 6 to see if she might be able to wrangle herself one ticket, she was almost out of luck, that is, until she spotted Bill Murray passing by and decided to see where he was going. This act of slight stalker-dom actually paid off, though, as Murray soon turned around offered her a ticket and "shuttled" her through a door. It turns out the ticket he handed to Michel was one that let her sit right next to him in the box section a few rows behind home plate.
Bill Murray is at your charity event performing classic R&B
We've already established that Bill Murray loves golf and performing with live bands, so it should be no surprise that he turned up to the Caddyshack Celebrity Golf Charity Event in St. Augustine, FL in March of 2014. And, since he also loves showing up for things he owns, it also shouldn't really surprise anyone that he stopped by the Caddyshack Restaurant that he co-owns in the area with his brothers and hopped on stage to perform 45 minutes of classic rock and R&B.
"
Bill Murray is signing your forehead, but not how you think
OK, we, admittedly, don't have a lot of context for this one but not much is really needed since such an awesome photo stands as evidence. Murray signed a fan's forehead (possibly at a golf tournament) one time, and instead of writing his own name, he signed as Miley Cyrus. How does anyone top that ridiculousness?
Bill Murray is taking your tickets
When the St. Paul Saints, one of the minor league baseball teams that Murray co-owns, were playing their last game on their old field in August of 2014, he came out to support the guys...by taking tickets at the gate.
Your Daily Blend of Entertainment News
Yennefer's apprentice, Gilmore Girl; will Vulcan nerve pinch pretty much anyone if prompted with cheese...Yes, even Jamie Fraser.