Back To The Future And 9 More '80s Roles Tom Holland Would Have Been Perfect For If Time Travel Worked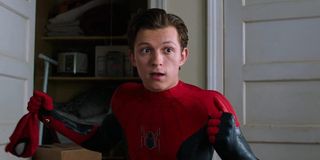 (Image credit: (Marvel))
CinemaBlend is partnering with PIA VPN to bring you fresh content to stay in and stream with each day. We're also offering a special 76% discounted rate for a limited time only. You can sign up for the package with PIA here. (opens in new tab)
Tom Holland is such a class act. The actor really swung on to the scene as the MCU's Peter Parker back in Captain America: Civil War and has since dazzled in four other Marvel movie appearances, as well as lent his voice to this year's Dolittle and Onward. Holland has a lot more exciting projects ahead of him, but let's go back in time for a moment. What if he was an actor of the '80s? That viral Back To The Future deepfake with Holland and Robert Downey Jr. got us thinking, if we could place the actor in more iconic films of the era, he'd fit right into these roles:
Marty McFly, Back To The Future
Tom Holland's alignment with Marty McFly actually makes a ton of sense because the actor based some of his Spider-Man performance on the Michael J. Fox character for Spider-Man: Homecoming. If you watch closely, you'll pick out some tributes to Back To the Future in his role as Peter Parker. Even Homecoming itself is influenced by the '80s high school movie. We know Holland would pull off an incredible Marty McFly, because the aforementioned deepfake is perfect:
It's uncanny, isn't it? Tom Holland even expressed interest in recreating the scene with Robert Downey Jr. We know the actor just oozes Marty McFly energy. If we could get a hold of a DeLorean and plop him into more '80s roles…
Brian Johnson, The Breakfast Club
The seminal '80s high school film is undoubtedly John Hughes' The Breakfast Club. The movie about a group of kids from different sides of the high school cafeteria placed in one room for detention one afternoon helped propel Anthony Michael Hall into stardom shortly after he also starred alongside Molly Ringwald in Sixteen Candles. If Tom Holland was alive back in the day or a sneaky time traveler, Hall's character of Brian Johnson as the "brain" would be a great fit and dramatic challenge for him.
Ferris Bueller, Ferris Bueller's Day Off
Isn't Tom Holland a total Matthew Broderick? Another John Hughes classic the actor could wear the sunglasses for is 1986's Ferris Bueller's Day Off. Holland is great at playing the goody good, but it would be fun to see him play this wise guy for a fun-filled day of hooky? Plus, we'd like to see the actor show off his comedic chops front and center in his own flick. Bueller… Bueller… Bueller?
J.D., Heathers
Could Tom Holland have starred in his very own cult classic? 1989's Heathers wasn't a hit when it was first released to theaters, but it slowly hit people's radars and has become an under-the-radar '80s hit. Christian Slater's J.D. is the devilishly handsome pair to Winona Ryder's Veronica as the black comedy comments on the place of popularity in high schools with murder and mystery. Now Brad Pitt was reportedly up for J.D., but passed on for looking "too sweet." The same could be said about Holland's persona, but I think he could take a bloody stab at it.
Daniel LaRusso, The Karate Kid
Sure, Tom Holland is starting to leave "kid" territory. Even so, the actor could have really embodied Daniel LaRusso in the epic 1984 hit. Holland has a talent of hitting the right emotional beats with apt timing, and we know he can rise to the challenge of testing his physicality. The Karate Kid needs both those things in the story about Daniel's standing up to his bullies with some help from Mr. Miyagi.
Ren McCormack, Footloose
Did you know Tom Holland used to be a trained dancer and gymnast? The actor got his start in Billy Elliot the Musical when he was a kid. Now Holland has admitted to having dropped the craft in his later life, but he really wants to get back into it. What better way than through taking on the role of Ren McCormack in Footloose? Should Holland take on a song-and-dance role, Kevin Bacon's defining role is a great fit for the actor. Plus, it'd be one more connection between him and his Onward co-star Chris Pratt, since the actor's iconic Guardians of the Galaxy character, Peter Quill, is obsessed with this movie.
Todd Anderson, Dead Poets Society
Wow, do we miss Robin Williams. If given the chance, I think a lot of young actors like Tom Holland would take any opportunity to work with the funny man. He was such a staple to family cinema of the '90s when Holland was growing up. A role with Williams that Holland could fit right into is Todd Anderson in Dead Poets Society. The heartfelt movie from 1989 is about an English teacher at a conservative boarding school who inspires his male students through poetry. Holland would be perfect as Ethan Hawke's new kid, Todd.
Ronald Miller, Can't Buy Me Love
How crazy is it that Tom Holland has yet to do a romantic comedy? If we were to pick one from the '80s for him, we'd place him in 1987's Can't Buy Me Love, which starred Grey's Anatomy's Patrick Dempsey before the ABC hospital drama was even a sparkle in the network's eye. Dempsey played a high school nerd who gives a cheerleader (Amanda Peterson) $1000 to be his girlfriend for a month. It's an adorable movie with a ton of charm and comedy that Holland could pull off with ease.
Billy Peltzer, Gremlins
Imagine it: Tom Holland as Billy Peltzer in Joe Dante's Gremlins. It's perfect, right? The Spider-Man actor could definitely embody the teenager who receives Gizmo the Gremlin as he spawns more creatures like him and chaos ensues. The classic horror comedy from 1984 calls for the kind of sweetness Holland has portrayed in his roles out of Billy. The character isn't unlike his Onward role of Ian Lightfoot.
What do you think? Which of these '80s classics would you like to see Tom Holland star in an alternate timeline where he time travels to the era? Discuss your picks in the comments and vote in the poll below.
This poll is no longer available.
Your Daily Blend of Entertainment News
YA genre tribute. Horror May Queen. Word webslinger. All her writing should be read in Sarah Connor's Terminator 2 voice over.
Your Daily Blend of Entertainment News
Thank you for signing up to CinemaBlend. You will receive a verification email shortly.
There was a problem. Please refresh the page and try again.