Ryan Reynolds Loves Back To The Future, So He Made A Movie That Nods At It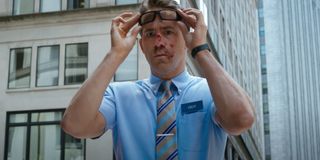 Ryan Reynolds loves Back to the Future, and honestly, I haven't met a person yet who doesn't. It's full of lighthearted fun, adventure, humor and (obviously) an awesome time machine out of a DeLorean. What's not to love?
Well, Ryan Reynolds wanted to harness that lightning into his own movie Free Guy, in hopes that it would have the same level of enjoyment among fans that he had with Back to the Future. Here's what he told Total Film magazine:
Back to the Future, for its part, is practically considered a perfect movie. Though some fans have pointed out that it has one long-standing plot hole that is difficult to reconcile. Still, trying to reach its level of storytelling mastery is commendable, if not like Icarus flying too close to the sun.
Free Guy, starring Ryan Reynolds and Jodie Comer, is about a bank teller named Guy that finds out he's an NPC in a free-for-all video game. Once he finds out, he's tasked with the heavy weigh to saving the world. The trailer for Free Guy released in December and it's definitely full of funny moments and lots of violent action.
Of the movies that he's filmed, including Deadpool, Ryan Reynolds admitted that to-date his favorite is Free Guy. He called the filming "an absolute fastball of joy," which might also harken back to his statement about it being full of heart.
And, believe it or not, Ryan Reynolds will be teaming up with Free Guy director Shawn Levy again in an untitled movie about time travel. My guess is that it's not a Back to the Future reboot, though I have a feeling Ryan Reynolds would love to do that.
Of course, we all know Ryan Reynolds also loves the character Deadpool, a character that tries to be full of heart, but ends up just being sarcastic, instead. Since Disney bought 20th Century Fox, the Deadpool franchise came under their Mickey Mouse glove, but that doesn't concern him. He said he saw it as a good thing.
I think its promising Ryan Reynolds is pulling from personal influences to help his own movies. Anything that tries to capture those powerful storytelling principles in Back to the Future has a much better chance of doing well among audiences.
Free Guy is scheduled to release on December 11, 2020.
Your Daily Blend of Entertainment News
Your Daily Blend of Entertainment News
Thank you for signing up to CinemaBlend. You will receive a verification email shortly.
There was a problem. Please refresh the page and try again.