Ryan Reynolds' Pick For The All-Time Favorite Movie He's Filmed Might Surprise You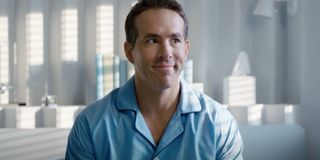 We all know Green Lantern wasn't Ryan Reynolds' favorite movie. So we can knock that one to the side. But, perhaps, like most of us, you thought Deadpool was Ryan Reynolds' favorite movie he's filmed? You'd be wrong there, too.
Recently, Total Film magazine released the cover of their new magazine, featuring Ryan Reynolds and co-star Jodie Comer in their new movie Free Guy. And he has a few surprising things to say on social media about the cover and the movie itself. Check it out:
Yeah, that's pretty surprising. But you heard it from the horses' mouth; Free Guy is Ryan Reynolds' favorite movie he's filmed. Although after watching the trailer, it makes a little more sense why this manic and chaotic comedy might be on the top of his list.
In Free Guy, Ryan Reynolds' plays an affable and clueless bank teller named Guy that wonders if there's more to life. Eventually, he discovers that he's actually an NPC character in a violet, open-world video game. He becomes tasked with being the good guy who saves the world.
Free Guy is directed by Shawn Levy, who also helmed The Internship, Night at the Museum: Secret of the Tomb and several episodes of Stranger Things. And since Ryan Reynolds really loved working on this movie, it should be no surprise he wants to work with Shawn Levy again.
It was also announced recently that Ryan Reynolds and Shawn Levy will be teaming up for a second time in a time travel movie. There's no name attached to the production yet, but many believe it'll be based on the T.S. Nowlin script titled Our Name Is Adam, a project that's been in the works for some time now.
Outside of Free Guy, Ryan Reynolds is hard at work on several other projects. First up is Netflix's star-studded, high-caliber action movie Red Notice co-starring Gal Gadot, Dwayne Johnson. Red Notice has been filming since January, but had delayed production. As of now, there's no release date.
Of course, Ryan Reynolds is also hard at work on Deadpool 3 at Marvel Studios. How could he not be? It's unlikely that character will be going away anytime soon. Since moving to Marvel Studios, Ryan Reynolds compared it to the "big leagues" and said the whole team is working on it. Fortunately, the Deadpool writers have said there won't be any major changes to Deadpool, it will still be rated R, and will remain under the Fox banner.
But, now we all know that among his body of work, Free Guy is Ryan Reynold's favorite that he's filmed. Of course, that could always change later. Time will tell. I, for one, am hyped to see it, especially after Ryan Reynolds' claim. Free Guy is currently in post-production and expected to release on December 11, 2020. Until then, you should consider checking out some of Ryan Reynolds' other great movies.
Your Daily Blend of Entertainment News