Daisy Ridley's 10 Best Rey Moments In The Star Wars Sequel Trilogy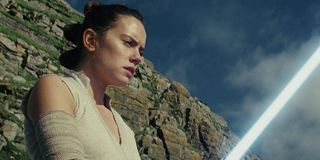 (Image credit: (Lucasfilm))
CinemaBlend participates in affiliate programs with various companies. We may earn a commission when you click on or make purchases via links.
Rey Skywalker. Anyone else already miss her? The nine-episode Skywalker Saga concluded at the end of 2019 and yes, we're still thinking about it. Not only did Rise of Skywalker wrap up an over 40-year storyline that began with A New Hope, it also gave audiences closer about the new characters we were introduced to in A Force Awakens. Daisy Ridley's Rey was at the center of the new Star Wars sequel trilogy from beginning to end and now it's time to reflect on her best moments.
The Introduction Of Rey On Jakku
Rey has to have one of the best character introductions in all the Star Wars movies. We first meet her scavenging on Jakku in a quiet sequence that includes John Williams' "Rey's Theme" as it first swells. The moment toward the beginning of The Force Awakens allows the audience to get to know Daisy Ridley's iconic character in the desolate and lonely world she lives in a way that gets us on her side immediately. When we see her etch another day on her wall and pull on a Resistance helmet, before meeting her droid friend BB-8, we were all in.
"The Garbage Will Do"
An especially exhilarating moment featuring Rey is when she meets John Boyega's Finn and the pair must run from the First Order in order to preserve the map to Luke Skywalker BB-8 is carrying. Rey and Finn magnetically exchange zany lines with one another as they try to find a way out. The moment is revealing of Rey's strong-willed character as her eyes light up about the mission and she refuses to take his hand. They find a way out when they board the Millennium Falcon and Rey beautifully flies it into space.
Rey Escapes Capture From The First Order
Later in The Force Awakens, Rey is captured by the First Order momentarily where she meets Adam Driver's Kylo Ren for the first time and the pair's chemistry first shows itself. After Kylo tries and fails to get Resistance information from her, she also plays with her Force abilities with a Stormtrooper. Her Jedi mind tricks allow her to get out of her restraints and find a way off the First Order ship. Finn and Han Solo are already on their way to save her, but she's already two steps ahead of them.
The Lightsaber Calls To Rey In Force Awakens
Yep. Another one from The Force Awakens. The 2015 movie is packed with awesome moments for Rey. At the end of the film once Kylo Ren has murdered Han Solo, Finn faces Kylo in an epic saber battle while Rey lies on the floor injured. Kylo is able to get Luke's saber out of his hand and is about to grab it using the Force when it swings right past him and goes into the hand of Rey. It's an incredible moment many of us didn't see coming (theorizing perhaps Finn or Luke would come to rescue). Rey is still a timid hero in this fight but she's able to become a well-matched adversary to Kylo and take him down.
Luke Trains Rey About The Ways Of The Force
Moving on to The Last Jedi, a particular standout moment featuring Rey in the 2017 release is her time with Mark Hamill's Luke Skywalker as he teaches her about the Force. Luke is initially not interested in training her but once he gives in, he sits her down by the cliff and has "the talk" with her about what the Force is. There's some funny back and forth between the characters as she reaches out and he waves a leaf at her as a joke. The two end up getting to business and reach an unsettling conclusion. But Ridley's ability to charm even a Star Wars legend is why she's such a great addition to the franchise.
Rey And Kylo Fight Off Snoke's Praetorian Guard
At the end of the second act of The Last Jedi, Rey finds herself on Supreme Leader Snoke's ship in a confrontation. After some intense back and forth with Kylo Ren for much of Rian Johnson's 2017 flick, Kylo surprisingly decides to kill off Snoke instead of Rey and the pair fight off the Praetorian Guard together in straight up one of the coolest fight sequences in Star Wars. The fight choreography here is relentless and Ridley gets to show off her fighting chops. The scene concludes with another challenge to the dark by Kylo.
Rey Uses Force Lightning In Rise Of Skywalker
On to Rise of Skywalker, the first great Rey moment comes via a scene where audiences were teased about the movie from the beginning with the film's first Star Wars Celebration teaser. After Rey flips over Kylo's ship, the pair confront each other again in a ship where Chewie is thought to be in. Rey's powers unpredictably have her using Force Lightning and exploding the ship. It's a shocking moment for Rey that made us realize she might not be who we think she is.
Rey And Kylo's Restless Battle On The Death Star
Another notable moment for Rey once again features a confrontation with her dyad, Kylo Ren. On a destroyed Death Star, Rey seeks a wayfinder when she sees herself turn into Dark Rey and is caught up with Kylo again. At this point, the pair are exhausted with their opposition and fight restlessly among the ruins in another awesome battle between them. The saber fight sequence ends in Rey stabbing Kylo just as they feel Leia die over at the Resistance camp. Rey uses her powers to heal Kylo and inspire him to become Ben Solo again.
Rey Hears The Jedi And Faces Emperor Palpatine In Rise Of Skywalker
As Rise of Skywalker reaches its finale, Rey confronts Palpatine where he reveals he wants her to kill him and take up the throne as the leader of the Sith. At first she gets some help from Kylo, but when he's knocked away it's all up to her. She watches the skies as the Resistance begins to fall, but she taps into the Force. She hears the voices of Jedis before her such as Obi-Wan, Anakin, Yoda and Mace Windu and rises up. She fights for "all the Jedi" in a final fight that leaves Palpatine helpless and nearly kills her. Kylo saves her this time from death, sacrificing himself, but allowing her to live on with her victory.
Rey Returns On Tatooine For A Binary Sunset As A Skywalker
In the last moments of the Star Wars sequel trilogy, Rey ventures to Tatooine where everything once started to pay tribute to Luke and Leia Skywalker. It's an awesome callback for fans of the series and emotional ending to the Skywalker Saga. She now wields a yellow saber and declares herself Rey Skywalker as the memory of Luke and Leia show up in the background and BB-8 follows her into the binary sunset.
Daisy Ridley's Rey had a ton of memorable moments throughout the Skywalker trilogy and will go down in history as one of the best characters in Star Wars. All nine films are now available with a Disney+ subscription (sign up for a free 7-day trial here) and stay tuned here on CinemaBlend for more news on Star Wars.
Your Daily Blend of Entertainment News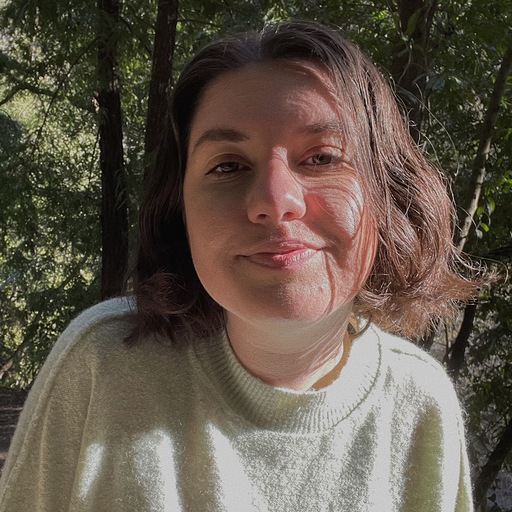 YA genre tribute. Horror May Queen. Word webslinger. All her writing should be read in Sarah Connor's Terminator 2 voice over.