Jason Momoa Fills His New Release The Snyder Cut Video With So Many F-Bombs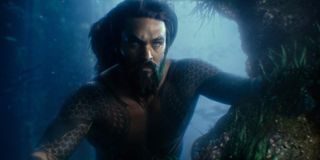 Nowadays when Justice League pops up in conversation among movie fans and DC Comics enthusiasts, it rarely refers to the theatrical version, but rather the Snyder Cut, i.e. the fabled version that better reflects director Zack Snyder original vision for the superhero team-up story. The Snyder Cut movement has collected a lot of followers over the last several years, including folks who participated in Justice League, like Jason Momoa, a.k.a. the DC Extended Universe's Aquaman.
In his latest show of support for Justice League's Snyder Cut, Jason Momoa didn't skimp with the f-bombs to make his feelings clear, as you'll see in the below video.
As seen on his Instagram Stories (via Fandom), Jason Momoa has just one simple request: "Fucking release the Snyder Cut!" since we're "sitting around doing nothing." Momoa was visiting his trainer, Mark Twight (distanced six feet from one another, of course), and both men shared their continuing hope that the Snyder Cut be made available to the public.
Jason Momoa then noted how there are some goodies in the Snyder Cut and proceeded to drop a few more f-bombs as he grew more excited. That said, the actor did spell it as the "Synder Cut" in the accompanying captions, but we'll give him a pass on that.
The Aquaman actor has been championing the Snyder Cut for approximately a year and a half now, saying back in late 2018 that he was "obsessed" with that version of Justice League. Momoa has also said he's watched the Snyder Cut, calling it "sick" and "very different" than the theatrical cut.
The Snyder Cut movement is bigger than ever since it launched shortly after Justice League was released in theaters. Along with Jason Momoa, co-stars Ray Fisher, Gal Gadot and Ben Affleck have also supported the efforts to show the Snyder Cut to the masses, among many other Justice League crew members. And, of course, Snyder himself has helped fuel the movement with his various social media posts providing plot details and behind-the-scenes looks.
While some director's cuts of movies are only slightly different from the theatrical cuts, Justice League is definitely one of this instances where what was shown in theaters drastically differed from what the filmmaker originally envisioned. For one thing, the Snyder Cut is 214 minutes long, whereas the theatrical Justice League clocked in at exactly two hours. Other notable features of the Snyder Cut include Darkseid appearing, General Swanwick being revealed as Martian Manhunter and expanded backstories for Flash, Cyborg and Aquaman, to name just a few.
While for a long time it didn't look like the Snyder Cut would see the light of day, it's possible that might change soon. Several days ago, it was reported that Zack Snyder held a private screening of the movie for DC executives earlier this year, and discussions are supposedly underway to make something happen. Snyder is also holding a Man of Steel watch party tomorrow, and there's speculation he might announce something Snyder Cut-related during the event.
The prospect of the Snyder Cut being shown on the big screen seemed slim even before theaters started closing. Since things aren't calming down on that front anytime soon, one probably shouldn't get their hopes up about the Snyder Cut being a theatrical experience. However, HBO Max is launching next week, and putting the Snyder Cut on the new streaming service would definitely be a way to draw in subscribers.
We here at CinemaBlend will keep you updated on the latest and greatest updates concerning Justice League's Snyder Cut as they roll in. For now, keep track of what DC Comics movies are on the horizon with our comprehensive guide.
Your Daily Blend of Entertainment News
Connoisseur of Marvel, DC, Star Wars, John Wick, MonsterVerse and Doctor Who lore. He's aware he looks like Harry Potter and Clark Kent.
Your Daily Blend of Entertainment News
Thank you for signing up to CinemaBlend. You will receive a verification email shortly.
There was a problem. Please refresh the page and try again.