Dorothy Dandridge: 6 Fascinating Facts About The Singer And Actor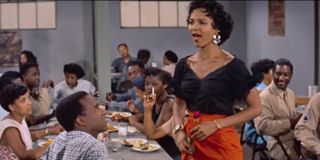 Dorothy Dandridge was one of the great Hollywood starlets of the 1930s-1950s. As a black American actress, she made history for things like being the first black actress to receive an Academy Award in a leading role. I would like to say that Dorothy Dandridge broke color barriers for black performers in America, and she did in many ways, but unfortunately, despite her fame and success, she was still treated with the same racial prejudices that plagued America at the time. Her legacy and presence helped pave the way for actresses and actors that came after her.
When people discuss Dandridge, they often talk about the many tragedies that she faced in her life--two failed marriages, physical abuse by ex-husband and a caregiver, and her tragic death at 42. However, Dandridge was so much more than her bad fortune. She was -- and still is -- a symbol of beauty, strength, talent, and a better future for black entertainers. Therefore, for this facts about Dorothy Dandridge piece, I want to try to highlight the positive things in her life and career.
Her Family Was Full Of Performers
In the book, Dorothy Dandridge: The Life and Legacy of One of Hollywood's First Successful Black Actresses, the authors discussed how Dandridge's mother, Ruby Dandridge, left her father, Cyril Dandridge, partly because she had ambitions to be an actress. Ruby Dandridge eventually moved in with her girlfriend Geneva Williams. Williams stayed at home educating and taking care of Dorothy and her sister Vivian.
Ruby went off and found any work possible to pay the bills. She built up her own acting career appearing in uncredited roles in films like 1933's King Kong, The Night Before the Divorce, and Broken Strings. As children, Vivian and Dorothy formed a singing and dancing group called the Wonder Children. When they got a little older, they formed a trio with a school friend named Etta Jones. Their group became The Dandridge Sisters.
The group experienced some success, appearing in films and at nightclubs, like the Cotton Club. Eventually, the group ended when Dorothy wanted to pursue her solo acting career.
She Went To Drama School With Marilyn Monroe
Many have compared Monroe and Dandridge because of their sex appeal, tragic unexplained deaths at young ages, and unhappiness with how Hollywood treated them. The Washington Post went as far as to say "Hollywood made a black Marilyn Monroe" with Dorothy Dandridge. The Dorothy Dandridge: The Life and Legacy book also mentioned that Dandridge was one of the first black students at the Actors Laboratory.
The Actors Laboratory is described as a "progressive dramatic acting school." Marilyn Monroe was apparently one of her classmates. I didn't find much else about their shared time at the school, but a blog called The Gentlemen's Foundation claims that the two were friends and often attended the same parties. I couldn't find any historical proof of these claims, but it's a nice thought, so I hope it's true.
She Became The First Black Woman To Appear On The Cover Of Life Magazine
In an episode of the series Biography, from season 11, entitled "Dorothy Dandridge: Little Girl Lost," it was mentioned that at the peak of her fame, Dandridge appeared on a variety of magazine covers, including Ebony, Look, and Life. Appearing on Life marked the first time in history a black woman made the cover.
The Dorothy Dandridge: Life and Legacy book stated that her appearing on Life magazine was part of the promotional campaign for Carmen Jones. She dressed as her iconic character for the cover, which was the November 1, 1954 issue. Movietone News also shot a newsreel video of clips from the shoot.
She Refused Roles That She Considered Demeaning To Black Actors And Actresses
During Dandridge's career, many of the roles given to black actors were stereotypical roles of servants and savages. Some of Dandridge's first roles played into these stereotypes, like her role as serving girl Felice in Lady from Louisana. Mentioned in Hollywood Remembers: Leading Ladies Season 2 episode 7, "Dorothy Dandridge," Dandridge didn't originally want to take the role of Melmendi, Queen of the Ashuba, in Tarzan's Peril because she thought it was another stereotypical role, but she liked the script, so she took the part.
Dorothy Dandridge: The Life and Legacy stated that Dandridge was originally offered the role of Tuptim, a young concubine in The King and I. She apparently felt the role was a little more than a slave, which she felt was a humiliating role to play. Later, Rita Moreno won the role, and The King and I became a huge hit. According to Dorothy Dandridge: The Life and Legacy, Dandridge regretted not taking the role. The Biography episode also mentioned that Dandridge's then-lover Carmen Jones director Otto Preminger may have influenced Dandridge's decision to not take the role because it was not a leading part.
Dorothy Dandridge: The Life and Legacy book also mentioned several times how once Dandridge became a bigger name, she tried to refuse roles that may fall into racial stereotypes but had to take on some of those roles when her career was on the decline, like with Porgy and Bess.
She Was Determined To Get The Role of Carmen Jones
In the Biography episode, it was mentioned that Otto Preminger didn't even want to take an audition with Dandridge. According to historian Donald Bogle, Preminger saw her as "Saks Fifth-Avenue and didn't see her as this earthy Carmen." Dorothy Dandridge: The Life and Legacy further explained that he suggested that she audition for the role of Cindy Lou instead.
Dandridge went to Max Factor and gave herself a completely new look for the role. She also practiced with her mother and sister how to look more seductive and picked out a sexier outfit to wear to her next appointment with Preminger. Alleged when the Carmen Jones director saw Dandridge he said "My God! It's Carmen!" She landed the role, and the legacy and history of the film followed.
She Performed With Desi Arnaz's Band
There were many famous figures who helped Dorothy Dandridge on her way to stardom, including Louis Armstrong who introduced the Dandridge Sisters to his manager Joe Glaser, who represented them for a time. Another famous musician, Desi Arnaz (from I Love Lucy fame), helped push her fame even further.
In Dorothy Dandridge: The Life and Legacy, it's mentioned that one performance at the Mocambo resulted in the singer for Desi Arnaz's band falling ill, Dorothy Dandridge found herself acting as a substitute. This led to longer bookings in Los Angeles and other areas. According to Germ Magazine, touring with Desi Arnaz's band helped her become an international star.
In 1999, Halle Berry took on the role of Dorothy Dandridge in an HBO movie called introducing Dorothy Dandridge. This movie helped bring the story and legacy of Dandridge to a whole new audience. They were able to see the tragedies of her life and career, but also the unstoppable star power that she displayed. Hopefully, Dandridge's legacy continues to burn bright and more people learn about this trailblazer.
Your Daily Blend of Entertainment News
Spent most of my life in various parts of Illinois, including attending college in Evanston. I have been a life long lover of pop culture, especially television, turned that passion into writing about all things entertainment related. When I'm not writing about pop culture, I can be found channeling Gordon Ramsay by kicking people out the kitchen.