What The Cast Of Dennis The Menace Is Up To Now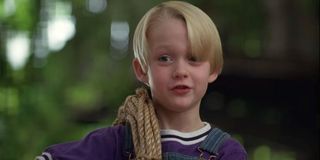 It has been nearly 30 years since the John Hughes-penned and Nick Castle-directed 1993 big screen adaptation of Dennis the Menace brought the iconic troublesome boy of mischief to theaters around the world and brought in more than $117 million at the global box office despite getting eaten alive by critics at every corner. With an entertaining storyline and gags that played out a lot like another one of John Hughes' franchises, the family comedy also featured a rather unique collection of actors from just about every era of film and television. Speaking of which, what has the Dennis the Menace cast been up to these past few decades? Let's find out, shall we…
Mason Gamble (Dennis Mitchell)
Despite having roles in multiple film and television projects over the course of his acting career, Mason Gamble will always be known for his portrayal of Dennis Mitchell in Dennis the Menace. Following his leading role in the 1993 summer family movie, Gamble took on a series of projects including Spy Hard in 1996, Rushmore in 1998, and Arlington Road in 1999. After a few more years taking on smaller and lesser-known roles, Gamble did what so many other child actors did — he left show business behind and pursued other dreams, which included enrolling in the doctorate program in environmental science and engineering at UCLA in 2011, according to the school's Institute of Environment & Sustainability. Besides that, Gamble has kept a low-profile in more recent years.
Walter Matthau (George Wilson)
Walter Matthau, who played George Wilson, and countless other roles in the years leading up to and following Dennis the Menace passed away in 2000 at the age of 79 years old. The veteran of stage, film, and television was just a Grammy shy of earning his very own EGOT after taking home two Tony Awards, an Oscar, and a Golden Globe for various roles throughout his legendary career. In the years leading up to his death, Matthau teamed up with his Odd Couple co-star Jack Lemmon in comedies like 1993's Grumpy Old Men, its 1995 sequel Grumpier Old Men, and The Odd Couple II, which was released in 1998, 30 years after the original hit theaters.
Joan Plowright (Martha Wilson)
Dame Joan Plowright, who played Martha Wilson, the kinder and more patient neighbor of Dennis Mitchell, is perhaps one of the most decorated and prolific actresses in all of show business, and it's amazing she's not brought up more often. The widow of Laurence Olivier, Plowright, whose legal name is Joan Ann Olivier, Baroness Olivier, DBE, remained busy in the years following the 1993 release of Dennis the Menace up until 2014 when she retired from acting. Having the distinction of being one of the few actors or actresses to win two Golden Globes in the same year (Supporting Actress - Motion Picture and Television), Plowright's most recent appearance is in the 2018 documentary Nothing Like a Dame, which consisted of conversations between Maggie Smith, Judi Dench, Eileen Atkins, and Mrs. Wilson herself.
Christopher Lloyd (Switchblade Sam)
Christopher Lloyd, the two-time Emmy winner best known for his portrayal of Doc Brown in the Back to the Future franchise, had a completely different look and feel with his depiction of Switchblade Sam in Dennis The Menace. Since being foiled by Dennis Mitchell in 1993, Lloyd has remained as busy as ever with too many film, television, and video game roles to count, but he is next slated to appear alongside Ellen Burstyn and James Caan in Michael Lembeck's upcoming comedy Welcome to Pine Grove! which is set in a retirement community that is a lot like a high school. In 2008, Lloyd lost his house in the Tea Fire that ravaged Montecito, California.
Lea Thompson (Alice Mitchell)
Alice Mitchell was already a major player in Hollywood by the time she was cast as Alice Mitchell in Dennis the Menace, and the Back to the Future star hasn't slowed down to rest on her laurels since. In the years following the movie's release, Thompson got an NBC sitcom of her own, Caroline in the City, popped up on some of the biggest television shows of the 1990s and 2000, and even started directing projects of her own, with shows like Young Sheldon, Katy Keene, and Stargirl under her belt.
Lea Thompson made the news circuit in August 2020 when she seemed to confirm rumors about the alleged mistreatment of the crew of The Ellen DeGeneres Show. And can we finally get that new Howard the Duck movie already?
Robert Stanton (Henry Mitchell)
Robert Stanton appeared for a cup of coffee in Dennis the Menace, but boy did he master the Henry Mitchell look whenever he was on the screen? Since working on the 1993 film, Stanton has remained busy as ever with appearances on all three major Law & Order franchises, Orange Is the New Black, and the Stephen King-adapted series Mr. Mercedes where he portrayed Anthony "Robi" Frobisher on the show's first season. And when he's not busy acting on stage, on TV, or in motion pictures, Stanton is quite active on Twitter where he is vocal about a number of issues impacting those in the arts.
Amy Sakasitz (Margaret Wise)
Margaret Wise in Dennis the Menace was the second of five acting roles Amy Sakasitz took on before leaving the profession behind in the mid-1990s. In more recent years, the former child actress has remained busy on social media, including Twitter where she posts links to her personal book reviews as well as commentary about ongoing social issues.
Kellen Hathaway (Joey McDonald)
Kellen Hathaway, who played Joey McDonald, Dennis' best friend, followed up his performance in Nick Castle's 1993 comedy with one-off appearances in shows like The Nanny and Mad About You, as well as more prominent roles like in Grace Under Fire and the 1995 big screen adaptation of Mark Twain's The Adventures of Huckleberry Finn titled Tom and Huck. Since disappearing from the public eye at turn of the 21st Century, Hathaway has kept a low-profile.
Natasha Lyonne (Polly)
Natasha Lyonne briefly appeared in Dennis the Menace as Polly, the babysitter who shows up to the Mitchell house with a football helmet. Unlike a lot of names on this list, Lyonne, who is best known for her turn as Jessica in the American Pie franchise, is busier than ever in recent movies like Ad Astra, Honey Boy, and Uncut Gem, and shows like Orange is the New Black and another Netflix hit series, Russian Doll, which she helped create with Leslye Headland and Amy Poehler. Now we just need to know when Season 2 will hit the streaming platform.
Devin Ratray (Mickey)
To some, Devin Ratray will always be known as Buzz from the first two Home Alone movies, but he's also in the often forgotten role of Polly's boyfriend in Dennis the Menace. Since then, Ratray has taken on some pretty interesting projects, including the 2008 film Courting Condi in which he played a fictionalized version of himself that was obsessed with then United States Secretary of State Condoleezza Rice and attempted to win her heart. More recently, Ratray has appeared in movies like Nebraska, Blue Ruin, and Hustlers, with his most recent project, Hollywood.Con being in post-production as of 2020.
Paul Winfield (Chief Of Police)
Paul Winfield, who played the chief of police who kicked Switchblade Sam out of the park in the beginning of the movie, had some pretty major film and television projects throughout his lengthy career, including Civil Rights icon Martin Luther King Jr. in the 1978 miniseries King, Star Trek II: The Wrath of Khan, The Terminator, and even a guest role on Picket Fences, which earned him an Emmy for a guest role in 1994. Winfield tragically died of a heart attack in 2004.
Ben Stein (Boss)
Yes, Ben Stein is in Dennis the Menace for all of a few seconds (I had to stop and start multiple times to catch him) in the scene where Alice Mitchell is making a pitch during an architectural meeting. Best known for his brief appearance in Ferris Bueller's Day Off, the writer and political commentator most recently appeared in The Last Sharknado: It's About Time as Alexander Hamilton. Besides that, Stein continues to provide political and cultural commentary on various news programs and networks.
Melinda Mullins (Andrea)
Melinda Mullins played Andrea, the catty coworker of Alice Mitchell who gets her comeuppance in the final credits of Dennis the Menace, is more known in the world of Broadway than Hollywood, but the accomplished stage actress from titles like Mastergate, Serious Money, and Sherlock's Last Case, also appeared on shows like MASH and Law and Order over her career. Since the early 2000s, Mullins has lived in France with her husband Joshua Bryant, who told French newspaper Le Popularie du Centre in 2018 that they left the United States due to the American invasion of Iraq in 2003.
Hank Johnston (Gunther Beckman)
Mostly remembered for playing Gunther Beckman, kid Mr. Wilson described as being "a foot short for his age" and "cross-eyed" in Dennis the Menace, Hank Johnston did what so many child actors did and stopped making movies a few years after appearing in the 1993 family-friendly adventure. Johnston appeared in Miracle on 34th Street as a character named "Boy" and then appeared on the TV series Turks in 1999 before taking on his final role in Madison in 2001. Besides that, he might be running off to see if his dad has that ice cream.
Billie Bird (Edith Butterwell)
Billie Bird, who might be known to some as Dorothy Baker in Sixteen Candles or the woman in the airport in Home Alone, played Edith Butterwell, one of the two members of George Wilson's garden club who introduce him at the "Summer Floraganza." This was one of the longtime actress and comedian's final roles before her death at the age of 94 years old in 2002.
Bill Erwin (Edward Little)
Bill Erwin, who is probably best known for his turn as Sid Fields on Seinfeld, appears in a couple scenes in Dennis the Menace as Edward Little alongside Bille Bird's Edith Butterwell. In addition to having scores of credits on the stage, on television, and in movies, Erwin was also an accomplished cartoonist, having been published in The New Yorker, Playboy, and several other publications. Erwin died at the age of 96 years old in 2010.
Arnold Stang (Photographer)
The acclaimed comic actor Arnold Stang even appeared in Dennis the Menace as the photographer sent to capture George Wilson's rare orchid in all its glory. Throughout his career, Stang was a fixture of radio, television, and film, thanks to projects like It's a Mad, Mad, Mad World, Top Cat, and The Milton Berle Show. The legendary voice actor died at the age of 91 years old in 2009.
Since we're all caught up with the cast of Dennis the Menace, now's the perfect time to go back and watch the sometimes forgotten gem while it's streaming on Netflix.
Your Daily Blend of Entertainment News
Philip grew up in Louisiana (not New Orleans) before moving to St. Louis after graduating from Louisiana State University-Shreveport. When he's not writing about movies or television, Philip can be found being chased by his three kids, telling his dogs to stop yelling at the mailman, or yelling about professional wrestling to his wife. If the stars properly align, he will talk about For Love Of The Game being the best baseball movie of all time.
Your Daily Blend of Entertainment News
Thank you for signing up to CinemaBlend. You will receive a verification email shortly.
There was a problem. Please refresh the page and try again.