The 10 Best Jada Pinkett Smith Performances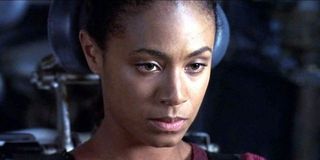 Jada Pinkett Smith is one of those actresses that doesn't seem to get the recognition she deserves for all of the great performances she has given over the years. Whether it's in a comedy like The Nutty Professor or Girls Trip, a thriller like Collateral, or even one of the most successful and influential science fiction franchises of all time like The Matrix sequels, there are some pretty great Jada Pinkett Smith movies out there. And that's not even touching on her stellar 30-year television career between her various film roles.
So, in case people forgot or will always know her for her brief, yet amazing appearance in the opening of Scream 2, let's take a look at 10 of the best performances from the career of one of the fiercest and hardest working names in Hollywood. Here are Jada Pinkett Smith.
The Nutty Professor (Carla Purty)
Jada Pinkett Smith was already had some star power by the time she came around to co-starring in 1996's The Nutty Professor. Portraying Carla Purty, Pinkett Smith catches the eye of both of Eddie Murphy's characters, Professor Sherman Klump and his thinner and less tolerable alter-ego, Buddy Love.
Throughout this hilarious comedy full of crude body humor (too many weight and human gastrointestinal jokes to count), Carla Purty remains grounded and stands up for those who need it the most (like Sherman), and remains true to herself. And unlike pretty much every comedy from the era, Carla doesn't fall for a man at the end of the movie, forming a strong platonic friendship with the talented and insecure professor. This is all made possible thanks to the strength of Pinkett Smith's performance.
The Matrix Reloaded/The Matrix Revolutions (Niobe)
She couldn't convince her husband to not turn down the role of Neo in The Matrix, but Jada Pinkett Smith entered the franchise with appearances in The Matrix Reloaded and The Matrix Revolutions (and the Enter the Matrix video game) in 2003 where she played Niobe, one of the most committed rebels, pilot of the Logos ship, and former lover of Morpheus (Laurence Fishburne).
Although a minor character in second and third installments of the franchise, Niobe was constantly one of the most badass characters when she was on screen, whether that meant piloting her ship in the real world or taking down agents left and right while in the Matrix. And having Pinkett Smith return for the upcoming fourth Matrix movie is yet another reason to get stoked about the franchise again.
Ali (Sonji Roi)
Jada Pinkett Smith originally had some reservations about appearing on screen with her husband Will Smith in the 2001 Muhammad Ali biopic Ali, but she would go on to play the boxer's first wife Sonji Roi. Throughout her brief appearance in the Michael Mann-directed drama, Pinkett Smith played Roi, a former Playboy Bunny who wouldn't abandon her culture or past to meet the whims of her husband, and gave a tremendous performance in doing so. The movie, which didn't really hit with audiences, is often forgotten nearly 20 years later, and that's a shame for a number of reasons, one being Pinkett Smith's fully realized characterization of such a strong woman.
Girls Trip (Lisa Cooper)
In case anyone forgot, Jada Pinkett Smith can hold her own in the world of comedy as she showed in the 2017 surprise hit Girls Trip in which she plays Lisa Cooper, a nurse and mom who hasn't been with anyone since her marriage fell apart years earlier. Watching Pinkett Smith transform herself from a caring, yet uptight single mother into a full-blown party monster when she and her friends take to New Orleans is one of the funniest things she has done in her career. Just go back and watch the zip-line scene over Bourbon Street for a quick and raunchy reminder.
Collateral (Annie Farrell)
Michael Mann's 2004 thriller could have looked a lot different, but it's hard to imagine anything being better than the pairing of Jamie Foxx and Tom Cruise in this intense game of cat and mouse on the streets of Los Angeles. One of the best, and most understated performances of the whole movie, however, comes from Jada Pinkett Smith in her role as Annie Farrell, the passenger Foxx's Max takes a liking to in the early goings of the movie. At first, it seems like Annie is just a one-off appearance before the movie really gets going, but having her pop up in the final act (this time with a lot of stakes), just adds so much to the movie.
Menace II Society (Ronnie)
Despite only being 21 years old (and making her film debut), Jada Pinkett Smith gives a performance of someone much older and more experienced in her portrayal of Ronnie in the 1993 crime drama Menace II Society. The young Pinkett Smith steals each and every one of the scenes in which she is featured and pulls off some pretty heavy emotional beats in her push to escape the violence and blight of inner-city Los Angeles. Never giving up on Caine (Tyrin Turner), even when it's too late, Ronnie is steadfast in her convictions and love of those she cares about.
Magic Mike XXL (Rome)
By the time Jada Pinkett Smith got around to making an appearance in Steven Sodenbergh's Magic Mike XXL in 2015, she already a major star thanks to a number of high profile roles in the years, and even decades, leading up to the sequel to the 2012 surprise hit. In the sequel, Pinkett Smith portrays Rome, the owner of a high-end strip club based in Savannah, Georgia, that Magic Mike (Channing Tatum) has a checked past with.
The actress is believable in her depiction of a woman fed up with a not-so-young male stripper's games and gives off the vibe that she's not willing to help. But when they need it the most, help arrives in the form of Rome, who does everything in her ability to pull off the memorable final performance.
Hawthorne (Christina Hawthorne)
Jada Pinkett Smith had already appeared on multiple television series by the time she was cast in the lead role for the TNT medical drama Hawthorne, where she portrayed Christina Hawthorne, the chief nursing officer of Richmond Trinity Hospital before becoming the chief operating officer and president of James River Hospital later in the show's three-season run. Pinkett Smith was front and center for most of the show's major storylines, which allowed the actress to show what she was made of in an assortment of the different situations.
In addition to starring in the series, Pinkett Smith also did a lot of work behind the scenes, including serving as one of the show's executive producers during its run. And though the show was cancelled in 2011, it still remains a bright spot on Pinkett Smith's filmography.
Gotham (Fish Mooney)
Although most of the other characters featured on the Fox drama Gotham had roots in the world of Batman or D.C. Comics, Jada Pinkett Smith's Fish Mooney was a creation made just for the show. And despite this, she was one of the standouts of the show's first season until her former protégé, Oswald Cobblepot (Robin Lord Taylor) turned against her, killed her, and took over Gotham City. Even after her death, Mooney remained a major player in the series thanks to Hugo Strange and his unorthodox procedures at Wayne Enterprises. Essentially playing two characters over the course of her three seasons on the show, Pinkett Smith brought a level of authority and believability to a show that needed it early on. It's just a shame she wasn't brought back for the final two seasons of the one-time Fox hit.
A Different World (Lena James)
The Cosby Show spinoff, A Different World not only broke barriers during its five-year run between 1987 and 1993, but it also went places that its predecessor wouldn't dare, and perhaps that's one of the reasons it's so well remembered nearly 30 years after it came to an end.
One of the highlights of the final two seasons was Jada Pinkett Smith's portrayal of Lena James, the engineering-turned-journalism major that quickly became part of some of the show's biggest and most iconic moments. Just look back at the domestic abuse episode, "Love Taps" where she suspects her friend Gina (Ajai Sanders) is being beaten by her boyfriend. It's easy to forget that this was one of Pinkett Smith's first roles in her depiction of a concerned friend who will stop at nothing to right a wrong.
And those are just ten of the great performances from the film and television career of Jada Pinkett Smith. Let's not forget the voice work she's done for the Madagascar animated franchise or roles in the likes of Bad Moms, Reign Over Me, Bamboozled, Angel Has Fallen, or any number of projects over the years. She is one of the greats and should be treated as such.
Philip grew up in Louisiana (not New Orleans) before moving to St. Louis after graduating from Louisiana State University-Shreveport. When he's not writing about movies or television, Philip can be found being chased by his three kids, telling his dogs to stop yelling at the mailman, or yelling about professional wrestling to his wife. If the stars properly align, he will talk about For Love Of The Game being the best baseball movie of all time.
Your Daily Blend of Entertainment News
Thank you for signing up to CinemaBlend. You will receive a verification email shortly.
There was a problem. Please refresh the page and try again.