TNT Cancels Medical Drama HawthoRNe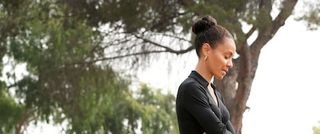 TNT's HawthoRNe had a good run with three seasons, but that's where it ends. Word is, the cable network announced today that they've decided not to give the nurse drama a fourth season order, which means last month's season finale, was the series finale.
HawthoRNe stars Jada Pinkett Smith and MIchael Vartan, and follows Christina Hawthorne (Pinkett Smith), the Chief Nursing Officer at a hospital in Virginia. Vartan played Tom, a doctor with a close relationship with HawthoRNe. Deadline posted the news of the series' cancellation, along with TNT's brief statement, which says that they've decided not to order a fourth season and that they appreciate the "tremendous dedication of everyone involved in HawthoRNe.
The series has been on the bubble for a while, so this news probably isn't a huge surprise, however disappointed fans may be. HawthoRNe follows TNT's Men of a Certain Age out the door. Fans of the recently cancelled comedy series were fairly vocal about their disappointme. I'm curious to see if people will react similarly toward HawthoRNe's demise. ?
On a more personal note, I'll be happy not to have to type the "RN" portion of the title in capital letters going forward, as there's likely to be fewer opportunities to post updates about this series in the future. I will, however, endure it happily in the future if doing so involves posting news that either Vartan or Pinkett Smith have been cast in some future TV project. Here's hoping we haven't seen the last of either actor on the small screen.