Black Boys Director Explains Why The Title Is Supposed To Be Confrontational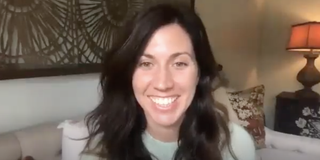 Writer/director Sonia Lowman's second project Black Boys, a film to illuminate the full humanity of Black boys and men in America, is coming to NBCUniversal's Peacock this week. Beyond its relevance to current times, Black Boys offers a unique perspective, a raw look at some difficult conversations around race, and tugs at the heartstrings. It also features a direct title, one that, as it turns out, was supposed to be confrontational.
She explained why when I chatted with her about the documentary and was curious about what birthed the idea for her. She shared her thought process behind titling the film Black Boys, which in a way calls out what people are reluctant or unwilling to discuss. Here's what she said:
Lowman made her filmmaking debut with Teach Us All, a documentary that looks at school segregation in America. Teach Us All was acquired by 13th director Ava Duvernay's distribution company, ARRAY, and is currently available to stream on Netflix (opens in new tab).
The director was as thoughtful and meticulous during our conversation as she was putting together this film. Her care is evident even in the way the documentary is structured and throughout its presentation of each male that is featured. The interviews in the film hold a lot of emotion, and I wondered what the experience was for the black men and boys. How did they perceive the process of Lowman telling their story?
Pretty well, it seems. Here's what Lowman told me:
Wow. There is so much power in that statement she made, in her ability to admit something that many would recoil from. Lowman's honesty is part of what makes the film so striking, as well. It's very important to her, as she said,
Sounds like the goal here is for audiences to walk away with a great deal of introspection, and I certainly did after watching.
Black Boys is available on NBCUniversal's Peacock September 10. While you're on the platform, be sure to check out these Peacock Original series as well as these hidden gems. If you're looking for more documentaries, we've got you covered there, too.
Your Daily Blend of Entertainment News
Obsessed with Hamilton and most things Disney. Gets too attached to TV show characters. Loves a good thriller, but will only tolerate so much blood.
Your Daily Blend of Entertainment News
Thank you for signing up to CinemaBlend. You will receive a verification email shortly.
There was a problem. Please refresh the page and try again.