Paranorman and 9 Other Underrated Halloween Movies You Forgot Are Spooky Good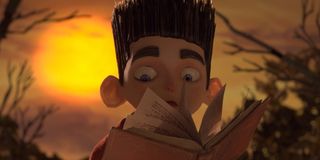 (Image credit: (Laika))
When Halloween season comes out to play, there's a certain comfort in tradition. We all have our go-to spooky movies we like to revisit each year whether that be popular favorites such as Hocus Pocus, Scream, Beetlejuice or John Carpenter's Halloween or your own All Hallows' Eve ritual. This year we challenge you to scare yourself more than usual and check out one of these underrated yet quality picks that stay on theme alongside your pumpkin carving festivities, apple cider and family-sized candy bars. Here's hoping Paranorman finally gets its moment this year.
All treats here! Add these often-forgotten-about Halloween movies to your list this October:
ParaNorman (2012)
The stop-animation studio Laika has created some truly beautiful movies such as Coraline and Kubo and the Two Strings. And almost a decade ago, Laika hand-crafted (literally) a touching and entry-level horror flick for the whole family, but it was pushed into a dusty closet after its dismal box office performance. ParaNorman is about a kid named Norman Babcock, who must save a small and ghost and zombie-cursed town. Between its creeps, the movie is oddly-mature, but also has a great message for all ages. Plus, it just returned to Netflix this month (opens in new tab).
Practical Magic (1998)
The Hocus Pocus witches have obviously become a favorite over the years as sequel developments continue to formulate, but y'all need to rediscover Practical Magic now, because I want a sequel for that stat. Over twenty years ago, Nicole Kidman and Sandra Bullock (yes, I know, what a pair!!) play witch sisters who are faced with a curse that kills every man they fall in love with. Practical Magic is the kind of Halloween movie you can watch with your rom-com-loving mom, who's not into 'that horror stuff' and still have a grand 'ole spooky time together.
Trick 'r Treat (2007)
Join the cult to this modern classic that has been gaining steam over the past few years. Trick 'r Treat is a comedy-horror anthology movie with the throughline of an arguably adorable burlap sack wearing kid who shows up in each interwoven story taking place on Halloween. Trick 'r Treat is rated R, and it's not really but a horror fans' measure but does have some gore for the faint of heart to take note of. The movie was written and directed by Michael Dougherty, who has since gone on to direct Krampus and Godzilla: King of the Monsters.
Monster House (2006)
Another family favorite you may not have been introduced to quite yet is Monster House, another eerie film meant to be enjoyed by all during Halloween. The 2006 motion-capture film was produced by the likes of Robert Zemeckis and Steven Spielberg and follows three friends who find out a house on their street is a monster… hence the title, duh! Monster House embodies the aesthetic of '80s films such as The Goonies or E.T., while also being a wholly original flick that will entertain and stick with you.
Jennifer's Body (2009)
Jennifer's Body may not be a "Halloween movie" in terms of featuring pumpkins of trick or treaters, but it offers just about everything we love about the holiday and was marketed to be a Halloween movie when it hit theaters in 2009. Speaking of marketing, Jennifer's Body was seriously wronged when it was initially released. The studio decided to target the crowd of boys who were swooning over Megan Fox at the time, when the movie written by Diablo Cody and directed by The Invitation's Karyn Kusama offers a lot more than this. The high school movie is about a possessed cheerleader who goes on a murderous rampage on her male classmates. If you like gory fun, this one's for you.
Corpse Bride (2005)
The Nightmare Before Christmas is a popular Halloween/Christmas movie cinephiles like to rewatch to the bone this time of year. But may I recommend taking it out of your cycle just this year and checking out Tim Burton's Corpse Bride starring the voice talents of Johnny Depp and Helena Bonham Carter. The story follows a groom who becomes accidentally married to a deceased woman while practicing his wedding vows in her presence. Corpse Bride is a touching story with the spooky aesthetics of a Tim Burton film we've come to know and love. If you're looking for an introduction to the director's family films this season, this is a great one and for Burton fans, give this 'B-Side' some more love!
The 'Burbs (1989)
That's right. Tom Hanks has contributed more to Halloween than his SNL skit as David S. Pumpkins. At the dawn of the actor's breakout into fame, the actor (along with the late Carrie Fisher, Rick Ducommun, Corey Feldman and Bruce Dern) starred in a spooky neighborhood story called The 'Burbs. This black comedy film follows Hanks as a suburban father who is home from work for a week and becomes infatuated with the ongoing creepy antics of one of his neighbors. It was directed by Gremlins director Joe Dante and is a fun film for anyone looking for their '80s fix this Halloween.
Fright Night (2011)
Staying on theme with comedy horror, because they really don't get enough credit, how about checking out the under-the-radar remake of Fright Night directed by I, Tonya's Craig Gillespie and starring Colin Farrell, Toni Collette, David Tennent, Imogen Poots, Dave Franco and the late Anton Yelchin. Need I say more? This would actually be a perfect double feature with The 'Burbs too. Fright Night is about Yelchin's Charley, who discovers his new neighbor Jerry (Farrell) is a vampire who is wreaking havoc on their community. So Charley reaches out to a Las Vegas magician / expert on vampires Peter Vincent (Tennent) to help him out. It's bloody and a blast! Sounds like a perfect Halloween treat.
Haunt (2019)
On the newer side of the spectrum, if you're looking to catch up on a Halloween title that came out last year but didn't necessarily reach the eyes of mainstream audiences (despite it being an awesome horror flick), check out Haunt. The slasher film was directed by Scott Beck and Bryan Woods, who wrote The Quiet Place with John Krasinski. It features a group of friends who go on a haunted house together only to find out the attraction crosses the lines of fun to scary by actually feeding on their fears and taking casualties along the way. This is certainly a Halloween movie for those who like venturing to haunted houses and love a good scare.
Donnie Darko (2001)
Last but certainly not least is Donnie Darko, which is certainly one of the most beloved modern thriller films, but is not typically treated as a Halloween movie among crowds. Let's place it in circulation!! It's brilliant. The movie stars Jake Gyllenhaal as a teenager who becomes haunted by a man in a rabbit suit who manipulates him into committing crimes. The chilling film was written and directed by Richard Kelly and is the perfect Halloween pick for movie fans who are looking for a true top-tier cinematic experience on All Hallows Eve.
Which underrated Halloween movie are you going to check out this year? Vote in our poll below and check out our list of essential Halloween movies as well.
Your Daily Blend of Entertainment News
YA genre tribute. Horror May Queen. Word webslinger. All her writing should be read in Sarah Connor's Terminator 2 voice over.
Your Daily Blend of Entertainment News
Thank you for signing up to CinemaBlend. You will receive a verification email shortly.
There was a problem. Please refresh the page and try again.