11 Netflix Movies To Watch If You Like Sci-Fi Thrillers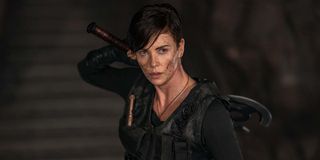 Every streaming service has its fair share of variety, but some digital platforms have proven themselves to be better at certain genres than others, such as sci-fi thrillers or horror, for instance. That being said, I would argue that there is a good of chunk of enjoyable Netflix movies that fall under the former category, such as Project Power or The Old Guard, just to name a few.
In fact, those fairly recent titles truly are just a few of the many examples from the widely subscribed platform's catalog of feature-length exclusives which combine scientific theory with a splash of imagination (or a hint of fantasy expanded to chilling plausibility) to create story that is fun and exciting or frightening and grim. I claim this without even counting its wonderful original series which fall under the genre, such as the technophobic anthology Black Mirror or the Duffer Brothers' masterpiece of '80s nostalgia Stranger Things. Whichever sort of tone you are in the mood for, Netflix has a wide enough selection of thrilling science fiction originals that should be able to match your preference.
So, what exactly are you in the mood for and how can you be sure which exclusive sci-fi thriller on Netflix is the best representation of that? Allow us to help you narrow down your search and ensure you the perfect movie night by presenting the following 11 titles we have compiled from its line-up of original content, starting with one of its most successful films in the platform's history, regardless of the genre.
Bird Box (2018)
A mysterious supernatural phenomena emerges on Earth with deadly consequences for anyone who looks upon it, forcing the remaining few to shield themselves from any sight of the outside world to survive.
Why It Is A Great Netflix Original Sci-Fi Thriller: This apocalyptic hit, also starring producer Sandra Bullock as a mother desperate to reach a safe haven for her children, was initially assumed to be an A Quiet Place rip-off that substitutes forced silence for forced blindness, but when you realize Josh Malerman's original novel came out in 2014 and actually give it a chance, it becomes clear that Bird Box is a thrilling, emotionally impactive family story that effectively stands on its own.
Stream Bird Box on Netflix here (opens in new tab).
What Happened To Monday (2017)
A group of identical septuplets must avoid capture from a futuristic government that bans families from having more than one child while searching for their missing sibling, Monday.
Why It Is A Great Netflix Original Sci-Fi Thriller: Swedish actress Noomi Rapace plays all seven of the sisters forced to assume a singular identity in What Happened to Monday - yet another Netflix original about a family struggling to survive a harsh future, but with dystopian action thriller edge, that also stars Academy Award nominees Glenn Close as a shady authority figure and Willem Dafoe as the main siblings' grandfather.
Stream What Happened To Monday on Netflix here (opens in new tab).
The Platform (2020)
To break his smoking habit, a man (Ivan Massagué) voluntarily checks himself into a prison consisting of an unknown number of vertically stacked cells each holding two inmates who are fed once a day by a feast descending from the top level, but not everyone gets their fair share.
Why It Is A Great Netflix Original Sci-Fi Thriller: Here we have another dystopian survival story in director Galder Gaztelu-Urrutia's Spanish-language thriller The Platform (which is available with English dubbing on Netflix), but with elements of persecution and imprisonment that are more overt than its subtler themes of class and poverty in this grim story that is just as entertaining as a genre flick as its is strong and haunting socio-economic parable.
Stream The Platform on Netflix here (opens in new tab).
ARQ (2016)
An engineer (Robbie Amell) and his former lover (Rachel Taylor) are targeted by masked assailants who break into their home in search of his miracle invention, which also seems of why they happen to be living the violent intrusion over and over again.
Why It Is A Great Netflix Original Sci-Fi Thriller: Also borrowing from dystopian themes but with a Groundhog Day-esque twist is ARQ (named after the strange MacGuffin that the bad guys want and the protagonists literally cannot live without), which, along with Edge of Tomorrow, Happy Death Day, and The Endless, qualifies as one of the darkest takes on the time loop concept in recent memory.
Stream ARQ on Netflix here.
The Old Guard (2020)
A team of skilled mercenaries learn that the long-kept secret of their eternal lifespan has been compromised by an egomaniacal pharmaceutical guru seeking a cure for death, but things only become more complicated after the discovery of a new immortal whom they must protect.
Why It Is A Great Netflix Original Sci-Fi Thriller: The casting of Charlize Theron as Andy, leader of the titular crew of undying badasses in The Old Guard, is just about all you really should need to spark interest in this action-packed, modern-day fantasy based on Greg Rucka's popular graphic novel from Images Comics.
Stream The Old Guard on Netflix here (opens in new tab).
The Discovery (2017)
A man (Jason Segel) tries to help a woman with a dark past (Rooney Mara) find inner peace two years after his father (Robert Redford) discloses scientific proof of an afterlife, prompting a massive uptick in suicides around the world.
Why It Is A Great Netflix Original Sci-Fi Thriller: Unlike the mercenaries cursed by immortality on Earth in the previously mentioned film, The Discovery imagines how humans would react if they knew without a doubt that eternal life was waiting for them beyond our "plane of existence" in this fascinating, astonishingly unique, and boldly dark morality tale from co-writer and director Charlie McDowell, the son of Malcolm McDowell and Mary Steenburgen.
Stream The Discovery on Netflix here (opens in new tab).
See You Yesterday (2019)
Grieving from the wrongful death of her older brother (Brian "Astro" Bradley) in a Brooklyn police shooting, a teenage science prodigy (Eden Duncan-Smith) and her equally brilliant best friend (Dante Crichlow) develop a device to take them back to the tragic moment in an attempt to prevent it.
Why It Is A Great Netflix Original Sci-Fi Thriller: From producer Spike Lee, See You Yesterday - based on co-writer and director Stefan Bristol's 2017 short-film of the same - has all the thrills of a classic time travel adventure but with an angle of poignant social commentary that grounds it in a harsh reality.
Stream See You Yesterday on Netflix here (opens in new tab).
Project Power (2020)
A cop (Joseph Gordon-Levitt), a former solider (Jamie Foxx), and a teenager drug dealer (Dominique Fishback) use a pill that grants them astonishing superhuman abilities for a temporary period against the organization distributing it on the streets of New Orleans.
Why It Is A Great Netflix Original Sci-Fi Thriller: Socially relevant themes of urban decay and addiction can also be found among the comic book movie-esque action spectacle of Project Power - a fun Netflix original from the directors of Catfish.
Stream Project Power on Netflix here (opens in new tab).
Spectral (2016)
A special unit of the United States military sent into Europe to fight civil unrest in the nation of Moldova is suddenly confronted with a new enemy that is somehow unseeable to them.
Why It Is A Great Netflix Original Sci-Fi Thriller: With the majority of combat thrillers aiming to tell a grounded history lesson, it is refreshing to see a Netflix original film like Spectral (starring The Departed's James Badge Dale, Relic star Emily Mortimer, and veteran actor Bruce Greenwood) that depicts a completely fictional war made all the more unbelievable with the appearance of invisible supernatural entities to really shake things up.
Stream Spectral on Netflix here (opens in new tab).
In The Shadow Of The Moon (2019)
After putting a stop to the bloody trail of a notorious serial killer (Cleopatra Coleman) known for appearing every nine years, a Philadelphia police officer (Boyd Holbrook) is shocked by the discovery that she has returned and becomes obsessed in figuring out how and why, destroying his life in the process.
Why It Is A Great Netflix Original Sci-Fi Thriller: With the majority of gritty mystery thrillers aiming to tell a grounded, and sometimes socially relevant, morality story, it is refreshing to see a Netflix original like In the Shadow of the Moon (which also also stars Dexter's Michael C. Hall) aiming to be a simple crime story with a twist that excels it beyond the bounds of familiarity.
Stream In The Shadow Of The Moon on Netflix here (opens in new tab).
I Am Mother (2019)
In a bunker located underneath an uninhabitable planet Earth, an android (voiced by Rose Byrne) programmed for repopulation instead raises one girl (Clara Ruggard) it creates on its own as daughter into her teens, at which point her bond with her "Mother" and everything she knows is put into question by an unexpected visitor (Hilary Swank).
Why It Is A Great Netflix Original Sci-Fi Thriller: To summarize what makes I Am Mother such an interesting and thrilling experience without giving too much away, think of it as Moon meets 10 Cloverfield Lane, with a dash of Blast from the Past.
Stream I Am Mother on Netflix here (opens in new tab).
What do you think? Are you ready to make Netflix your go-to, one-stop spot to stream sci-fi thrillers after reading this list, or do you feel that you would be better off binging all five seasons of Black Mirror than any of these films for a more satisfying taste of the genre? Let us know in the comments and be sure to check back for additional information and updates on all the best titles exclusively available to watch on the digital platform, as well as even more of our own recommendations of what to stream right now, here on CinemaBlend.
Your Daily Blend of Entertainment News
Jason has been writing since he was able to pick up a washable marker, with which he wrote his debut illustrated children's story, later transitioning to a short-lived comic book series and (very) amateur filmmaking before finally settling on pursuing a career in writing about movies in lieu of making them. Look for his name in just about any article related to Batman.
Your Daily Blend of Entertainment News
Thank you for signing up to CinemaBlend. You will receive a verification email shortly.
There was a problem. Please refresh the page and try again.