Looks Like James Bond's No Time To Die Almost Went To A Streaming Service After All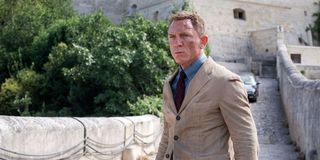 Since its initial delay earlier this year, questions about No Time To Die's premiere have run rampant. While fans have wondered when they'll finally get to see Daniel Craig's last outing as James Bond, it appears MGM has been working behind the scenes to figure out the best strategy for the film's release. Despite what we're hearing from official sources, it appears they may have come near to inking a streaming service deal after all.
As of today, No Time To Die is currently scheduled to hit theaters in April 2021, roughly a year after its original intended release date. Recently, rumors cropped up as to whether or not MGM is planning to release the film on streaming services instead.
According to Variety, earlier this year MGM, was exploring the idea of a roughly $600 million deal with various streaming platforms in lieu of a theatrical release. The magazine's sources said the price was deemed too expensive, so the deal never came to pass.
Bloomberg recently reported that Netflix and Apple were among streaming services that have been considering acquiring the rights to stream No Time To Die -- a report that MGM has denied. These rumblings have invigorated a debate as to what the best step forward for the Bond franchise might be.
MGM is in a tough spot, regardless of what they do. Variety reports the studio has already lost between $30 and $50 million due to No Time To Die's delays. While they've pushed the film back considerably into 2021, there's still no guarantee of what the world will look like and how feasible a global theatrical film release will be when that time comes.
However, the logistics of shifting their strategy toward streaming are also complicated. There are global distribution issues, and it's unclear whether they'd stand to make any profit on the film, which had a production budget of more than $250 million.
While studios have chosen to release many films on digital platforms this year, most 2020 tentpoles, like Wonder Woman 1984, F9 and Black Widow, have still been saved for theatrical release. To date, Mulan is probably the biggest film to make the switch to streaming. It's still unclear as to how successful that move was for Disney, but executives were reportedly happy with the results.
Regardless of what may or may not have happened in the past few months, for the time being, the plan is still to save No Time To Die for movie theaters -- and it's clearly not a decision that has been made lightly.
Would you prefer to see No Time To Die on a streaming service? Or are you willing to wait to see 007 on the big screen? Let us know in the comments!
Your Daily Blend of Entertainment News
Thank you for signing up to CinemaBlend. You will receive a verification email shortly.
There was a problem. Please refresh the page and try again.