Love And Monsters Ending Explained, And How It Sets Up A Potential Sequel, Prequel, Or Spin-Off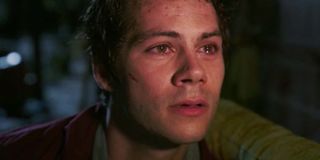 Love and Monsters stars Dylan O'Brien and tells the story of Joel Dawson. Joel spent the last seven years living in a monsterpocalypse, trying to survive and adjusting to his new bunker life. Joel was a teen when all of this happened, and at only 24, he's still dealing with a little arrested development. Joel decides to embark on a great adventure to find high school girlfriend Aimee (Jessica Henwick). The Love and Monsters ending set up the movie to continue on long beyond Joel's quest to get to Aimee.
Love and Monsters effortlessly sets up and establishes this monsterpocalypse world, and then takes viewers through a journey in it. The world is full of terrors, but also some extremely fascinating creatures, and even robots. This world of wonders makes you want to visit this universe as often as possible. For this post, I will explore the Love and Monsters ending and how it and other elements open the door for more of Joel and the other survivors' stories.
Spoiler warning: as I'll be discussing the Love and Monsters ending, expect spoilers.
What Happened At The End of Love And Monsters
Joel finally reaches Aimee, and things aren't fairytale-esque as he pictured. Aimee has lived a lot of life in these last seven years, and she even loved and lost someone. The imperfect meeting between Joel and Aimee becomes even more complicated with the shady Captain (Dan Ewing) and his crew around claiming to want to help Aimee and her bunker. Joel manages to speak to his colony with his radio, and he realizes that he misses them and needs to make it back to them.
Before he leaves, he also discovers that the Captain and his crew are food stealers. They plan to sacrifice Aimee's colony (including Joel) to a giant crab, so that they can take off with all their supplies.
We get a major monster battle between the crab and Joel and Aimee, while they're also trying to stop the Captain and his crew. Just when Joel gets the upper hand and can kill the crab, he looks in its eyes and realizes that he's not his enemy. He sets him free and crab exacts his revenge on the Captain and his crew by eating them.
Joel says goodbye to Aimee with a kiss and gives her his book on the monsters. He then sets out on another 7-day journey with Boy to return to his bunker. We hear a recording from Joel that gets transmitted to multiple bunkers. It tells them what he knows about fighting the monsters and that the safest place seems to be the mountains because it has fewer monsters.
We see multiple groups, including Aimee and Joel's group heading to the mountains. We also see Minnow (Ariana Greenblatt) and Clyde (Michael Rooker) already there waiting for more survivors, specifically Joel's arrival.
Will There Be A Love And Monsters Sequel?
Will Love and Monsters 2 happen? The short answer is that we don't know. Paramount hasn't commissioned a Love and Monsters sequel yet, but I strongly believe that this movie is just the beginning of the Love and Monsters franchise, especially with the movie doing well with its PVOD sales.
The story, characters, and premise leave a lot of room for potential sequels, prequels, or spin-off stories. Love and Monsters cast members, including Michael Rooker, who stated while talking to Comic Book Movie that he would love to film in Australia again for a return to this world, have spoken about doing another movie.
Comic Book Movie also interviewed Love and Monsters director Michael Matthews about potential sequels and he offered this insight.
Though Matthews may have not set the film up with sequels in mind, there is so much material for an expansion of this world.
What Could A Love And Monsters Sequel Be About?
Love and Monsters has laid the groundwork for so many more stories. Let's look at some of the directions the sequels could take.
The Continuation Of Joel's Story
Dylan O'Brien has such a dedicated fan-base from his time on Teen Wolf and as the star of The Maze Runner franchise, so of course Paramount would want to keep O'Brien's name attached to the project, and O'Brien also gave a fun and charming performance as Joel. Therefore, the most logical next step would be more stories about Joel. I think he is an interesting enough character to carry more movies, especially since we watched him evolve in Love and Monsters. What does Joel 2.0 look like as he navigates his colony?
The Monsters
Unlike many other films about monsters, the creatures in Love and Monsters are from our world. They're just giant mutated versions of insects, amphibians, and other bug-like creatures. This is a concept that I would want to learn more about, because we saw with the crab and the slug that they aren't all trying to destroy and eat humans. The movie could even take a note from The Transformers franchise and explore what happens when these monsters have to work against each other. What happens if some of the monsters actually help humans?
The Other Survivors
Joel is a great character, but so is Minnow, Clyde, and Aimee. Joel's colony also seemed like an interesting group of people. I would love to see the story from another survivor's perspective. What are their challenges and struggles?
What Could A Love And Monsters Prequel Or Spin-Off Be About?
A straight path forward isn't the only way to tell more of the Love and Monsters story. There is also a lot of material for the movie to explore prequel or spin-off films. Let's look at a few ways that could work as well.
Aimee's Story
Aimee clearly went through a lot in these last seven years. A prequel could take us back to seven years ago and show viewers some of her obstacles and how she grew from an innocent girl to a capable and tough woman. In an interview with Comic Book Movie, Jessica Henwick discussed where she would like to see Aimee's story go next.
Aimee as a monster hunter could work as a spin-off movie. We could see how she fights monsters now that she's out of the bunker with her colony.
The Monsters' Origins
Joel explained at the very beginning what happened with the meteor and then chemicals falling back to the earth causing mutations. I would like to see more of how this all happened. The meteor panic, the plan to stop it with rockets, and then these little creatures becoming huge and taking over the earth, killing 95% of the population. It would probably be less optimistic than Love and Monsters, but it would still be an interesting film.
A Story Of Boy's Journey
Boy was the second main character of Love and Monsters, and we learn that Boy lost his girl sometime during this Monsterpocalypse. I think a prequel explaining Boy's journey would be very captivating. I want to know things he had to do to survive all these years, and the people he met along his journey, and what happened to his original owner.
Love and Monster is a rare monster movie in that it's less about the darkness and horror of this post-apocalyptic world and more about the main character's coming-of-age story. It takes an optimistic approach to life in that it argues that even in a world full of dangers and monsters, there is still hope and love. Love and Monsters is currently available to rent or purchase on-demand at your favorite VOD service. Rent or purchase it here (opens in new tab).
Your Daily Blend of Entertainment News
Spent most of my life in various parts of Illinois, including attending college in Evanston. I have been a life long lover of pop culture, especially television, turned that passion into writing about all things entertainment related. When I'm not writing about pop culture, I can be found channeling Gordon Ramsay by kicking people out the kitchen.
Your Daily Blend of Entertainment News
Thank you for signing up to CinemaBlend. You will receive a verification email shortly.
There was a problem. Please refresh the page and try again.