Kumail Nanjiani Finally Reveals When You Can Watch Netflix's The Lovebirds Streaming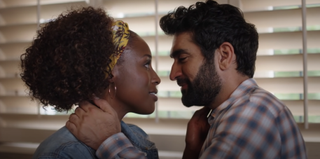 The Lovebirds, starring Kumail Nanjiani and Issa Rae, was supposed to get a theatrical release earlier this year. Instead, we've known for a while it would be going to Netflix rather than going to pay-on-demand as Universal recently tried with Trolls World Tour. Now, we've learned when the upcoming movie will finally be available to watch streaming.
Originally, The Lovebirds was supposed to be released in April, and since it had been delayed, no one knew when it was going to hit Netflix. Until now. Kumail Nanjiani went on social media with co-star Issa Rae to announce the release date will be May 22nd. Here's the official announcement:
Outside of the fact that we learned Kumail Nanjiani watches The Great British Baking Show in his spare time (just to look at cakes since he can't actually eat them due to his new regimen), it's awesome to hear The Lovebirds will be released sooner rather than later. Plus, to highlight their comedic chops, this snappy little video is a perfect taste of what we'll get in the movie.
If you were wondering what Issa Rae meant by "Mr. Marvel," Kumail Nanjiani has been hard at work with several projects, including Marvel's upcoming The Eternals. Like most actors thrust into superhero roles, he got jacked for his role and the internet definitely took notice.
The Lovebirds is a romantic comedy directed by Michael Showalter, who also helmed The Big Sick, and the movie is about a couple who get wrapped up in a murder mystery which becomes a big moment for their budding, head-over-heels relationship. By the looks of the trailer, this is going to be pretty hilarious.
While it'll be great we can still watch this on Netflix, it's somewhat of a shame the film won't get its due on the big screen. By the looks of the trailer, and with Michael Showalter's track record for funny and touching comedies, it has the potential to be a great comedy.
You may recognize Issa Rae from her starring role as Leilani on HBO's Insecure and her latest movie Little, a story about a woman who becomes her younger self during a stressful point in her life. Be ready to see a lot more of Issa and her style of comedy in the future. She and Will Packer Productions have sparked a nice working relationship, and Will Packer said he wants to do more with her in the future.
If, like Kumail Nanjiani, you're busy binge-watching Netflix, but need more television shows to watch. Take heart, they have plenty coming in 2020. In fact, it's going to be a huge year for Netflix. From follow ups like Stranger Things to 13 Reasons Why to BoJack Horseman, you'll likely be set for a long time.
As for movies, The Lovebirds isn't the the only comedy movie being sent from theatrical release to streaming. It was announced My Spy, starring Dave Bautista will be heading to Amazon Prime. But, if you have a Netflix account, and need a nice date night idea, The Lovebirds looks like it'll be the one to catch.
Your Daily Blend of Entertainment News