Kristen Stewart Will Battle Fashionable French Ghosts In Personal Shopper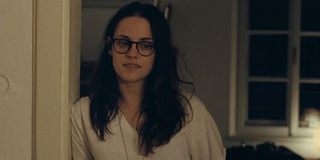 Kristen Stewart has become somewhat of an indie film Queen as of late and with her recent win at the Cesar Awards (French equivalent to the Oscars) the roles just keep piling up. Now, the young actress gears up to star in a new, fashionable ghost story entitled Personal Shopper.
The announcement comes as Stewart's film Clouds of Sils Maria premiered in competition at Cannes Film Festival, the same film which earned Stewart the Best Supporting Actress Cesar, an especially big deal considering Stewart was the first American actress to do so. According to Variety, the new project, Personal Shopper will pair Stewart yet again with Olivier Assayas, who directed the young actress in Sils Maria. Assayas penned the Personal Shopper script and will direct Stewart in a ghost story taking place in the fashion underworld of Paris. The story is said to feature similar themes to Sils Maria including a genre/fantasy dimension.
While there hasn't been much detail divulged on what exactly this fashion ghost story will entail it seems to be right up Stewart's alley. The Adventureland actress not only has experience dealing with the supernatural in film (remember that movie about vampires?) but also, Stewart has quite the fashion background as well. Yes, she always looks super cool on the red carpet, but she also is the face of Chanel and Balenciaga, two French fashion companies (which proves yet again the French love her).
Stewart has come a long way from her Twilight days. The 25-year-old actress continues an impressive streak of difficult movie roles, quickly becoming a critical favorite. Last year, along with her supporting roles in Clouds of Sils Maria and Still Alice, Stewart also scored a starring role as an Army guard at Guantanamo Bay in the Peter Stattler film, Camp X-Ray. The actress has three movies coming out this year including an indie drama directed by Tim Blake Nelson entitled, Anesthesia, the action-comedy American Ultra starring alongside Jesse Eisenberg and a sci-fi romance Equals alongside Nicholas Hoult. That's not all though, Stewart also has Ang Lee's Billy Lynn's Halftime Walk and an untitled Kelly Reichardt Product scheduled to come out sometime in 2016.
We look forward to hearing more details about this interesting ghost story, but until then you can catch Kristen Stewart on the big screen in American Ultra hitting theaters August 21.
Your Daily Blend of Entertainment News
Thank you for signing up to CinemaBlend. You will receive a verification email shortly.
There was a problem. Please refresh the page and try again.