6 Marvel Characters Jamie Lee Curtis Would Be Perfect To Play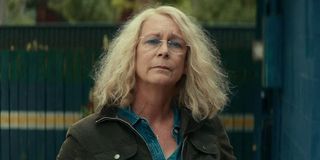 In the kind of movies that Jamie Lee Curtis is most worshipped for, the villains are the typically the ones whom the crowd tends to cheer on the most. However, the Halloween star is a special case because the way she takes on infamous killer Michael Myers makes her a bonafide superhero of the horror genre. That being said, she could be a tremendous addition to the Marvel movies, even this far into her career.
Her star-making performance in her feature film debut as Laurie Strode in John Carpenter's 1978 slasher classic earned the now 61-year-old the title of the ultimate Scream Queen, as far as I am concerned - not to mention the fact that she was already horror movie royalty as the daughter of Psycho star Janet Leigh. Of course, the actress did not earn her two Golden Globe wins for horror films (and rarely does one achieve such an honor from said genre anyway) but for the comedy series Anything But Love and James Cameron's comic action thriller True Lies, in which she played the unsuspecting wife of secret agent Arnold Schwarzenegger.
Jamie Lee Curtis also recently had the pleasure of sharing the spotlight, in Rian Johnson's dazzling whodunit Knives Out, with Captain America himself, Chris Evans, who should have no problem getting his onscreen mother in a room with Kevin Feige and see about adding her into the Marvel Cinematic Universe. In fact, for the time that opportunity arises, I have five notable characters (plus one extra who is a bit of a long shot for the MCU continuity, but would still be awesome to see in some adaptation) in mind for Jamie Lee Curtis to play. Let's start off with a role that is fit for a queen… a "Scream Queen," that is.
Elspeth Cromwell
Fans have speculated over the Fantastic Four's MCU introduction even before Disney's Fox acquisition and, if it were up to me, I would save Doctor Doom for a later installment, perhaps as the franchise's next "big bad". Plus, since the announcement of the new Blade and Sam Raimi helming Doctor Strange 2, it seems Kevin Feige and co. are open to more horror-inspired content and I think throwing Marvel's first superhero family into a dark supernatural thriller would be a uniquely fun, surprising take. Thus, I would cast Jamie Lee Curtis as Elspeth Cromwell - a sorceress and famous witch hunter who mistakes the Fantastic Four's powers for black magic, leading to a conflict that ended up summoning Mephisto - which would pave way for the anticipated addition of said demonic fan-favorite character into the continuity.
Abigail Brand
Marvel fans have also been looking forward to the live action debut of this woman who is part-alien, part-mutant, all unapologetically badass for a while now. Anticipation has only increased since the post-credits tag from Spider-Man: Far From Home and WandaVision's more recent teaser, both of which hints at the introduction of S.W.O.R.D. - a defense organization similar to S.H.I.E.L.D. (which it is a subdivision of in the comics, actually) that specializes in dealing with anything extra-terrestrial and is directed by the Abigail Brand.
The green-haired secret agent is typically depicted as relatively younger, having earned control of S.W.O.R.D. at 28, but I think it would be intriguing and even more believable to see her leading the pack in her later years and portrayed by someone who can be bold and ready for action, just like Jamie Lee Curtis.
Madame Web
There has also been a lot of talk of giving this blind, paraplegic clairvoyant her own movie - not in the MCU, however, but in Sony's loosely connected universe of Marvel characters (which is pretty close to the real franchise title, actually). My only hope is that Tom Holland's Spider-Man gets to directly interact with Madame Web, which would only make sense considering she most often appears in the comics whenever the webslinger is in need of her guidance. I think audiences have come to see Jamie Lee Curtis as the very wise, motherly figure whom Cassandra Webb is a supernatural embodiment of, especially after her role as Lindsay Lohan's psychiatrist mom in Freaky Friday… which brings me to my next characters suggestion.
Ella Whitby
It is no secret that Wade Wilson has a lot of issues, which is part of why he was admitted to the Crossmore Institution and forced to see Dr. Ella Whitby - who actually ended up falling in love with him, helping him escape the facility, and stalked him until he broke the news that he had the hots for Death (a major plotline not touched in the movies… so far). However, I actually believe the next Deadpool movie could use a slight rewrite of the character, especially if cast by Jamie Lee Curtis, who's shown a brilliant talent for deadpan comic delivery that would play perfectly against Ryan Reynolds' Merc with a Mouth. I mean, the stalking element does not have to be out of the question and, if so, I actually think there may be an even better role for her in Deadpool 3.
Hailey Wilson
There has yet to be much of a specific (and credible) reference to Wade Wilson's parents in his current cinematic timeline, which could be because Ryan Reynolds and co. have yet to decide on which interpretation of them to go off of. As far as I am concerned, having "multiple choice" options (both of which involve alleged tragedy) is all the more reason to just make up a new parental backstory and maybe reintroduce Deadpool's mom, Hailey Wilson, as some gun-toting, paranoid schizophrenic for all we care. As I said before, Jamie Lee Curtis has the chops to pull off a comedic character, especially one with a dark edge, and that is exactly what fans of the Deadpool franchise would beg to see in the woman who brought the Merc with a Mouth into this world.
BONUS: Penny Jones
I have only presented one (somewhat) horror-esque character because, admittedly, there are only so many who would, not only fit the Jamie Lee Curtis' profile, but also make even a shred of sense in the cinematic timelines currently available. Well, if Marvel Studios ever wanted to expand their newfound interest in the macabre to something more standalone, in 2014, Marvel published a limited comic by George A. Romero to continue his Dead series called Empire of the Dead, in which former pediatrician Penny Jones works to better understand the undead in a world overrun with flesh-eating corpses and even vampires. Better yet: a Marvel Zombies adaptation has been on many fans' minds and, maybe, that could be the way to incorporate this character into the MCU proper with Curtis as the perfect choice.
Would you pay to see Marvel Zombies with Jamie Lee Curtis, or does that sounds just way too good to be true? Well, it probably is but, in the meantime, let us who else from the pages of Marvel comic you would love to see her as. Also, be sure to check back for additional information and updates on the horror movie icon, as well as even more hypothetical comic book movie casting sessions, here on CinemaBlend.
Your Daily Blend of Entertainment News
Jason has been writing since he was able to pick up a washable marker, with which he wrote his debut illustrated children's story, later transitioning to a short-lived comic book series and (very) amateur filmmaking before finally settling on pursuing a career in writing about movies in lieu of making them. Look for his name in just about any article related to Batman.