Zoey Luna: 5 Marvel Characters The Craft: Legacy Star Should Play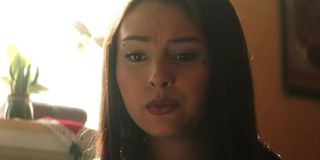 I commend Blumhouse for how well they casted the new coven in The Craft: Legacy, a sequel to the 1996 cult classic about teenage witches. Also, if you ask me, Zoey Luna gave the standout performance among the four main leads in her first of many memorable feature films, I predict. In fact, I think the transgender actress has a good chance at the Marvel movies in the near future.
It was in early 2020 when Kevin Feige, in the midst of the Marvel Cinematic Universe's early stages of LGBTQ+ representation, promised that a trans character would show up in a future film. Admittedly, there are not that many transgender characters in Marvel Comics (or, at least, openly so) at this current time. However, many of the ones who do exist seem like a perfect choice as the next big movie role for Zoey Luna, who first broke into acting on the FX drama Pose and Rosario Dawsons' short film Boundless after she was profiled in two documentaries on the subject of gender identity.
So far, Kevin Feige has not yet specified what transgender character will appear in the MCU or in which movie they will appear, which means now is our chance to do some dream-casting with Latina actress Zoey Luna as our muse this time. Keeping the range of her acting talent her cultural background in mind, I have collected five Marvel characters whom Luna is the ideal choice to play, starting with one of the publisher's most famous names in the trans community.
Sera
There have been some reports in the past year that Loki, the upcoming Disney+ exclusive series led by Tom Hiddleston reprising Thor's mischievous adoptive brother, may apparently be setting up to introduce this "Hevenly" sorceress into the MCU just a few years after her initial creation. Originally an Anchorite (a rare male angel born without wings), Sera eventually was [able to transition into her true sexual identity](https://transcendents.fandom.com/wiki/Sera(MarvelCharacter), with help from her lover and eventual wife Angela, Queen of Hel - Marvel's reinterpretation of Norse goddess Aldrif Odinsdottir, who actually made her comic book debut in Image's Spawn series by Todd MacFarlane. Since her Marvel Comics debut in 2014, Sera has been the transgender character fans have been waiting to see in the MCU and now all we are waiting for is Zoey Luna to bring her to life.
Jessie Drake
On the other hand, Zoey Luna is merely 19 years old at this time and, in the case that Sera may more likely require an older actress to portray her, we are not out of options for the actress to play just yet. In fact, the first character to openly come out as transgender in Marvel Comics was a teenage mutant named Jessie Drake, whose ability to alter her appearance and emotions based on the characteristics of others is what allowed her to officially transition from a boy to a girl. She is not a very well known X-Men character, with only four appearances in 1990s to her name thus, but putting her on the big screen with Luna in the role would be more than enough to help change that.
Firebird
There is also still plenty of room for Latino representation in the Marvel Cinematic Universe, and Zoey Luna would be an ideal candidate to cast as one one of the comics' many characters with said cultural background who have yet to be given the live action, big screen treatment. For instance, there is Bonita Juarez, who has been known to fight under a number of aliases, but the first (depending on the continuity you go by) and best known is Firebird - referring to the immense, bird-shaped mass of energy that she has been known to summon (possibly by her own will) after she was struck by a ball of fire that came out of the Albuquerque sky. She can also project energy at various levels of intensity, fly at high speeds, and could be immortal, which is just a step above the spells Luna would cast in The Craft.
White Tiger
That being said, another character with a mystical background more similar to Zoey Luna's previous experience with witchcraft is Ava Ayala, who is the current holder of the White Tiger moniker (originally held by her older brother - Puerto Rican-born Hector Ayala). After her entire family was murdered, Ava was inspired to follow in her sibling's footsteps by donning a white, feline-esque costume to fight evil with the help of a supernatural amulet that gives her extraordinary abilities such as enhanced strength and speed, animalistic instincts, and camouflage. This character's tragic backstory alone is engaging enough to earn my interest for a future MCU installment.
Ms. America
If there is one teenage, Latina superhero whose MCU debut is more highly anticipated than any other, it would have to be America Chavez, better known as Ms. America - but not for the same reason young women on our planet earn that title. In fact, Chavez is not even a natural citizen of the main Marvel Universe, but a parallel dimension that she ran away from to be a hero in the central continuity (referred to as Earth-616), which is easy for her with an ability to fly and travel between space and time, block all lethal attacks, and be hyper-aware of the cosmos. Despite her penchant for independence, Ms. America has been known to fight alongside the Young Avengers, who have yet to be given their own movie which might be the perfect vehicle for Zoey Luna.
What do you think? Is joining the Young Avengers as Ms. America the next step for Zoey Luna, of should she debut in her own solo movie first? Let us know in the comments and be sure to check back for additional information an updates on the up-and-coming actress, as well as even more hypothetical comic book movie casting calls, here on CinemaBlend.
Jason has been writing since he was able to pick up a washable marker, with which he wrote his debut illustrated children's story, later transitioning to a short-lived comic book series and (very) amateur filmmaking before finally settling on pursuing a career in writing about movies in lieu of making them. Look for his name in just about any article related to Batman.
Your Daily Blend of Entertainment News
Thank you for signing up to CinemaBlend. You will receive a verification email shortly.
There was a problem. Please refresh the page and try again.