The Craft: Legacy Cast: Where You've Seen Them Before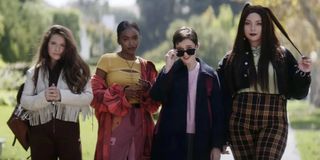 The following article contains soft spoilers (and one big one related to the end) for The Craft: Legacy, so you might want to watch the film before ruining the magic by reading along.
Few movie genres have evolved as fascinatingly as horror, with each passing era spawning the chance for stylistic reinvention and a reintroduction of old favorites to the next generation. Lately, that seems to be a primary goal of Blumhouse, whose latest release is a follow-up to The Craft, which follows a four high school girls who discover the joys (and dangers) of practicing witchcraft. Just like its predecessor, The Craft: Legacy cast puts a new quartet of up-and-coming actresses at the center, but also includes a few more familiar faces.
Written and directed by actress Zoe Lister-Jones in her second feature-length effort behind the camera, The Craft: Legacy has some of the DNA of a direct sequel 24 years in the making, but really aims to tell a new story from the perspective a young woman (Caliee Spaeny) struggling to adjust under a new roof in a new town. She finds an escape in three classmates (Zoey Luna, Gideon Adlon, and Lovie Simone) who invite her into their coven, which becomes the catalyst for some unusual, life-changing circumstances and disturbing revelations as well.
One aspect of The Craft: Legacy that it can boast having over the 1996 original (which also starred Neve Campbell and Skeet Ulrich of Scream fame), is even more cultural diversity within the main quartet of spell casters, as well as supporting characters who may even go deeper to explore social issues of the modern era. Yet, the biggest question on many fans' minds after watching this new story must be, What do I recognize these people from? We can surely answer that for you by taking a look at the resumes of its 11 most notable cast members.
Cailee Spaeny (Lily)
The young witch who is the central focus of The Craft: Legacy is Lily, played by Cailee Spaeny - a 23-year-old Missouri-born actress who is already no stranger to fantasy, having made her feature film debut in 2018's Pacific Rim: Uprising piloting a Jaeger against a new Kaiju army. That same year, she also played the victim of a different sort of cultish activity in Bad Times at El Royale, as well as two people closely connected to real life-historical figures (a younger version of Dick Cheney's wife, Lynne, in Vice and Ruth Bader Ginsburg's daughter, Jane, in On the Basis of Sex). Spaeny's singer-songwriter talents will be exhibited when her debut single "Fallin" appears in her next film The Shoes, which is currently in post-production.
Zoey Luna (Lourdes)
In an example of LGBTQ+ representation refreshingly unique to its predecessor, The Craft: Legacy includes a transgender woman in the coven played by Latina actress Zoey Luna, who was the subject of a 2017 documentary about her gender identity struggles called Raising Zoey. She makes her feature-length film debut as teen witch Lourdes after breaking out in the acting world in Rosario Dawson's 2019 short Boundless, followed by an appearance on Season 2 of Pose - an FX series from the creators of American Horror Story. Luna will star as the lead of the upcoming film Cielo Azul, once again playing a transgender role and showing signs of a trailblazing career for her community in the media.
Gideon Adlon (Frankie)
Possibly showing signs of a trailblazing career bringing witchcraft back to the mainstream is Gideon Adlon, who will follow her role as Frankie in The Craft: Legacy playing the lead of Witch Hunt - a political satire set a modern world that outlaws magic and currently expected for a 2020 release. The 23-year-old rising star previously encountered the supernatural as the voice of Violet in Telltale's video game adaptation of The Walking Dead and on Netflix's teen sci-fi drama The Society, which reunited her with her Blockers co-star Kathryn Newton. Adlon has also made notable guest appearances on TV series like Louie, Girl Meets World, and Better Things, an FX comedy co-created by and starring her mother, Pamela Adlon.
Lovie Simone (Tabby)
Unlike a few of her co-stars, The Craft: Legacy is the first foray into the supernatural for Lovie Simone, who plays Tabby. However, the 21-year-old one actress has proven herself as a strong force of talent since breaking out in a starring role on the Oprah Winfrey-produced soap opera Greenleaf. She also plays the title character of Amazon original high school film Selah and the Spades, gave a memorable performance in Netflix's Covid-19 era anthology series Social Distance, and will appear on Power Book III: Raising Kanan - an announced prequel to the hit crime drama on Starz.
Nicholas Galitzine (Timmy)
Lovie Simone also starred in an HBO original teen mystery thriller called Share, which also starred her The Craft: Legacy co-star Nicholas Galitzine, whose character Timmy undergoes a magical transition from Lily's bully to "less of a garbage person." The English-born 26-year-old debuted as a teen mentored by a washed-up rock star played by the late Luke Perry in 2014's The Beat Beneath My Feet before playing a violinist falling in love with a beautiful dancer (Keenan Kampa) in High Strung, and a very troubled teen in the 2019 Netflix original horror series Chambers alongside Uma Thurman. He will next star in a new musical version of Cinderella as the royal love interest of Camilla Cabello in the title role.
Donald MacLean Jr. (Isaiah)
Revealed to have an interesting connection to Timmy in The Craft: Legacy is Lily's stepbrother Isaiah, played by Donald MacLean Jr. The sequel is the young actor's first movie, but not his first time acting opposite a witch - namely his recurring spot as Seth Allen short-lived Netflix series October Faction, which is based on a comic book about a monster hunting agency. He is otherwise well known for this starring role on the Canadian medical Nurses.
Charles Vandervaart (Jacob)
Starring as Isaiah's younger brother, Jacob, is Charles Vandervaart, whose role in The Craft: Legacy actually marks his second time as Donald MacLearn Jr.'s onscreen sibling after playing a young Fred Allen on October Faction. He previously starred alongside the Jonas Brothers and Demi Lovato in Disney Channel's Camp Rock 2: The Final Jam, has a supporting role in the supernatural teen romance Every Day, and plays Holly Hobbie's brother, Robby, on the Hulu original series based on the titular greeting card icon. Vandervant is also expected to appear in Season 3 of Lost in Space, which will also be the sci-fi series' final season on Netflix.
Julian Grey (Abe)
The youngest of Lily's stepbrothers is Abe, played by 14-year-old Julian Grey - who has become one of the more experienced child actors of his time since leading the three-minute horror short Urban Reptile when he was just 7. He also previously got a taste of supernatural on the Twin Peaks-esque Fox series Wayward Pines, played the son of a slippery sheriff in Netflix's 7-part western Godless, and called Will Ferrell and Julia Louis-Dreyfus his parents in the family tragicomedy Downhill.
Michelle Monaghan (Helen)
While not being very well known for horror movies before playing Lily's mother Helen in The Craft: Legacy, Michelle Monaghan's filmography is chock-full of variety. She received praise from Ben Affleck's Gone Baby Gone, was nominated for a Golden Globe for Season 1 of True Detective, and has captured the eye of Robert Downey Jr. twice, playing his childhood dream girl in Kiss Kiss Bang Bang and his pregnant wife in Due Date. However, you might recognize her best as Tom Crusie's ex-wife, Jules, from the Mission: Impossible franchise.
David Duchovny (Adam)
Perhaps the most recognizable face from The Craft: Legacy is David Duchovny, whose role as Lily's stepfather Adam (a motivational speaker with odd secrets of his own) is just the latest addition to his legacy as a "scream king," despite trying his hand at everything. The 60-year-old has two Golden Globes, one from playing Mulder on sci-fi crime procedural The X-Files and the other as sex addict Hank Moody on Californication. He would also, sort of, lampoon his UFO-chasing definitive character in the 2001 comedy Evolution and also reprised his early role of transgender FBI agent Denise Bryson on the 2017 revival of Twin Peaks.
Fairuza Balk (Nancy Downs)
Speaking of reprisals, the biggest and most pleasant surprise in The Craft: Legacy would come at the end when Lily discovers that her birth mother is Nancy Downs, played once again by Fairuza Balk. The 46-year-old actress was a fan favorite of the original The Craft, having previously played Dorothy in Return to Oz (the infamously dark 1985 Wizard of Oz sequel), and would go on to steal more scenes in American History X, The Waterboy, and Almost Famous, to name a few. There is still more witchcraft in store for Balk in the upcoming rock 'n roll fantasy series Paradise City.
What do you think? Was Fairuza Balk's appearance as Nancy Downs in The Craft: Legacy the icing on the cake in your eyes, or do you feel the rest of the cast was good enough for the film to survive on its own. Let us know in the comments and be sure to check back for additional information and updates on Blumhouse's supernatural sequel, as well as even more retrospectives on what the cast members of your movies and TV shows have been up to, here on CinemaBlend.