Kate Mara Explains Why She Took Such A Small Iron Man 2 Role Opposite Robert Downey Jr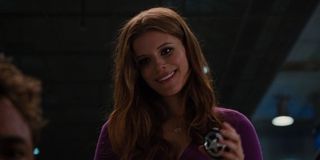 There are a lot of different trajectories to take if you're trying to establish a career in Hollywood. Some actors seem to break through pretty quickly, while others take a bit longer to build up a presence. Kate Mara did the latter, by appearing in smaller roles in films and TV shows over time. One such role just happened to be on screen, albeit briefly, with Robert Downey Jr. in one of the biggest movies of 2010, Iron Man 2 -- and she recently revealed exactly why she chose to make that particular move.
The early part of Kate Mara's career included some pretty impressive highlights. She appeared alongside Heath Ledger in a small but pivotal role in Brokeback Mountain and earned credits in films like We Are Marshall and guest roles on TV shows like Everwood.
Starting in 2010, she began to slowly but surely level up. Kate Mara had a small (very small) role in the 2010 Iron Man sequel. In the cameo appearance, she shows up to tell Tony Stark that he's been subpoenaed to appear before the United States Senate. While it wasn't exactly a star-making turn, the actress told Collider that she took the part for a couple of different reasons:
While her role in Iron Man 2 didn't end up translating into a bigger part in the MCU, it wasn't a total loss. Kate Mara made it clear that she still valued the experience -- and her career still managed to take off, albeit in a different direction.
By the end of 2011, she began to really make her mark with roles in American Horror Story. In 2013, she had a huge breakthrough playing reporter Zoe Barnes in Netflix's House of Cards. Although the following years saw a few disappointments, especially with films like Fantastic Four, she's still had plenty of career highlights too, as she's built up a steady stream of credits.
What's your favorite role of Kate Mara's roles? Would you have wanted to see her take on a bigger role in the MCU? Let us know in the comments!
Your Daily Blend of Entertainment News