The Avengers: 13 Fascinating Behind-The-Scenes Facts About The Marvel Movie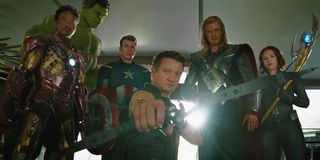 With Marvel movies now commonplace at the multiplex, one can forget how big of a deal it was when Joss Whedon's The Avengers stormed into theaters. The coalition and culmination of five separate (yet connective) blockbusters, this action extravaganza was once deemed impossible. Now, it influences almost every major blockbuster in today's market. With its ripple effects still felt, let's explore some fun/interesting behind-the-scenes facts about the making of this inaugural Avengers film.
Joss Whedon Loathed The Avengers' Original Screenplay
Prior to The Avengers, Joss Whedon was known as an Oscar-nominated/Emmy-winning writer behind Toy Story, Buffy the Vampire Slayer, Firefly, and Dr. Horrible's Sing-Along Blog, to name a few. Therefore, it wasn't surprising to know that, in addition to calling the shots on this mega-movie, Whedon had a heavy hand with its screenplay. But when Whedon boarded the project, there was a script — albeit a loose one — already in place. But when he flipped through these pages, written by Zak Penn, Whedon was reportedly intensely dissatisfied, opting to retool the script from page one. He even told producer Kevin Feige that he'd only board the project if he could re-write it; Whedon said they needed to pretend "this draft never happened." Youch!
In the end, Zak Penn only shares a story credit with Whedon, as his stamp is all over this bad boy — both as a director and writer.
Robert Downey Jr. Gave Mark Ruffalo The Courage To Play The Hulk
One of the core tenants of being a superhero is carrying the courage to stand up and save the day. When it comes to playing one, you apparently need a boost of courage, too. At least, that was true for Mark Ruffalo, who was picked to play Bruce Banner/The Hulk in The Avengers. Having previously done exclusively small-to-mid-budget movies, Ruffalo wasn't sure if he could pull it off. Enter his buddy, Robert Downey Jr.
In expectedly Tony Stark-esque fashion, the Iron Man actor reached out to his Zodiac co-star and texted, "Ruffalo, let's go. Let's do this." And that was enough to inspire him. Thus, Ruffalo became a superhero... or, at least, played one.
Joss Whedon Cited The Dirty Dozen, Dr. Strangelove, Black Hawk Down And More As Inspirations For The Avengers
As the cinematic collision of several movie properties rolled into one, it makes sense that Joss Whedon pulled from a variety of sources for The Avengers. As Whedon noted in a Thrillist interview, The Dirty Dozen, Black Hawk Down, and other movies inspired the cinematic stew that is 2012's biggest blockbuster. Evidently, this mish-mash of inspirations worked out in the filmmaker's favor, resulting in an engaging mix of action, comedy, and drama in one extra-superheroic package.
In Whedon's words:
Tom Hiddleston Encouraged Chris Hemsworth To Actually Hit Him, Then Immediately Regretted It
With his mischievous misdeeds and his shit-eating grin, not to mention his desire to eviscerate the known universe, Loki basically asked to get his daylights knocked out. Well, apparently, Tom Hiddleston literally asked to be socked during filming on The Avengers, though as soon as he did, he instantly regretted it. That's because Hiddleston asked his muscle-bound Thor co-star Chris Hemsworth to clock him in order to sell the hit. But when you get Hemsworth's knuckle sandwich, he quickly second-guessed your order.
Jeremy Renner Wanted Hawkeye Killed Off
When you jump on board the Marvel Cinematic Universe, especially as an up-and-coming actor, you'd think you'd want to ride that train all the way to the station. But when Jeremy Renner shot The Avengers, he was underwhelmed with the direction his arrow-flying character was going. So much so that he wanted Hawkeye killed off, allowing him to explore other creative avenues. Ultimately, whatever unhappiness Renner felt disappeared, as he remains heavily involved. He's currently filming Disney+'s Hawkeye series.
The Pentagon Was Consulted, But They Bailed After They Deemed S.H.I.E.L.D. Implausible
When your movie features hunky superpowered men, walking demigods, and a disgruntled scientist with anger management problems who transforms into a hulking green monster, you're not winning believability points. Yet, when Marvel consulted The Pentagon for Joss Whedon's biggest film (at one point), their involvement was swiftly short-lived, as they deemed this Marvel movie implausible.
Now, it should be noted that The Pentagon's engagement related to S.H.I.E.L.D.'s organization and how they might operate in an official capacity. But the Pentagon couldn't get their heads around "the unreality of this international organization and our place in it." So, they bailed.
The Cast Passed Time On Set By Playing Boggle (And Mark Ruffalo Was Terrible)
Blockbusters are laborious affairs. They take lots of time and manhours to pull off. Especially with The Avengers, there's lots of downtime between set-ups, staging, coordinating, and planning. Therefore, the cast needed ways to kill the time off-camera. What do you do to fill the minutes (or even hours) between shots? Well, how about Scrabble?
As Chris Evans recounted to Paul Rudd in a back-and-forth conversation, Boggle was a big time-spender for Marvel's cast, and it didn't take long for them to discover who was aces and who wouldn't put money down. As Evans revealed, Rudd and Don Cheadle were the most dependable, while Mark Ruffalo often lost his shirt.
The Avengers Was Shown In Space
While several stars shine in The Avengers, one select audience saw even more stars during their screening of The Avengers. Specifically, we're referring to some lucky astronauts who had the rare opportunity to see it in space. NASA's Mission Control in Houston sent the orbiting International Space Station a digital copy of the blockbuster during their galactic exploration. If this isn't the first movie watched in space, it's certainly among the very select few.
It should be noted that parts of The Avengers were filmed in NASA, which may explain this decision. In any case, since The Avengers features an intergalactic showdown, it's fitting that it was projected across the wide reaches of the solar system.
Chris Evans Had A Prosthetic Beard Cover During The Shawarma Post-Credits Scene
During The Avengers' memorable post-credits sequence, you may notice something... off about Chris Evans. For one, he's the only member not chowing down on the heavily-hyped shawarma. Two, he's clenching his jawline as if he's rubbing on a nasty bruise. Well, there's a reason why Captain America's hand was glued to his face, all while not partaking in the tasty grub after a hard day of galaxy saving. It's because Evans shot Snowpiercer when this final scene was stitched into the movie. When he was asked to shave his beard, Evans refused. Therefore, the make-up team got inventive.
In addition to sporting a wig (he has a buzzcut in Bong Joon-ho's film), Chris Evans wears a prosthetic chin during this sequence, as ScreenRant reported. Since he couldn't move his face, Evans held onto his face-wear to sell this illusion.
The Avengers Was Initially Given An R-Rating
For a brief moment, The Avengers had the distinction of being Disney's first-and-only R-rated movie. While this blockbuster is based on a child-friendly property, it's not shy about killing off dozens-to-thousands in the proceedings. Particularly, Clark Gregg's Agent Coulson ends up the worse for wear midway through this cinematic extravaganza (before returning in Agents of S.H.I.E.L.D.), and his pivotal death drew flack from the MPAA. Because Avengers featured his visible impaling, the organization deemed the movie R-rated.
Thus, they removed the blade to keep The Avengers PG-13, though the sequence still features a particularly grisly (and squishy) sound effect that does the job. Call it a compromise. Granted, why this scene ruffled feathers but one where Loki stabs a man's eye (not to mention hundreds of civilians who met their doom) didn't bother them isn't a question for today.
The Avengers Was The First Movie To Gross $200 Million On Its Opening Weekend
The Avengers is undeniably a hell of an accomplishment. The gigantic Marvel movie was considered just that: a marvel. While we have grown accustomed to seeing many Avengers movies within a year's time, 2012's blockbuster was an unprecedented feat, solidifying MCU's steady stream as a trendsetter for future films. Whether you praise or lament it for that reason, it's hard to dispute its box office stamina.
When The Avengers premiered on May 4th, 2012, it expectedly broke damn near every box office record. Specifically, it was the first movie to gross $200 million-plus on its opening weekend, which you shouldn't sneeze at. That said, it wasn't the best midnight showing. That record was retained by Harry Potter and the Deathly Hallows — Part 2.
The Avengers Almost Featured Shang-Chi
There's no shortage of Avengers found in this smash-hit superhero power-hour. It's hard to know how they fit even more characters in the sequels, but that's the power of Marvel. Alas, Joss Whedon faced quite a task when putting together this team-up movie, and that meant axing some of Marvel's long roster of comic book characters, including Shang-Chi. While he'll get his solo movie in Phase 4, Whedon initially planned to put Shang-Chi in this Phase 1 team-up concluder. But those plans were scrapped.
Joss Whedon Claims He Didn't Know What To Do With Thanos
We only get a brief taste of Thanos at the tail-end of The Avengers. The big, imposing purple space villain hovers over the far reaches of the galaxy, teasing his doom to an unsuspecting universe shortly after our eventful climax. But we don't see more than his toothy smile following a few threatening words. Apparently, there's a blunt reason why we don't see a lot of Thanos.
Beyond teasing future installments of this ever-growing franchise, Joss Whedon admitted that he didn't know what to do with the menacing Marvel meanie. Rather than present something anti-climatic, he laid the early groundwork and let future filmmakers figure out how to implement Thanos into this ever-expanding cinematic universe. Ultimately, this strategy paid off. As Whedon explained:
Love The Avengers? Assemble in the comments!
Your Daily Blend of Entertainment News
Will is an entertainment writer based in Pittsburgh, PA. His writing can also be found in The Playlist, Cut Print Film, We Got This Covered, The Young Folks, Slate and other outlets. He also co-hosts the weekly film/TV podcast Cinemaholics with Jon Negroni and he likes to think he's a professional Garfield enthusiast.