Cats' James Corden Reacts To The Butthole Cut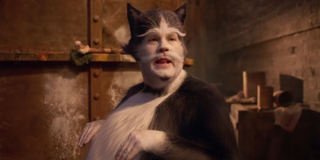 Cats is a bad movie. Even many of the actors who worked on the film will tell you that right now. And yet, while it's been a year since we were subjected to the insanity that was the theatrical version of Cats, that very insanity has kept the movie from vanishing from the public consciousness. People still can't believe that the movie was even real. And what's more, there might be an even more insane version of the movie out there, one where all of the CGI cat people actually have visible anuses. Well, that's a sentence I just wrote.
Whether or not there actually is a "butthole cut" of the Cats movie has been a topic of some debate, but the fact that people have bothered to debate it shows just how wild it's all become. Recently, James Corden, who appears in the upcoming Netflix musical The Prom, appeared on The Late Show with Stephen Colbert, where Corden's fellow late night host asked him if the infamous version of Cats actually exists. Unfortunately, Corden was unable to shed any light on the situation. He doesn't know for certain if that version of the movie exists, all he knows he that he hasn't seen it. According to Corden...
While James Corden doesn't think the existence of a "butthole cut" would save Cats, Stephen Colbert disagrees, saying he would absolutely rent such a film. And based on the interest that this theoretical version of Cats has generated, it seems more than likely that there are other people who would as well. Even if it was just curiosity, people would watch.
The whole thing started earlier this year when somebody claimed in a tweet that they knew a VFX technician who had gone through the movie Cats with the single job of removing CGI buttholes from the characters that had apparently been added previously. Universal, the studio that distributed Cats, has thus far avoided official comment, and so we don't really know if this is real or not. One anonymous member of the VFX team has stated that, while there were never actually CGI buttholes, there were occasionally CGI shots that made it appear that there were CGI buttholes. But honestly, isn't that basically the same thing?
Will we ever see this elusive version of Cats. Even if it actually exists, it seems unlikely. But honestly without any new movies to watch in 2020, I'm not sure I can blame anybody for getting slightly obsessed over one that might exist, even if, let's be serious here, nobody wants to watch that. James Corden is ultimately right, that movie isn't going to be saved, except perhaps by people who drink heavily before turning it on.
CinemaBlend's resident theme park junkie and amateur Disney historian. Armchair Imagineer. Epcot Stan. Future Club 33 Member.
Your Daily Blend of Entertainment News
Thank you for signing up to CinemaBlend. You will receive a verification email shortly.
There was a problem. Please refresh the page and try again.