People Are So Interested In Cats' Rumored Butthole Cut, It Has Its Own Snopes Investigation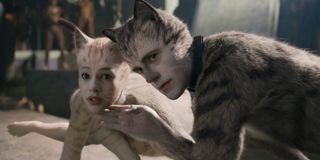 There have been plenty of wild fan theories and conspiracies over the years, but how many of them are centered around buttholes? One, to be exact, as far as we can tell. Now, the fervor surrounding Cats' Calleged Butthole Cut has become so intense even Snopes is weighing in.
The notorious fact checking website recently created a page to address this pressing question: Does the Movie 'Cats' Have a Butthole Cut? Currently, they've tagged it as "Unproven" - and they're cautioning fans not to hold their breath. However, given the evidence we currently have at our disposal, we still have hope.
Here's what we know: allegedly, there were a bunch of CGIed buttholes on the myriad feline characters in Cats. This is hearsay, courtesy of writer Jack Waz, whose VFX specialist friend apparently told him that he was hired to remove said CGI buttholes before the film hit theaters last December. If true, that means that there was, at one point, a version of Cats in which the jellicle crew's buttholes were visible. A Butthole Cut.
Here's what we don't know: Whether or not this is true - and whether or not said version of the film still exists in some form. The authenticity of the Butthole Cut was called into question when a Cats crew member, speaking on the condition of anonymity, declared that the original report wasn't exactly accurate. They said that it wasn't that they'd CGIed buttholes onto the cats, it was that they'd realized in post-production that some of the digital effects had unintentionally made it look as though some of the characters had "very furry lady genitals and buttholes."
So, maybe it's not that the Butthole Cut didn't exist. It's just that it didn't exist on purpose. We're still on board, to be honest, and so are many, many cinephiles in dire need of distraction these days. As word got around, #ReleaseTheButtholeCut trended on Twitter. Everyone from Seth Rogen to Rian Johnson tweeted in support of the movement. One enterprising fan took it upon themselves to make their own Butthole Cut and share it with the masses.
Sadly, that may be the best we'll get for now. Snopes may never get a chance to officially confirm or deny its validity. Unlike, say, the Snyder Cut, which has been basically confirmed by the Justice League director himself, thus far, no one from the Cats team has spoken on record as to its existence. But if it's out there, then there may be even more surreal feline anatomical explorations than fans bargained for. The anonymous Cats crew member also revealed that the film once featured a "graphic peeing scene." Jason Derulo, who played Rum Tum Tugger in the film, also said he's confident Cats' digital effects team had CGI'd his penis out of the film.
The funniest thing about all of this is that even without a Butthole Cut, Cats is easily one of the weirdest movies out there. Though it's been out in the world for less than half a year, it's already become a bit of a cult classic, a once in a lifetime, so-bad-it's-actually-still-just-really-really-bad-but-we-can't-stop-watching-it movie event. If you haven't checked it out yet, what are you waiting for? It's available to stream and, when watching it, make sure to keep an eye out for a stray butthole.
Your Daily Blend of Entertainment News
Your Daily Blend of Entertainment News
Thank you for signing up to CinemaBlend. You will receive a verification email shortly.
There was a problem. Please refresh the page and try again.