Jurassic World: Dominion's Sam Neill And Chris Pratt Caught Up Over The Holidays To Support Giving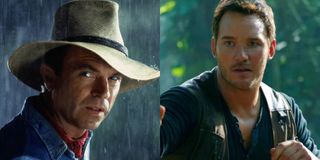 It's not uncommon for Hollywood co-stars to interact on social media. It's less common for them to come together for the greater good, though. And that's exactly what Jurassic World: Dominion's Sam Neill and Chris Pratt did this past week, as the holiday season left them both in a giving mood.
Sam Neill's social media usage has always been pretty delightful. Since COVID-19 hit, he's used his accounts on Twitter and Instagram to try and uplift fans around the world. His approach to this bizarre year's end-of-the-year holidays was no different, as he uploaded a video with a special message:
Sam Neill went on to remind fans how easy it is to donate online and make a difference. He then went on to recommend three organizations that are dedicated to helping those who deal with food insecurity: the Foodbank Project in New Zealand, Foodbank in Australia, and GreaterGood.com's Feed Thy Neighbor (opens in new tab), which is based in the United States.
In addition to asking fans to donate what they could, he also recommended reaching out to people in their lives who might be spending the holidays alone and asking how they're doing. Chris Pratt reposted Sam Neill's video on his Instagram stories, thanking his co-star for the support. The actor is currently partnered with GreaterGood.com's Feed Thy Neighbor initiative. Take a look at his enthusiastic response below:
This isn't the only philanthropic effort Chris Pratt has made recently. Earlier this year, he participated in the All-In Challenge, offering fans who donated the chance to win a trip to the Jurassic World: Dominion set and get eaten by a dinosaur on screen. That initiative went to funding the food insecurity campaigns Feeding America, Meals On Wheels, World Central Kitchen and No Kid Hungry.
He also faced off against Chris Evans in a Fantasy Football challenge via Fan Duel. In that case, he was raising money for Special Olympics Washington. It was a decidedly different "Battle of the Chrises" than most fans are used to lately -- but regardless of where you fall on the Hollywood Chris superiority spectrum, it's hard to argue that charitable donations are a bad thing.
Chris Pratt, Sam Neill and the rest of the Jurassic World: Dominion cast and crew wrapped up their work on the film's quarantined set in November. That was after a lengthy delay in filming brought on by the COVID-19 pandemic. Its release date has since moved from July 2021 to June 10, 2022.
Your Daily Blend of Entertainment News
Thank you for signing up to CinemaBlend. You will receive a verification email shortly.
There was a problem. Please refresh the page and try again.