Alicia Silverstone: What To Watch On Streaming If You Love The Clueless Star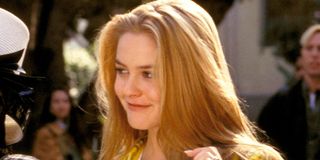 CinemaBlend participates in affiliate programs with various companies. We may earn a commission when you click on or make purchases via links.
For every major era in cinematic history, there is always one actress who is remembered as the definitive female lead of that time, much like how Marilyn Monroe defined the '50s, followed by Audrey Hepburn next decade. I would enthusiastically consider Alicia Silverstone as the owner of that title for the 1990s. Would it be a problem if 1995's Clueless happens to be the sole movie that earns it for her? As if!
Of course, you would also be buggin' to forget about any of the other roles from that decade which made the now 44-year-old, San Francisco-born Golden Globe nominee a bonafide star, such as her risqué big screen debut in The Crush opposite Cary Elwes or her iconic appearances in a trilogy music videos from Aerosmith. In addition to those memorable efforts of yesteryear, Alicia Silverstone has also kept busy in more recent years appearing in films like the haunting 2017 thriller The Killing of a Sacred Deer and in TV projects as well, such as the new The Baby-Sitters Club series on Netflix.
In case you have yet to see any of the movies and TV shows starring the actress that I mentioned in the above paragraph, prepare to go postal when I tell you all of them are currently available to stream right now, among plenty of others acclaimed titles. The following are 12 of the most, like, totally awesome things to watch on your favorite digital platforms at the moment featuring Alicia Silverstone, starting with, arguably, the crown jewel of her career.
Clueless (Pluto TV)
With the help of loyal friends, Cher Horowitz uses her wealth and sense of style to navigate the social infrastructure of high school while struggling to handle her unconventional family situation.
Why It's A Good Option for Alicia Silverstone Fans: Writer and director Amy Heckerling's Clueless would not be the timeless teen comedy it is today without Alicia Silverstone's dynamite lead performance, masterfully portraying Cher's balance of a superficial exterior with her inner charm and intelligence.
Stream Clueless on Pluto TV here.
The Baby-Sitters Club (Netflix)
A group of young girls and best friends discover the ins and outs of teenhood together as they start their own business for looking after children in their local neighborhood.
Why It's A Good Option for Alicia Silverstone Fans: Developed by Supergirl and GLOW writer Rachel Shukert, this family-friendly Netflix original series is the third screen adaptation of the popular The Baby-Sitters Club book series from author Ann M. Martin and stars Alicia Silverstone as the mother of club founder Kristy Thomas (Sophie Grace).
Stream The Baby-Sitters Club on Netflix here.
The Babysitter (CBS All Access)
A teenagers discovers that she is deeply and strangely admired by the two young boys she has been hired to watch, as well as by the children's middle-aged father.
Why It's A Good Option for Alicia Silverstone Fans: Long before Alicia Silverstone played the parent of a babysitter, in the same year as Clueless, she appeared in the title role of The Babysitter - a tense thriller of pure '90s nostalgia from The Walking Dead director Guy Ferland that is not to be confused with 2017's synonymously titled Netflix original Satanic Panic throwback starring Samara Weaving.
Stream The Babysitter on CBS All Access here.
The Crush (Tubi, IMDb TV)
After moving into the guest house of a well-to-do family, a 28-year-old newspaper reporter immediately catches the eye of his hosts' 14-year-old daughter (Alicia Silverstone) and soon discovers that she is not as innocent as she seems.
Why It's A Good Option for Alicia Silverstone Fans: Before Alicia Silverstone became the center of unwanted attention from an older man in The Babysitter, Cary Elwes (English-born star of The Princess Bride and Saw) played an older man receiving unwanted attention from her in the psychosexual thriller The Crush, which is also the then 17 year-old's debut film role.
Stream The Crush on Tubi here or on IMDb TV here.
True Crime (Amazon Prime, Tubi)
An intelligent Catholic high school senior obsessed with detective novels (Alicia Silverstone) convinces a young police cadet (Kevin Dillon) to team-up with her to investigate of the murders of several teenage girls, bringing her a step closer to becoming the next target.
Why It's A Good Option for Alicia Silverstone Fans: This time, the young actress finally plays a teenager who, despite getting wrapped up in more trouble, has a far more noble purpose in True Crime - another 1995 Alicia Silverstone thriller from writer and director Pat Verducci.
Stream True Crime on Amazon Prime here or on Tubi here.
Braceface (Tubi, IMDb TV)
An eighth grade student discovers that receiving braces on her teeth has caused more problems than she anticipated when her new metal grin appears to possess strange abilities that frequently lead to equally unusual mishaps.
Why It's A Good Option for Alicia Silverstone Fans: At 25 years old, Alicia Silverstone played, arguably, the most likable and truly genuine teenager of her career by voicing the lead character of Braceface - an animated series that was well-regarded in the early 2000s for having relatable themes of the middle school and (later high school) lifestyle, but with a unique supernatural edge.
Stream Braceface on Tubi here or on IMDb TV here.
The Killing Of A Sacred Deer (Netflix)
After he performs an operation that turns fatal, a surgeon (Colin Farrell) takes under his wing the boy (Barry Keoghan) whose father incidentally died by his hand only to learn he has a few sinister plans in store for his family.
Why It's A Good Option for Alicia Silverstone Fans: Years after playing a slew of troubled youths, in Greek filmmaker Yorgos Lanthimos' disturbing drama The Killing of a Sacred Deer, Alicia Silverstone instead got to play the mother of a problematic teenager, whose behavior makes anything the actress' younger characters might have done truly look like child's play.
Stream The Killing of a Sacred Deer on Netflix here.
The Lodge (Hulu)
After suffering a terrible tragedy, a young man (Jaeden Martell) and his little sister (Lia McHugh) are already dreading having to spend Christmas with their future stepmom (Riley Keough) in their remote cabin, which turns out to be an even greater nightmare than any of them could have imagined.
Why It's A Good Option for Alicia Silverstone Fans: Alicia Silverstone once again makes a brief appearance as the mother of two children who are a bit naughtier than they seem in The Lodge - an extremely bleak holiday-themed thriller that firmly holds a place as one of the finest horror films of 2020 in my opinion.
Stream The Lodge on Hulu here.
Bad Therapy (Hulu)
Hoping to improve their relationship, Susan Howard (Alicia Silverstone) and her husband, Bob (Rob Corddry of Hot Tub Time Machine and Children's Hospital fame) seek the help of renowned marriage counselor Judy Small (Michaela Watkins, also Corddry's onscreen wife from The Unicorn), which turns out to only make things worse.
Why It's A Good Option for Alicia Silverstone Fans: While the need for counseling that Alicia Silverstone's character in The Lodge desperately could have used was depicted more somberly, it is thoroughly played for laughs in ways I would also prefer not to give away too soon in Bad Therapy - a 2020 comedy based on the novel by Nancy Doyne.
Stream Bad Therapy on Hulu here.
Catfight (Netflix)
The longtime rivalry between a reclusive housewife (Sandra Oh) and a successful artist (Anne Heche) reaches its peak when the two unexpectedly happen to cross paths at the same social event.
Why It's A Good Option for Alicia Silverstone Fans: Four years before playing a woman at odds with her husband and marriage counselor in Bad Therapy, Alicia Silverstone played a woman whose wife is at odds with her former college friend, and violently so, in Catfight - a brutal dark comedy from writer and director Onur Tukel.
Stream Catfight on Netflix here.
Valley Girl (Amazon Prime)
An upper class popular girl (Happy Death Day star Jessica Rothe) and a punk rocker from the city (Josh Whitehouse) fall in love and struggle to keep their relationship afloat despite their vast differences in 1980s California.
Why It's A Good Option for Alicia Silverstone Fans: This musical update of the classic, 1983 high school movie Valley Girl (itself a retelling of William Shakespeare's Romeo and Juliet) features an uncredited cameo by Alicia Silverstone as a grown-up version of Jessica Rothe's character, Julie, whom you could, essentially, think of the as the 1980s counterpart to Cher Horowitz from Clueless anyway.
Stream Valley Girl on Amazon Prime here.
Batman & Robin (Showtime)
Billionaire Bruce Wayne (George Clooney) and housemate Dick Grayson (Chris O'Donnell) fight to protect Gotham City from a cold-blooded scientist (Arnold Schwarzenegger) and a seductive, but deadly, botanist (Uma Thurman).
Why It's A Good Option for Alicia Silverstone Fans: It is no secret that Joel Schumacher's infamous second try at a DC movie is, for a few different reasons, probably the last thing Alicia Silverstone wants to be remembered for. However, even a Batfan like me who can't stand the needless reinvention of Silverstone's Batgirl as Alfred's niece instead of Jim Gordon's daughter Barbara can appreciate Batman & Robin for the laughs such a disastrously campy mess can bring.
Stream Batman & Robin on Showtime here.
What do you think? Should audiences be able to revisit Batman & Robin as a "so bad it's good" classic, or does it not even deserve that distinction? Let us know in the comments and be sure to check back for additional information and updates on Alicia Silverstone, as well as even more of our own recommendations for the best movies and TV shows to stream starring your favorite celebrities, here on CinemaBlend.
Your Daily Blend of Entertainment News
Jason has been writing since he was able to pick up a washable marker, with which he wrote his debut illustrated children's story, later transitioning to a short-lived comic book series and (very) amateur filmmaking before finally settling on pursuing a career in writing about movies in lieu of making them. Look for his name in just about any article related to Batman.