Thor 4 Is Already Filming Without WandaVision's Kat Dennings, But She Reveals There's More In The MCU For Her To Come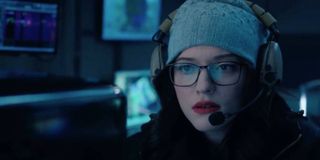 MCU fans have been enjoying just about everything that has to do with WandaVision these days -- especially the return of beloved characters like Dr. Darcy Lewis. While she's been busy stealing scenes on the Disney+ series, fans have been left wondering if she'll make an appearance in Thor 4 a.k.a Thor: Love and Thunder. While Kat Dennings has hinted that's unlikely, she did give fans some hope for future Marvel appearances.
When we first met Dr. Darcy Lewis in Thor, she was a political science student turned intern. She's certainly had a wild ride since, both on-screen and off. While she didn't appear in Thor: Ragnarok, she had a good reason: she was off getting her doctorate and becoming an expert in the field of astrophysics. Now, MCU fans are getting plenty of time with Darcy on WandaVision, as she works with Monica Rambeau and Jimmy Woo to uncover the mysteries surrounding the sitcom. Her moments on the series have become fan favorites, which of course has led fans to wonder when we'll get to see her again.
In an interview with Extra TV, Kat Dennings was asked whether fans can expect to see Darcy in Thor 4. She gave a response that might be a little bit disappointing:
However, there is some reason to feel hopeful, Marvel fans. Kat Dennings also hinted that fans of Darcy have a lot to look forward to in other areas of the MCU:
So even if we won't get to see Darcy catching up with Jane, Thor and the rest of the Love and Thunder crew, it sounds like Marvel isn't done with her yet. Of course, now we can't help but speculate what she'll be appearing in if it isn't Thor 4.
There are a few films and series that are due to premiere soon that could feature Darcy. There's Disney+'s Falcon and The Winter Soldier, which could be a good bet, if only because it's already been confirmed that other MCU characters will be appearing. Black Widow has been in the can for quite some time, and it shares a screenwriter with WandaVision. So we can't rule that out, either.
Spider-Man 3 is currently filming, so there's a chance Darcy could show up there. And she could have even lent her voice to Marvel's What If...?. All things considered, though, given how Doctor Strange 2 seems to be leaning into the multiverse, that seems like one of the most likely candidates for a future Darcy Lewis appearance.
What MCU stories do you think Darcy would fit into best? When do you think she'll show up again? Let us know in the comments!
Your Daily Blend of Entertainment News