Spider-Man 3 May Be Adding Yet Another Classic Villain, But Is It Officially Too Much?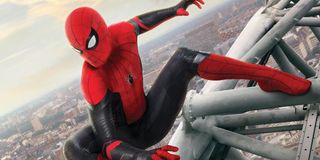 Officially speaking, Marvel Studios is keeping tight-lipped about what's in store for Tom Holland's third Spider-Man movie, which the public is informally referring to as Spider-Man 3. That said, working off numerous reports and rumors, it's not exaggerating to say that Spider-Man 3 is shaping up to be the biggest live-action Spider-Man movie yet, as the Web-Slinger's next MCU outing is pulling in the multiverse. Jamie Foxx and Alfred Molina are on deck to reprise Electro and Doctor Octopus, respectively, and recently it's been claimed that another villain from a past Spider-Man film series will show up too.
Back in December, The Illuminderdi reported that Willem Dafoe was finalizing a deal to reprise Norman Osborn, a.k.a. The Green Goblin, in Spider-Man 3, and The GWW recently heard from its sources that Dafoe has been spotted on the threequel's set. Assuming all this is true, that's now three different Spider-Man villains from the pre-Tom Holland Spider-Man days who are taking part in Spider-Man 3, and it's possible this lineup of antagonists could keep growing. While the prospect of a live-action multiversal Spider-Man movie sounds appealing to many comic book readers and fans of 2018's Spider-Man: Into the Spider-Verse, I can't help but ask now that Dafoe's Green Goblin is potentially on the table: is all this officially too much?
Live-Action Spider-Man Movies Don't Have A Great Track Record With Cramming In Villains
Let's ignore the multiverse of it all in Spider-Man 3 for now and just focus on the amount of villains we have so far. Electro, Doctor Octopus and Green Goblin are all heavy hitters within the Spider-man mythos, with the latter two filling the role of the Web-Slinger's arch-nemesis, depending on who you ask. So unless these three villains are just cameoing in Spider-Man 3 (more on that later), it can logically be assumed that they'll have integral roles in the story. Unfortunately, the live-action Spider-Man movies haven't had much luck over the years spotlighting multiple "main" villains in the same movie.
Just look at 2007's Spider-Man 3 and 2014's The Amazing Spider-Man 2; the former featured Sandman, New Goblin and Venom, while the latter used Electro, Green Goblin and Rhino. This isn't to say that all of these villains were depicted badly (I like Thomas Haden Church's sympathetic portrayal of Sandman), but there's no denying that one of the reasons those particular Spider-Man movies weren't as well received as the others was due to an overcrowding of villains. Now granted, Spider-Man: Homecoming managed to fit in a lot of villains, including two versions of Shocker and a non-Scorpionized Mac Gargan, but it was only Michael Keaton's Vulture who filled the chief villain role. The same goes for Spider-Man: Far From Home, which adapted several Spider-Man villains as Elementals, but Mysterio was the man running the show.
Tom Holland's next Spider-Man movie runs the risk of running into the same villainous issues that Spider-Man 3 and The Amazing Spider-Man 2 dealt with, and as I mentioned earlier, we may be getting more antagonists beyond Electro, Doctor Octopus and Green Goblin. Thomas Haden Church has reportedly been approached about reprising Sandman, and certain teases that have popped up during the production have fans wondering if Mr. Negative or Hobgoblin could pop up. Now, all this isn't to say that I wouldn't be game to see the Sinister Six eventually form in the MCU, but not enough groundwork has been laid yet for their arrival, which brings me to my next point.
Spider-Man: Far From Home Already Set Up A Great Non-Multiversal Story
When Spider-Man: Far From Home concluded, it was pretty clear what the next chapter of Spider-Man's MCU journey would entail. Despite Mysterio being "dead" (plenty of people aren't buying it), the illusionist and his cohorts left a parting gift for Peter Parker: giving The Daily Bugle doctored footage that framed the teen superhero for the Elemental attack in London and Mysterio's death, as well as outed his secret identity to the public. So not only is Peter now persona non grata to many, putting on a mask won't help him keep a low profile anymore.
This is more than enough for Spider-Man 3 to explore, whether Peter Parker is straight up on the run from the law, or he's been cleared of committing murder, but must navigate having to restore the public's trust in him with his secret identity gone. It would also provide a non-multiverse reason for why Doctor Strange is involved in Spider-Man 3, as maybe he could cast a spell that would make everyone forget that Peter Parker is Spider-Man, but it would come with a great cost. Even Charlie Cox's purported involvement in Spider-Man 3 makes sense, because even if we don't see him suit up as Daredevil, Matt Murdock the attorney would be more than qualified to help Peter with his legal troubles.
Obviously the MCU isn't shying away from delving into the multiverse as we embark into Phase 4. That's the whole premise of Doctor Strange in the Multiverse of Madness, and it's possible Disney+'s WandaVision has already pulled in the multiverse through a surprising cameo. But I'm not so sure that Spider-Man 3 is the proper place to get in on this kind of comic book craziness when there's already more than enough story material involving Peter's questionable legal status and outed secret identity to occupy the runtime. Having Green Goblin wreak havoc alongside Electro and Doctor Octopus on top of all that could feel like overkill. On the other hand, what if these three don't have huge roles in Spider-Man 3?
Perhaps This Is All A Tease For Spider-Man 4
Last week, Tom Holland described Spider-Man 3 as "the most ambitious standalone superhero movie ever made," and pulling in characters from past Spider-Man film series would certainly warrant such a qualification. That said, Holland also recently stated that Tobey Maguire and Andrew Garfield will not reprise their iterations of Spider-Man in Spider-Man 3, despite earlier reports claiming otherwise, and both those actors supposedly being sighted in Atlanta, Georgia, where the movie is shooting. It's possible that Marvel is having Holland lie in order to keep his fellow Spidey actors showing up as a surprise, or maybe he hasn't been clued in on them being involved, admitting that he's only been given roughly 70 pages of the script and a rough outline of the finale.
Regardless, just because Spider-Man 3 is including characters from past Spider-Man film series, whether it's only three or somewhere closer to 10, doesn't necessarily mean they'll be involved in the main story. Think about this: what if their appearances in Spider-Man 3 are meant to set up Spider-Man 4? What if all these characters are simply appearing at the end of Spider-Man 3 or in one of the post-credits scenes to set up Spider-Man 4 going full-blown multiverse, rather than Spider-Man 3 being that story?
If that is the case, and Spider-Man 3 will primarily focus on the fallout of Spider-Man: Far From Home and will only briefly touch on the multiverse, then I can get behind including Green Goblin, Electro, Doctor Octopus and so many other characters from the previous Spider-Man film sagas. In this scenario, the groundwork is being laid for an epic multiverse adventure rather than just jumping in blindly. Plus, since Spider-Man 4 would arrive after Doctor Strange in the Multiverse of Madness, moviegoers unfamiliar with the comics would be more in tune with the MCU's alternate realities.
After Marvel and Sony patched things up in 2019 following a brief split over their Spider-Man arrangement, Tom Holland was announced to star in both Spider-Man 3 and a separate Marvel Studios movie. However, what if the two companies have secretly reached a new pact that also gives us Spider-Man 4, which will serve as the action-packed finale to this Peter Parker's story. That's what I'm hoping for, although with Holland hyping up Spider-Man 3 the way he did, perhaps it's not to be. Either way, with Green Goblin now possibly in the mix with Electro and Doctor Octopus, along with potentially more villains appearing and Peter's awkward situation following Spider-Man: Far From Home being exploring, I can only hope that the story is able to chug along at a reasonable pace and doesn't feel overstuffed.
Spider-Man 3 is set to swing into theaters on December 17, although naturally we'll inform you if the threequel ends up being further delayed. Keep track of other MCU stories heading to the big screen with our Marvel movies guide.
Connoisseur of Marvel, DC, Star Wars, John Wick, MonsterVerse and Doctor Who lore. He's aware he looks like Harry Potter and Clark Kent.
Your Daily Blend of Entertainment News
Thank you for signing up to CinemaBlend. You will receive a verification email shortly.
There was a problem. Please refresh the page and try again.