All Of Steve McQueen's Small Axe Movies, Ranked, Including Education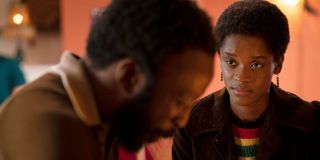 In 2020, Steve McQueen released his anthology series Small Axe. Steve McQueen's Small Axe movies range in runtime, from a little over two hours to just over an hour. The films take place mainly in the '70s and '80s, and depict many obstacles faced by Black people, mainly with origins from the West Indies, living in England. Small Axe's stories are a mixture of fictional tales and those based on true events. Small Axe has five films in the first anthology: Mangrove, Lovers Rock, Red, White, and Blue, Alex Wheatle, and Education.
All five films were released exclusively on Amazon Prime Video, weekly, from November 20 to December 18, 2020. Each one of Steven McQueen's Small Axe movies has a talented cast, powerful stories, and brilliant use of music. They're all important, unique, and moving in their own ways. However, some of the films stand out more than the others, either because of the performances, storytelling techniques, the film's creativity, or just the excellent writing, so I ranked each film based on those criteria and others.
I stress that the Small Axe movies are a collection worth watching in its entirety, but here's how I would rank them as individual films.
5. Alex Wheatle
Alex Wheatle is the fourth film in the Small Axe collection. It's the true-life story of Black British author Alex Wheatle, played in the movie by Sheyi Cole. It starts with him entering prison, and then flashes back to different periods in his life, from an orphanage to playing with his band in the '80s.
Alex Wheatle gives a fascinating account of a man without heritage and home, and how he goes on a journey to find his place, but ultimately realizes that he must find his roots first to find his true identity. Like all of Steve McQueen's Small Axe movies, Alex Wheatle has an amazing cast of relatively unknown talented actors. Alex Wheatle is definitely a drama, but it's the Small Axe movie with the most humor. This film ranks last because it just doesn't feel as compelling as the four others. It's by no means a bad film, but the other films felt more important and relevant in their messages, and some of Alex Wheatle's universal messages are presented better in the other movies.
4. Red, White, and Blue
John Boyega stars in Red, White, and Blue. He plays real-life officer Leroy Logan. He was a founding member of the Black Police Association. Leroy and his family, specifically his father Ken (Steve Toussaint), have a very bad history with the London police force. They constantly harass Leroy's community. He decides to join the police force, as one of the first black members, to try to help his community and solicit change.
It's not an easy journey, as he faces opposition from his family, community, and his own colleagues. Leroy is pushed to his near breaking point by those around him. Boyega gives a very strong performance, as do Toussant and Antonia Thomas, who plays Leroy's wife Gretl. Red, White, and Blue shows the difficulty of trying to be the change but also feeling abandoned and like an outsider in your career and community. Red, White, and Blue is the third film in Small Axe. It ranks fourth only because the ending felt incomplete. It got the message home that Leroy's father understood what he was doing, and that was enough to keep him going, but it felt like it could have had a few more minutes to reach an even stronger finale.
3. Education
Education follows Kingsley Smith (Kenyah Sandy), a young boy who gets sent to a school for children with "special" needs. Once Kingsley arrives at this new school, he learns that it's not like his former school because it lacks structure and a staff that actually cares about helping students learn. At first, his overworked mother Agnes (Sharlene Whyte) goes along with the new school without questioning it. Then Lydia Thomas (Josette Simon) and Hazel (Naomi Ackie) contact her about what's really going on at Kingsley's new school.
Education was one of the most powerful in the collection of Steve McQueen's Small Axe movies, because it's a portrait of how the system can fail children. It's a sobering look at how the educational system of the past (and some still today) discard children with difficulty learning, and how the cycle of miseducation can ruin someone's life. It also recognizes the importance of parents being involved to stop this cycle, and to take more of an interest in their child's learning. Education is the fifth film in the collection and one that drives home its messages the best.
2. Lovers Rock
Lovers Rock follows two people, Franklyn (Michael Ward) and Martha (Amarah-Jae St. Aubyn) as they meet at a reggae house party. The film takes place mainly at the party and shows various events and incidents that happen before and after the party.
Lovers Rock is a film about the vibes it gives its viewers and less about an actual plot. The majority of the film is just people singing and dancing with some conflict thrown into the mix. It's a great example of a film that shows, rather than tells the viewers what it's trying to do. The film is able to show racial conflict, sexual awakening, and emotional turmoil with simple dance sequences, some dialogue, plot, and music. Some of the dance sequences and moments where people just lose themselves singing are goosebump-inducing for how realistic they feel, and how they take you to a moment where you lost yourself in the groove. Lovers Rock is Steve McQueen's most experimental movie in the Small Axe collection. It's also the one that leaves one of the biggest impressions. It's the second film in the Small Axe anthology.
1. Mangrove
Mangrove is the first film in Small Axe. It tells the true story of the Mangrove Nine, nine individuals who were tried for inciting a riot at a protest in 1970. Mangrove is the name of the Caribbean restaurant that becomes a place for Black people to gather, for socializing and organizing. Mangrove starts by introducing viewers to the owner of the Mangrove, Frank Crichlow (Shaun Parkes), then introduces other important characters like Altheia Jones (Letitia Wright), Darcus Howe (Malachi Kirby), and Barbara Beese (Rochenda Sandall).
Mangrove is told in three different acts: the first is meeting the characters, the second is seeing how the London police led by PC Pulley (Sam Spruell) continue to harass these people and the Mangrove, and the final act is the courtroom drama of the Mangrove Nine against the London police, and the justice system in general. Mangrove has the longest runtime of Steve McQueen's Small Axe movies, which allows it to really flush out these characters, set up the conflict of the Mangrove vs the London justice system, and allow an array of strong performances. Shaun Parkes is especially strong as Frank, a man who just wants to run his restaurant but becomes a leader in this movement for true justice and fairness. Of all the five Small Axe films, Mangrove feels the most well-rounded. It has strong performances, a story that keeps you engaged all the way through, and true-life events that enrage but also inspire.
All of Steve McQueen's Small Axe movies are available to stream on Amazon Prime. Stream them here (opens in new tab).
Spent most of my life in various parts of Illinois, including attending college in Evanston. I have been a life long lover of pop culture, especially television, turned that passion into writing about all things entertainment related. When I'm not writing about pop culture, I can be found channeling Gordon Ramsay by kicking people out the kitchen.
Your Daily Blend of Entertainment News
Thank you for signing up to CinemaBlend. You will receive a verification email shortly.
There was a problem. Please refresh the page and try again.