After Feeling Sidelined In Star Wars, John Boyega Just Landed His First Golden Globes Nod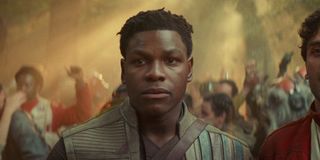 John Boyega has emerged as one of the brightest stars in Hollywood. While the actor made his feature-film debut in 2011's Attack the Block, it was his role as ex-Stormtrooper Finn in the Star Wars sequel trilogy. However, the character was ultimately sidelined in the film series, something Boyega has since opened up about. But the actor has still been putting in work and has now been honored for it, as Boyega has received his first Golden Globes nomination
The Hollywood Foreign Press Association has officially announced its nominations for the 2021 Golden Globes, and John Boyega is among the nominees for Best Supporting Actor - Television, thanks to his performance in Small Axe. The nod is now another notch Boyega can add to his growing belt of award wins and nominations.
Small Axe is an anthology series created, produced, written and directed by Steve McQueen. The series contains five distinct stories that center on West Indian immigrants in London from the 1960s to the 1980s. Boyega starred in Red, White and Blue as Leroy Logan, who joined the London Metropolitan Police in the early '80s and attempted to reform the force from the inside. Logan would eventually go on to found the Black Police Association. Since it's release, Boyega has received rave reviews for his portrayal of Logan, so it's nice to see him get recognized by the Golden Globes.
This nomination arrives after a major year for John Boyega. Finished with his run in the Star Wars franchise, the actor was candid about his experiences with it. In the past year, he's expressed disappointment with how Lucasfilm handled Finn and other minority characters like Oscar Isaac's Poe Dameron and Kelly Marie Tran's Rose Tico. He's also spoken about the racial backlash he faced early on and has given his thoughts on how the studio could have handled it. His decision to open up about these topics even led him to have an "honest" conversation with Lucasfilm's Kathleen Kennedy.
There's also another emotional component to John Boyega's 2020. In the aftermath of George Floyd's death, the actor joined protestors, even giving a passionate speech in which he questioned the future of his career due to his involvement. Following this, Boyega received plenty of support from fans and stars in Hollywood.
John Boyega had been looking to do some different kinds of projects after finishing up with Star Wars, and receiving a Golden Globes nomination for his first high-profile project after must be satisfying.
And when you consider the kind of year he had in 2020, his nomination is even more significant. Hollywood can be a difficult place, especially for people of color, and if someone is to "step out of line," it can have negative effects on their career trajectory. In the grand scheme of things, this awards nod may seem small, but it' a testament to Boyega's determination and his staying power as a true star.
Anyone who's seen Small Axe will tell you John Boyega has a firm chance of winning that Golden Globe. It's clear that he put his heart and soul into the part, and a win would be well deserved. Needless to say, Boyega is only rising after his stint in the galaxy far, far away.
If you haven't seen it already, you can check out Small Axe on Amazon Prime.
Covering superheroes, sci-fi, comedy, and almost anything else in film and TV. I eat more pizza than the Teenage Mutant Ninja Turtles.
Your Daily Blend of Entertainment News
Thank you for signing up to CinemaBlend. You will receive a verification email shortly.
There was a problem. Please refresh the page and try again.