Harry Potter's Daniel Radcliffe Revealed A NSFW Moment That Happened On Set, And It Involves A Monkey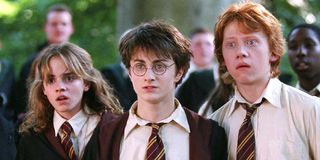 When Daniel Radcliffe signed on to play the eponymous hero in the Harry Potter film series, he probably had at least some idea that he was going to have a wild experience on set. Nothing could have entirely prepared him for all the stunts, special effects and other strange occurrences, though -- especially the NSFW encounter he had with, of all things, a monkey.
As the star of the Harry Potter franchise, Daniel Radcliffe got first-hand experience in what it was like to act alongside a wide variety of scene partners -- from screen legends like Alan Rickman and Ralph Fiennes to CGI sidekicks like Dobby and Buckbeak the hippogriff. Sometimes, being the Chosen One also meant he had to act alongside a menagerie of real life animals, like owls and cats.
Daniel Radcliffe First We Feast that the experience of working with animals could be a bit unpredictable. In fact, he has one vivid memory of an animal co-star that stole the scene in a way that was not exactly kid-movie friendly:
That's awkward -- and it's easy to imagine the reaction from a bunch of kids on set when it happened. All things considered, though, despite the badly behaving monkey, Daniel Radcliffe has mostly fond memories of working with animals on the Harry Potter set:
Someone should maybe follow up with Rupert Grint, a.k.a. Ron Weasley, on that one -- it sounds like it could be an interesting story. These days, the entire Harry Potter cast has been pretty active as the twentieth anniversary of the first film draws nearer. They've staged virtual reunions and reminisced in interviews about what it was like to make the now-iconic film series.
The Harry Potter franchise has changed a lot since Daniel Radcliffe called a wrap as the Boy Who Lived -- with a prequel series (that has even more animals acting up) and a sequel play, the world has expanded considerably. While Daniel Radcliffe has no problem looking back fondly at his memories, it seems like he, for once, isn't game to reprise his role anytime soon. That probably has less to do with traumatic experiences with monkeys and more to do with his overall goals for his career, though.
Your Daily Blend of Entertainment News
Thank you for signing up to CinemaBlend. You will receive a verification email shortly.
There was a problem. Please refresh the page and try again.