Mila Kunis Is Going Dark For A New Netflix Movie With A Handmaid's Tale Director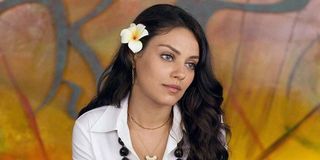 Since first fibbing about her age to get onto That '70s Show, Mila Kunis has had an impressive career in the entertainment industry. She's one of the few actors to successfully transition from TV to a lucrative career on the big screen. Recently, Netflix announced that the Golden-Globe nominated actress will be taking on a darker role for her next project at the streaming giant.
Mila Kunis will be working with The Handmaid's Tale director Mike Barker on an adaptation of Jessica Knoll's 2015 bestseller Luckiest Girl Alive. Netflix also released a synopsis for the film, which you can read below:
From the Netflix announcement, we've learned that Mila Kunis will be playing the role of Ani FaNelli. It sounds like Luckiest Girl Alive will have the actress returning to a more sinister role. She was nominated for a Golden Globe in 2010 for her dark performance in Darren Aronofsky's Black Swan.
The Handmaid's Tale director Mike Barker, who is also an executive producer on the Hulu show, is attached to direct Luckiest Girl Alive. He's helmed a number of episodes for the award-winning series and earned two Emmy nominations in the Outstanding Drama Series category for his work.
Mila Kunis has had an impressive career in the comedy circuit since her breakout role in 2008's Forgetting Sarah Marshall, appearing in Friends with Benefits, Bad Moms and, more recently, The Spy Who Dumped Me, among others.
She's also known for her high profile relationship with That '70s Show co-star Ashton Kutcher. Despite the pair's on-screen chemistry, they were recently featured in a Super Bowl ad after Kunis said she'd never work with her husband again.
I was a huge fan of Black Swan, so I'm excited to see Mila Kunis return to more dramatic territory. Hopefully Luckiest Girl Alive will win her similar accolades, which isn't out of the question considering Netflix's recent domination of the awards circuit. The streaming service has been thriving over the last couple of years as its television and movie offerings have been some of the most watched projects in recent memory.
While Luckiest Girl Alive doesn't have a release date, there are still plenty of films coming out this year to keep audiences entertained. Mila Kunis fans can catch her latest flick, Breaking News In Yuba County, on Amazon. For the rest of this year's movie slate, be sure to check out the latest on everything heading to a big screen near you with CinemaBlend's 2021 Release Schedule.
Your Daily Blend of Entertainment News
Into tracksuits by Paulie Walnuts, the Criterion Channel and Robert Eggers.