Jason Momoa's Aquaman Deemed Most Eco-Friendly DC Hero In Most On-Brand Move Ever (Bet You Can Guess Who's Last Too)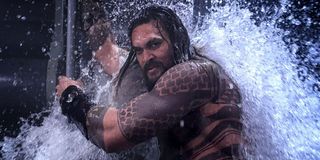 Pretty much every superhero movie is about how part of our world (or universe) is saved from by some hero swooping in and eliminating some immediate threat. But what about the continuous threats our environment takes on every day? It turns out, some of our favorite superheroes are more conscious about protecting our Earth from global warming and other environmental issues destroying our planet. Jason Momoa's Aquaman takes the head spot for DC heroes in most eco-friendly, which is of course very on-brand for the sea-dwelling hero. He's not the only hero fitting his brand on the list, as the last spot makes a ton of sense too.
An energy saving site Save on Energy conducted an in-depth study of 30 super heroes to see which ones are looking out for our environment the best, and the results actually look pretty fair. Aquaman, of course, took the top spot for DC heroes, seeing as the King of Seven Seas has most of the Earth under his protection, over 70% of our world's surface being ocean. Iron Man took spot number 30 and was named the worst superhero for our environment, which also makes sense seeing as he is the son of a nuclear weapons maker, a practice that he continued.
Batman, another wealthy man who uses high tech gadgets to fight crime, takes the lowest spot for DC heroes. It's also worth noting that Batman is the richest man in his city of Gotham, and his city is still super grimey. Maybe if he spent some of that money on eco-conscious efforts, the villains running amok couldn't use all the smog as such a good cover. Know better, do better, Bruce. At least Tony Stark had a budget for environmental efforts and stopped his weapon distribution game after his incident in the desert.
What is interesting, though, is the fact that Spiderman actually beat Aquaman out of the first spot in the whole study and was named most eco/friendly hero. So how did these rankings come to be?
The study first decided which heroes to use by taking into account public discussion, recently released films, and historical fame to conclude the 30 most iconic heroes. Then the study used 5 factors when deciding each hero's initial score: Ethos and background, personal composition, raw damage potential, choice of weapons, and choice of transportation. After calculating their initial score, the study deducted points for each hero's level of personal destruction in recent films.
Spider-Man took the number one spot by beating Aquaman by just one point, which came down to his perfect score on transportation. This can't be based on Marvel's current Spider-Man though, because Tom Holland's Peter Parker is very much like his idol Tony Stark and has made his webs and web shooter by hand, rather than organically coming from his body like his predecessors. Otherwise, Aquaman would have grabbed the overall winning spot as most eco-friendly superhero.
Jason Momoa may deserve the spot as much as Aquaman, as the Game of Thrones actor could probably rank pretty high on the same list himself, even without taking into account his very superhero-esque bod. Momoa is a Hawaiian actor who has championed for indigenous people as well as promoted eco friendly products. He has also made stances in the support of protecting the sanctity of all human life as well as the world around us.
While it's cool to see how the fictitious heroes affect the world around them, it could be even more interesting to see how the actors who portray our favorite heroes affect our own real-life world. Jason Momoa is a great example of how he emulates his on-screen character, but there are other big name actors who do work toward improving our ecosystem. Who knows, Robert Downey Jr. may be able to help out his alter-ego Tony Stark by knocking him up a few spots!
Constantly thinking about books, coffee, and the existential dread I feel from Bo Burnham's Inside. While writing I'm also raising a chaotic toddler, who may or may not have picked up personality traits from watching one too many episodes of Trailer Park Boys.
Your Daily Blend of Entertainment News
Thank you for signing up to CinemaBlend. You will receive a verification email shortly.
There was a problem. Please refresh the page and try again.