The Flash Movie: 6 Things To Know About Iris West And Kiersey Clemons' Version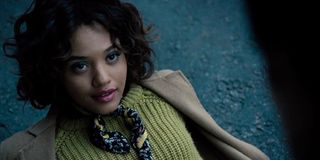 (Image credit: (Warner Bros))
CinemaBlend participates in affiliate programs with various companies. We may earn a commission when you click on or make purchases via links.
Since 2014, Warner Bros has had plans to bring the Scarlet Speedster to the big screen and it's finally coming together at the end of next year with Andy Muschetti's take on the film. The Flash movie will finally flesh out Ezra Miller as Barry Allen following the actor's prior DCEU appearance in Justice League. We're buzzed to see The Flash back in action, but we're especially ready to see the woman beside the hero, Kiersey Clemons' Iris West.
Kiersey Clemons was initially cast as Iris West for Zack Snyder's Justice League, but her role in the DCEU was never shown until HBO Max released the filmmaker's original vision for the official introduction of Ezra Miller's Flash. Recently it was announced that Clemons would reprise her role as Iris West in The Flash, so let's break down what you should know about the DC character.
Iris West Is A Central City Reporter With A Hidden Past
Not unlike Superman's Lois Lane, Iris West is a journalist who is driven by getting the truth, but she does her reporting in the metropolitan area of Central City in Missouri. She works for Central City Picture News, alongside Bruce Wayne's love interest Vicki Vale, though she did intern at the Daily Planet in college.
What's particularly interesting about Iris' job, is what drives her to become a reporter. Iris may have been raised by the West family, but she is actually the daughter of Eric and Fran Russell, who live in the 30th century and brought Iris to the present day to be raised. She doesn't know this, but since Iris correctly suspects she is adopted, it leads to this heightened curiosity.
Iris West Is The Love Of Barry Allen's Life
Just about every iconic superhero has a great love, from Iron Man's Pepper Potts to Spider-Man's Mary-Jane Watson. For The Flash, Iris West is best known for being the love of Barry Allen's life. In the comics, Barry and Iris meet before the strike of lightning that creates his super speed. They cross paths once Barry moves to Central City to become a police scientist and get down to the murder of his mother as a child, which his father has been committed for, which Iris is also reporting on at the same time.
Iris West is the end-all, be-all relationship for the Flash. When she was first introduced in the comics she was already Barry's fiancé and they do get married. For much of the comics Iris is mainly Barry's other half more than anything else.
How Iris West's Time Travel Storyline Connects With The Flash
To run back to Iris' family, the DC Comics do address her parents from the future with an intriguing storyline. The landmark arc has Flash's big rival Reverse-Flash facing off in between Barry and Iris going to a costume party where the couple dress up as Batgirl and Flash. Reverse-Flash crashes the party and tragically murders Iris following her unrequited feelings toward the villain.
Flash ends up getting a chance to join Iris in the 30th century and the pair end up having two kids together, twins named Don and Dawn. Barry and Iris' children become the Tornado Twins. After having an entire drama-filled life in the future that leads to the death of Iris' entire family, Iris returns to the present and she eventually reunites with Barry thanks to all the timelines that Barry can create through time travel and the Speedforce.
Iris West's Nephew Becomes A Famous Speedster In His Own Right
Iris West is important to the world of Flash in another important way because she is the aunt to another speedster, Wally West's Kid Flash. Wally is the third speedster to be given the Flash name in DC comics and has no idea he is related to the girlfriend of Barry Allen until after he is given powers. Wally West becomes a superhero in his own right after visiting Iris at Barry's lab and getting struck by lightning with the same variety of chemicals nearby. Oops!
Wally West becomes Flash's sidekick in the comic books and has been depicted by Love, Simon's Keiynan Lonsdale in CW's Flash series. He's kind of like Batman's Robin, but with additional stakes for Barry because Wally is part of his girl's family.
The CW's Iris West Became Flash's Partner In Crime Fighting
These days, it's tough to talk about the legacy of Iris West without mentioning Candace Patton's portrayal on the CW's The Flash TV series, which is currently in its seventh season. The show changed quite a few things about the character from the comics, but also built on who Iris could be through a modern lens in a really exciting and empowering way. Patton's Iris very much becomes Barry's true love and crime fighting partner, who is often on the inside helping out Flash behind the scenes. Patton has redefined who Iris West is in some important ways.
Why Kiersey Clemons' Epic Iris West Introduction Was Not In 2017's Justice League
Now, back to Kiersey Clemons' Iris West. The Flash character was cut from the original Justice League due to Joss Whedon taking over for Zack Snyder in the middle of production when the filmmaker dealt with a personal tragedy. If you've checked out Snyder's Cut of Justice League on HBO Max, you know that a lot was missing in the 2017 theatrical cut. If you want to see the Snyder Cut, you can sign up for HBO Max using this link (opens in new tab).
Iris West gets an epic introduction in Justice League, but there's certainly a lot more that can be expanded through her role for The Flash movie, coming November 4, 2022. Check out all the upcoming superhero movies and what's next for DC movies here on CinemaBlend until then.
Your Daily Blend of Entertainment News
YA genre tribute. Horror May Queen. Word webslinger. All her writing should be read in Sarah Connor's Terminator 2 voice over.
Your Daily Blend of Entertainment News
Thank you for signing up to CinemaBlend. You will receive a verification email shortly.
There was a problem. Please refresh the page and try again.