Concrete Cowboy: 5 Things To Know About The Fletcher Street Stables After You Watch The Netflix Movie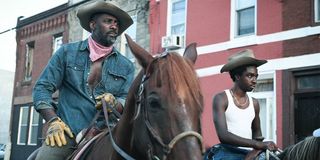 After watching Concrete Cowboy you may be wondering what's the deal with the Fletcher Street Stables and the background on the legacy of people riding horses in Philadelphia. Just like some other Idris Elba movies and TV shows, this aspect of the Netflix original is based on a rich and storied history in the "City of Brotherly Love" and has actually played a vital role in the lives of countless urban cowboys for more than a century now.
If you're wanting to know more about the Fletcher Street Stables, the Fletcher Street Urban Riding Club, and the fascinating history of the African-American cowboys throughout the city of Philadelphia, then you've come to the right place. Here are five things to know about the Fletcher Street Stables, its history, and its future after watching the gripping Concrete Cowboy ending.
The Fletcher Street Stables Have Provided Riders, And Horses A Second Chance For At Least 100 Years
Concrete Cowboy's version of the Fletcher Street Stables provided a safe haven for Cole (Caleb McLaughlin) to get off the streets of Philadelphia and find a better life for himself while also bonding with his estranged father, Harp (Idris Elba). The real-life stables located in the Strawberry Mansion neighborhood of North Philly have been serving a similar purpose for more than 100 years now, helping riders of all ages get a new lease on life while also giving countless horses a second chance, creating an unbreakable bond and long-lasting legacy in the process.
In early 2017, more than four years before Concrete Cowboy made its Netflix debut, The Atlantic published a photo-essay by photographer Ann Sophie Lindstrom that showed the riders and horses in their shared natural environment: abandoned homes, businesses, and empty lots, which had been transformed into stables, corrals, and a sanctuary that at times seemed safe from the world outside their small slice of tranquility, adding:
And, it's not just adults looking for redemption — though that is a large part of the stables. While adults spend their days with the horses, neighborhood kids are also encouraged to help out to stay off the streets and out of trouble.
The Modern History Of The Fletcher Street Urban Riding Club And Stables Begins With Ellis Ferrell In 2004
Although the Fletcher Street Urban Riding Club and Strawberry Mansion-based stables have been a fixture of North Philadelphia for a century, the modern history began in 2004 when Ellis Ferrell founded the organization that would later receive its federal non-profit designation a little more than a decade later. According to the FSURC website, Ferrell, like many urban cowboys in Philadelphia, began riding horses on city streets in the 1940s and has dedicated his life to taking care of horses and people in poverty-stricken areas ever since.
Over the years, Ellis Ferrell opened stables of his own, introducing people of all ages to the life he cares so deeply about and has continued to protect the place he, other urban cowboys, and their horses have called home for decades now. But, even though the Fletcher Street Urban Riding Club has been a non-profit since 2015 and continued to receive support from the community and outside parties, the fight for its survival is far from over.
Many Of The Riders In Concrete Cowboy Are Prominent Fixtures Of The Fletcher Street Stables
One thing we're starting to see more and more in movies is non-celebrities playing themselves, or versions of themselves, in film. It's happened in the Golden Globe-winning drama Nomadland and it happened again with one of the best 2021 Netflix movies, Concrete Cowboy. Instead of hiring extras or actors who would need to be trained to fulfill their roles, director Ricky Staub hired actual Fletcher Street riders to play versions of themselves, incorporating elements of their own personal stories into the people we saw on screen.
Speaking with Time shortly after the release of Concrete Cowboy, Ricky Staub, making his directorial debut with the Netflix movie, explained how Jamil "Mil" Prattis, who played the paraplegic cowboy Paris, channeled his own past for that heartbreaking scene where Cole asks him how he ended up in the chair:
Jamil Prattis, who has maintained horses on Fletcher Street for 15 years now, wasn't the only member of the community to show up in Concrete Cowboy, as Ivannah Mercedes (Cole's love interest), and countless other riders all grew up in similar communities.
Just Like In Concrete Cowboy, Fletcher Street Has Been Threatened By Gentrification In Philadelphia
Throughout Concrete Cowboy, the film's version of Fletcher Street is threatened by the looming threat of gentrification before the stables, corrals, and other properties are vacated, the horses taken into custody of the City of Philadelphia, and all hope seems to be lost. That same threat from the growth experienced by Philly in real life also threatens not only the place where the actual urban cowboys live and work but others like it throughout the city, making Idris Elba's comments about the movie resembling a documentary feel all the more relevant.
Shortly after the release of Concrete Cowboy in April 2021, Harper's Bazaar published a lengthy essay about the Fletcher Street Stables, the Fletcher Street Urban Riding Club, and Black cowboys in the city and how their life was being threatened by developers snatching up the very land beneath their feet. This article (which is worth a full read) details how the club and its members are stepping up to save their small yet close-knit community from growth and racism in the city they love.
Throughout its existence, the FSURC has had its buildings demolished, petting zoos shut down, and horses taken, forcing the members to start over time and time again.
Multiple Urban Cowboy Fundraising Campaigns Have Been Launched Following The Concrete Cowboy Release
Fletcher Street, and the Philadelphia urban cowboy communities have received more attention than ever before following the release of Concrete Cowboy, and now a lot of people are stepping in to help preserve the city's landmark institutions. In April 2021, the Philly Voice published an article breaking down to the two campaigns and what their respective organizers hoped to achieve with them. And, despite the fundraisers focusing on two different areas of the city, both have the same goal: to preserve the legacy and secure the future of Philadelphia's Black cowboy culture.
The first campaign, launched by the Fletcher Street Urban Riding Cub was launched in June 2020, well before the release of Concrete Cowboy, in hopes of securing a permanent home for the horses and riders. By April 2021, the GoFundMe campaign had already surpassed its goal of $100,000 with donations continuing to pour in as people watched the movie. The other campaign, launched by the Philadelphia Urban Riding Academy (in part with Concrete Cowboy's producers), aims to raise money for a downtown Philadelphia facility with a fairly large scale. To date, that GoFundMe campaign has raised $70,000 of its $2 million goal.
It should be noted that the Fletcher Street Urban Riding Club is not involved with the second fundraising effort, which founder Ellis Ferrell stressed in an article in the Philadelphia Inquirer where he said he didn't want people to believe he or his organization were double-dipping.
The Fletcher Street Stables, the Fletcher Street Urban Riding Club, and urban cowboy movement in Philadelphia all have a rich history and legacy, one that will hopefully continue for years to come thanks in part to community support and the success of Concrete Cowboy, which happens to be one of the best movies on Netflix.
Your Daily Blend of Entertainment News
Philip grew up in Louisiana (not New Orleans) before moving to St. Louis after graduating from Louisiana State University-Shreveport. When he's not writing about movies or television, Philip can be found being chased by his three kids, telling his dogs to stop yelling at the mailman, or yelling about professional wrestling to his wife. If the stars properly align, he will talk about For Love Of The Game being the best baseball movie of all time.
Your Daily Blend of Entertainment News
Thank you for signing up to CinemaBlend. You will receive a verification email shortly.
There was a problem. Please refresh the page and try again.