Lin-Manuel Miranda's In The Heights Has Screened, Here's What People Are Saying About The New Film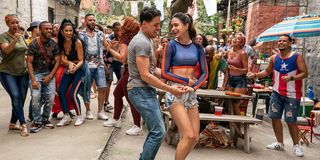 No one can stop Lin-Manuel Miranda. (The man is non-stop... Get it?) First his smash hit Hamilton was filmed with the original Broadway cast and released on Disney+ last summer, and now his hit musical In The Heights (which ran on Broadway for three years, was nominated for thirteen Tony Awards and won four) has been adapted into a feature film! After going through developmental issues, the movie is finally on its way to the big screen.
In The Heights (the movie) stars Anthony Ramos, Melissa Barrera, Corey Hawkins, Leslie Grace and Olga Merediz and is directed by Jon M. Chu. It features music by Lin-Manuel Miranda, who also co-produces. With a screenplay by Quiara Alegría Hudes, the movie stars Ramos as Usnavi, a bodega owner who dreams about a better life and has mixed feelings about closing his store and retiring to the Dominican Republic after inheriting money.
The musical adaptation will release in theaters and on HBO Max on June 11, 2021 (and Anthony Ramos has thoughts on which release option you should choose), and critics have started sharing their thoughts of the film on social media.
Our very own Eric Eisenberg saw In The Heights for the home team, and even though he's not a "musical guy," he really enjoyed it! He gives special credit to Anthony Ramos and commends other aspects of the film, such as the music (no surprise there, as Lin-Manuel Miranda never disappoints), the choreography, and the set pieces. Eisenberg said:
Erik Davis of Fandango also had positive things to say about In The Heights - in fact, extremely positive things to say. He considers the movie among the greatest New York movies ever made and a beautiful celebration of community. He also complimented the music, calling it "spectacular" (again, no surprise there!), saying:
Esther Zuckerman, senior entertainment writer at Thrillist, also has high praise for the movie. She commends director Jon M. Chu for the musical numbers of the film, noting that they are the best she's seen in a movie in years. Zuckerman said:
The positive reactions seem to be a common theme among critics. Film critic Carlos Aguilar, whose credits include the New York Times, The Wrap, Variety, and others, is singing the movie's praises! He hopes that In The Heights will be a game-changer for Latino films in Hollywood, and has such high praise for Olga Merediz as Abuela Claudia that he predicts that she will win awards for her performance. He also applauds Leslie Grace's performance as Nina Rosario, calling her a "star." Aguilar said:
Clayton Davis, Variety film awards editor, also highly praised Merediz and Grace (hmm, I'm sensing a pattern here). He considers Grace a breakout star, and argues that audiences are going to fall in love with Merediz. He also applauds In The Heights for its dynamite production of Latino voices. Davis commented:
Yolanda Machado, whose credits include ELLE magazine, Observer, and Paste, also applauds the representation of Latinx, Black, and POC communities in In The Heights. She also commended Merediz's performance, noting that she couldn't stop weeping (so grab those tissues), and praised Melissa Barrera's performance as Vanessa. Machado said:
The overwhelmingly positive reactions were not present across the board, however, though they certainly represent the majority of critics' reviews. Robert Daniels, whose credits include the New York Times, IndieWire, and The Playlist, simply wasn't a fan of In The Heights, and specifically criticized how it was shot. He said:
Well, most critics seem overwhelmingly happy with In The Heights! It seems almost cruel that we have to wait so long for the movie musical to come out in theaters and on HBO Max on June 11. Paciencia y fe, dear readers.
While we wait for this highly anticipated film to release, you can plan your next trip to the theater or your couch with our 2021 movie release guide.
Your Daily Blend of Entertainment News
Your Daily Blend of Entertainment News
Thank you for signing up to CinemaBlend. You will receive a verification email shortly.
There was a problem. Please refresh the page and try again.