Upcoming Pierce Brosnan Movies: What's Ahead For The James Bond Actor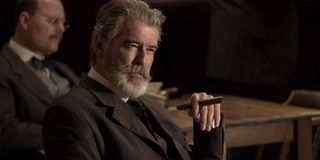 Pierce Brosnan isn't a spring chicken these days, particularly as he's approaching his late 60s. But the hard-working Irish actor isn't slowing down anytime soon. Rather, the former Bond actor keeps himself busy with a number of projects, both small-scale and high-profile, including DC's Black Adam and Hulu's False Positive, to name only a couple. Certainly, Brosnan is a versatile thespian who knows how to play a variety of characters, both dashing and dastardly. Hopefully, we can continue to expect great things from the talented performer.
Here are the upcoming Pierce Brosnan movies that you can look out for — including The Misfits and Cinderella.
The Misfits - June 11th, 2021 (Completed)
While Pierce Brosnan's days as 007 are well behind him, he hasn't left the action genre yet. In the weeks ahead, Brosnan will star in The Misfits, an action-heist thriller that centers around a master architect named Richard Pace (Brosnan) who gets caught up in a major gold heist with global stakes. Along with the former 007 at the forefront, The Misfits stars Hermione Corfield, Jamie Chung, Tim Roth, and Nick Cannon.
Directed by Renny Harlin (Die Hard 2), The Misfits looks like a fun throwback to high-stakes, high-energy action-thrillers of yesteryear. Certainly, with Pierce Brosnan in the spunky lead role, it's easy to see how this newest starring vehicle could be a zippy return to form for the aged action actor. But we'll see how it fares soon enough. Currently, The Misfits is slated to come out on June 11th. In addition to starring in this new film, Brosnan is attached as an executive producer. Will it be one of his last action hurrahs? Here's hoping that Brosnan's star power still lights up the screen.
False Positive - June 25th, 2021 (Completed)
As we get closer to False Positive's June 25th release, we're starting to learn more about the mysterious new horror movie from actress/writer Ilana Glazer and co-writer/director John Lee. Following a production cloaked in mystery, it was recently revealed that this new Hulu title follows a pregnant woman (Glazer) who sets out to discover the unsettling truth about her fertility doctor. While the filmmakers have been guarded about the details, they've made it no secret that it's meant to be a contemporary take on Rosemary's Baby. Considering that we're a little less than two months away from its premiere, we should be hearing a lot about this genre film soon enough. But it should be noted that Pierce Brosnan plays Dr. Hindle, the aforementioned fertility doctor who holds his fair share of secrets.
Produced by A24, False Positive was presumably set to debut in theaters previously, but Hulu acquired it in late 2020. It's now slated to hit the service in the early days of summer, following its first screening at the Tribeca Film Festival.
Cinderella - July 16th, 2021 (Post-Production)
We've gotten more than our fair share of Cinderella adaptations. The classic folk tale has been retold and retold and retold many, many, many times, both on or away from the silver screen. Therefore, one must wonder what writer-director Kay Cannon (Blockers) will do with her musical-rom-com. Produced by James Corden and starring singer-songwriter Camila Cabello in the title role (in her acting debut), we should expect something more irreverent with this retelling, which should hopefully provide a fresh look into this timeless fairytale. According to Deadline, the cast includes Billy Porter, Idina Menzel, Minnie Driver, Missy Elliott, Nicholas Galitizine, John Mulaney, and Corden himself, which is quite an eclectic bunch. Additionally, Pierce Brosnan plays King Rowan. Naturally, the question is, will he sing a tune?
Certainly, as Cinderella (2015) proved, you can take this Disneyfied story and keep it largely the same and make it work. Still, it'll be fun to see what Kay Cannon does with a remake that's a little more lighthearted. We don't have long to wait to see what's in store; Cinderella arrives on July 16th.
Black Adam - July 29th, 2022 (Filming)
Currently, Pierce Brosnan is in the midst of filming Black Adam, the latest DC adaptation in the expanding DC Extended Universe. Produced by and starring Dwayne "The Rock" Johnson in the title-bearing role, the anti-hero blockbuster has been in the works for a long time now, but cameras finally started rolling this past April. The project features a number of familiar faces in supporting roles, including Noah Centineo, Aldis Hodge, Sarah Shahi, and Pierce Brosnan. The latter, more specifically, will play Kent Nelson, i.e. Doctor Fate, who adopts the magical Helmet of Fate in his quest to learn sorcery. With a description like that, we can expect Brosnan to be the primary antagonistic figure.
Once slated to arrive this December, Black Adam was delayed due to the COVID-19 pandemic to its current release date, July 29th, 2022, which will make it one of the hottest blockbusters of the following year. How it will compare to the other DC titles remains to be seen, but it comes from proven director Jaume Collet-Serra, which should hopefully bode well for its prospects.
The King's Daughter - TBA (Completed)
Will The King's Daughter ever come out? The long-delayed, mermaid-filled action-adventure fantasy film, based on the 1997 novel, The Moon and the Sun, by Vonda N. McIntyre, wrapped production all the way back in 2014, and it has been sitting on the shelf ever since, waiting to make a splash. The reasons for the delay tend to vary from finishing the visual effects to switching hands from Paramount Pictures to Arclight Films, among other unreported reasons. Even though the project is finished, there is no clear idea when the movie is expected to screen in theaters worldwide. And it's not looking likely that it's very good. But here's what we do know: along with Pierce Brosnan playing King Louis XIV, i.e. the titular king, The King's Daughter is slated to star Kaya Scodelario, William Hurt, Benjamin Walker, Rachel Griffiths, Fan Bingbing, and Pablo Schreiber.
Last year, the producers behind The King's Daughter released an intriguingly odd teaser trailer in the midst of an acquisition. Whether good or bad, it should be an interesting little odyssey.
Riverdance - TBA (Completed)
Likewise, it's not yet known when Riverdance, a CG-animated family fantasy movie, is expected to make its grand cinematic entrance, but the feature is reportedly now completed and it should be ready to go in the months ahead. Featuring the voice talents of Brendan Gleeson, Pierce Brosnan, Jermaine Fowler, Lilly Singh, John Kavanagh, and Pauline McLynn, this tale will follow an Irish boy named Keegan (Sam Hardy) and a Spanish girl named Moya as they journey into a mystical world of the Megaloceros Giganteus, who teach these children to appreciate Riverdance as a celebration of life. Well, that's certainly ... one idea for a family film. Hopefully, this dance-heavy animated adventure proves to be a bright, toe-tapping delight.
It was only last month that Riverdance was reportedly completed, which means that we should be seeing it hopping into theaters sooner as opposed to later. Featuring original music from Grammy-winning Bill Whelan, Riverdance could prove to be an unconventional charmer. Certainly, the movie's first official teaser promises a cheeky little celebration of life, music, and, of course, dancing.
Youth - TBA (Pre-Production)
Set in an alternative future where a groundbreaking procedure known as Renewal, an expensive operation that allows people to rewind their biological clock back to their prime, becomes the hottest commodity on the planet, Youth certainly has an intriguing high-concept — even if it sounds a bit like In Time from (gosh) a decade ago. Nevertheless, this original sci-fi project from writer/director Brett Marty, based on his 2016 short film of the same name, could be an interesting new look at our youth-obsessed culture and the extreme lengths that people will go in order to seek physical perfection.
At the center of Youth is Pierce Brosnan as Joel, a well-respected ad-tech engineer who wants to retire at age 70 following a lengthy career. Fearing his absence, his company offers to pay for this procedure for Joel and his wife, Alice. While Alice returns to her 20s, Joel discovers that he's aging rapidly, with his last few years becoming mere weeks, as Deadline reports. The movie remains in the early stages of development, but we'll keep you posted.
Not Bloody Likely - TBA (Pre-Production)
A period romantic comedy centered around the 1914 West End production of George Bernard Shaw's Pygmalion, which would later be adapted into the Oscar-winning musical My Fair Lady, and the lengths that the esteemed playwright would go to cast Mrs. Pat Campbell in the lead role, Not Bloody Likely is the latest film from writer-director Joel Hopkins (Hampstead) and it'll see Pierce Brosnan and Helena Bonham Carter taking on the roles of Shaw and Campbell, as the story explores Shaw's grandiose attempt to refuel the long-lost love he once shared with his (fair) leading lady. Certainly, with its mix of theatricality and endearing romance, Not Bloody Likely could prove to be an entertaining hit for its reliable stars, but the project remains in the early stages of development.
As Deadline reported, production is expected to start later this spring, though it's unclear if that's still the plan. The screenplay was enthusiastically praised for its balance of comedy, drama, and warm-hearted emotion. Here's hoping it proves to be another smash hit for its talented lead performers.
The Last Rifleman - TBA (Announced)
Admittedly, it's unclear if The Last Rifleman is still happening at this stage of the game. Last year, it was announced that Pierce Brosnan signed on to play Artie Crawford, a recently-widowed WWII veteran living in a care home in Northern Ireland who decides to escape his confines and embark on a journey to France to pay his final respects on the 75th anniversary of the D-Day landings. As Deadline reported, Louis Gossett Jr. and Jurgen Prochnow were also signed on to play supporting roles, and it was expected to enter production in February under Terry Loane's helm. That date came and passed, however, and it's now unclear when The Last Rifleman is expected to start shooting — assuming it's still happening.
Written by Kevin Fitzpatrick, the project sounds promising, particularly if it showcases Pierce Brosnan's sometimes-undervalued dramatic talents. If done well, The Last Rifleman could be a very lovely, bittersweet leading man project for the veteran actor. We'll have to wait to see if there are any new developments on this stalled production, though.
This poll is no longer available.
Will is an entertainment writer based in Pittsburgh, PA. His writing can also be found in The Playlist, Cut Print Film, We Got This Covered, The Young Folks, Slate and other outlets. He also co-hosts the weekly film/TV podcast Cinemaholics with Jon Negroni and he likes to think he's a professional Garfield enthusiast.
Your Daily Blend of Entertainment News
Thank you for signing up to CinemaBlend. You will receive a verification email shortly.
There was a problem. Please refresh the page and try again.