Adam Sandler Hilariously Addresses Viral Video Of Him Leaving IHOP After Being Told There Was A Wait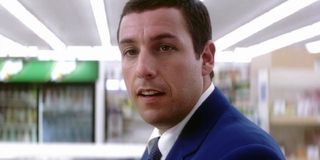 Social media certainly has a way of bringing even the smallest celebrity interactions to light. And recently Adam Sandler blew upon TikTok because a user posted a video saying she denied the Happy Gilmore actor some pancakes. The IHOP host and part time TikToker, didn't recognize the iconic comedian due to his face mask, and told him there would be a lengthy wait for a table. The actor/comedian responded by leaving, like many others might do if faced with an unexpected wait. Now, after the interaction has gone viral, Sandler has responded in a hilarious, very on brand way.
While it would have been awesome to see Adam Sandler address the now famous IHOP interaction on TIkTok with a video, he, like most middle aged men, doesn't have that form of social media. Thankfully he does have a Twitter, and he posted his response to the "nice woman" at IHOP there. You can check out his response in the simple Tweet below:
Ah, so it wasn't the 30 minute wait that drew the line for Adam Sandler, rather than the lack of milkshakes in the all-you-can-eat deal. Is it just me, or does it seem like no one told Sandler that he literally has a networth of millions? I think you can afford an extra milkshake or two, Adam - or hell, live a little and buy the whole IHOP next time.
Of course, Adam Sandler is seemingly just not like that. In fact, just the simple truth that he wanted to take his family to IHOP for a humble breakfast is enough to tell you the man is one of simple tastes and pleasures. It's also worth noting that, if you haven't seen the video of him leaving the restaurant, that he does so with no fuss and with no request of special treatment.
Adam Sandler has some wild fans, but they seem to recognize that no one was trying to say that Adam Sandler was some big headed (metaphorically) celebrity who expected to jump ahead in line just because of his fame. In fact, people seem to be praising him for living a seemingly normal life when he's not on a film set.
While fans don't seem to think Adam Sandler needed to explain himself, the public is likely glad he did. Fans are in the comments of his post quoting their favorite Sandler film. We've got a few "Will somebody get this kid a happy meal?!" lines from the classic Big Daddy and even more references to his more recent (but still classic) Grown Ups where his on screen daughter yells "I wanna get chocolate wasted!"
I'm honestly standing behind anything that gets some classic Adam Sandler jokes resurfaced, and it's great to see that Sandler still very much has his sense of humor. After his tasteful and humorous response, I'm sure that host is kicking herself even more now for not recognizing she was in the presence of some genuine greatness.
Your Daily Blend of Entertainment News
Constantly thinking about books, coffee, and the existential dread I feel from Bo Burnham's Inside. While writing I'm also raising a chaotic toddler, who may or may not have picked up personality traits from watching one too many episodes of Trailer Park Boys.
Your Daily Blend of Entertainment News
Thank you for signing up to CinemaBlend. You will receive a verification email shortly.
There was a problem. Please refresh the page and try again.