Take Out Girl Director And Star Speak Out Against Categorizing Anyone As 'Other'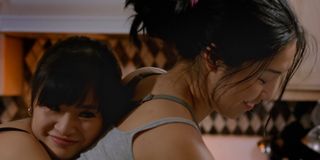 The past couple of years have been a trying time in America, to say the least. One of the amazing things film and art provide is an escape from reality, but they also provide hope for the future. The director and star of Take Out Girl have spoken out against categorizing people as 'other' and how their film encourages unity.
Take Out Girl has a diverse cast and an emotional story that promotes the message that people have a lot more in common than they think. I spoke with director Hisonni Johnson and star Hedy Wong (they also co-wrote the film together) for an interview with CinemaBlend, and they had thoughts about focusing on differences and labeling people or groups as 'other.' Here's what Hedy Wong said:
Hedy Wong told me Take Out Girl is very important for the Asian American community because it displays a different type of Asian character than is typically seen in television and film. While this representation was important to her, it stemmed from a place of highlighting various types of people from her community while also sending the message that anyone who is not Asian American can still relate to the story.
Take Out Girl director Hisonni Johnson is very passionate about focusing on the similarities between diverse groups of people rather than their differences. He wants everyone to enter any interaction with a basic level of respect and emulates that in his art. Here is what he shared about his specific vision for this film:
There are certainly some surprise connections made in Take Out Girl; it has a twist you won't see coming (at least, I didn't and was not ready!). You can see Take Out Girl today as it's now available on VOD and Digital.
Obsessed with Hamilton and most things Disney. Gets too attached to TV show characters. Loves a good thriller, but will only tolerate so much blood.
Your Daily Blend of Entertainment News
Thank you for signing up to CinemaBlend. You will receive a verification email shortly.
There was a problem. Please refresh the page and try again.