Sing 2: Release Date, Cast And Other Quick Things We Know About The Musical Sequel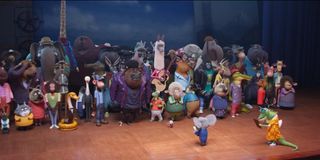 In December 2016, Illumination Entertainment continued its momentous run at the box office with the arrival of the animated jukebox musical comedy Sing. With a star-studded cast that included the likes of Matthew McConaughy, Scarlett Johansson, Reese Witherspoon, Taron Egerton, and dozens of other famous actors and singers, a great story, and excellent execution, the movie became a quick hit with fans of all shapes, sizes, and species. And, just like other Illumination projects, like the Despicable Me franchise for example, Sing will soon have a sequel of its own.
As it stands there's a lot we know about the upcoming animated sequel from the Sing 2 release date, its expansive cast including new additions Bono, Bobby Cannavale, Pharrell Williams, and Latitia Wright, and much, much more. So, while we look toward the arrival of the anticipated musical comedy, let's break down everything we know about Sing 2 before it's released in theaters…
The Sing 2 Release Date Is Set For December 22, 2021
If you are looking for a way to get away from the extended family this holiday season, Sing 2 will make for a perfect escape. Set to be released in theaters December 22, 2021, the latest from Illumination film will land in theaters just days before Christmas, in what should be a very busy final month of the 2021 calendar. Prior to its current release date, Sing 2 was slated to open in theaters on December 25, 2020, and July 2, 2021, but both dates were pushed back due to the ongoing pandemic.
The Sing 2 Cast Includes Returning Stars Matthew McConaughey, Reese Witherspoon, Taron Egerton And Scarlett Johansson
When the jukebox musical animated comedy lands in theaters at the end of 2021, the Sing 2 cast will feature most of the major players from the first entry as the furry bunch embarks on a new adventure on an even bigger stage. Returning are Matthew McConaughey as Buster Moon, Reese Witherspoon as Rosita, Scarlett Johansson as Ash, Taron Egerton as Johnny, Nick Kroll as Gunter, Tori Kelly as Meena, and Garth Jennings (who also directs) as Miss Crawly.
Bono Leads The List Of Sing 2 Newcomers Which Also Includes Bobby Cannavale, Letitia Wright, And Pharrell Williams
If the returning members of the Sing cast wasn't enough, the upcoming sequel will also see the arrival of some of music's biggest names from yesterday and today with major additions. The most notable of those additions is Bono, the lead singer of iconic Irish rock outfit U2, who will take on the role of Clay Calloway, a lion rock legend at the center of movie's narrative. Also joining the cast are pop music stars Pharrell Williams as Alfonso and Halsey as Porsche Crystal.
The music stars aren't the only additions to the Sing 2 cast as Emmy winner Bobby Cannavale will appear as the mogul wolf Jimmy Crystal, Letitia Wright as feline dancer Vivace, Eric Andre as Elwood, and Chelsea Peretti as Dixie.
Sing 2 Follows Buster Moon As He Searches For A Reclusive Rock Star For His New Show In Glamorous Redshore City
When we pick back up with the New Moon Theater gang, they have their eyes set on the glitz, glamour, and crowds of the Crystal Tower Theater in Redshore City. With no connections in the new city, Buster Moon sneaks into the offices of Crystal Entertainment to make a pitch with its ruthless owner: Jimmy Crystal (Bobby Cannavale), and he tries to convince him that he can get the reclusive former rock star Clay Calloway (Bono) out of self-imposed isolation. What follows is a journey in search of redemption both for Buster and Clay, who has lost his confidence following the death of his wife a decade earlier.
Garth Jennings Is Returning To Write And Direct Sing 2
When Sing 2 comes out in December 2021, it will feature the clever writing the direction of filmmaker Garth Jennings, who was responsible for the animated musical's 2016 predecessor, which, according to Box Office Mojo, brought it $634 million worldwide. When Universal and Illumination announced the arrival of Sing 2, it was made clear Jennings would be bringing back his signature style to the latest feature film from both parties.
In addition to the Sing franchise, Garth Jennings' credits include 2008's Son of Rambow, which he wrote and directed, and 2005's The Hitchhiker's Guide to the Galaxy, in which he appeared and directed. Jennings' other acting credits outside of Sing (he voices Miss Crawly) include Shaun of the Dead, Hot Fuzz, The World's End, Fantastic Mr. Fox, and The Secret Life of Pets 2.
Like Other Illumination Productions, Work On Sing 2 Continued Remotely Throughout The Pandemic
While live-action films were put on hold throughout the various stages of the pandemic, the animation world, albeit still affected, was able to continue working on various productions with animators working remotely from around the world. Just like another upcoming Illumination production, Minions 2: The Rise of Gru, this was the case for Sing 2, which continued with its production even as artists and executives worked from home. According to a May 2020 report from Deadline, those at Illumination didn't miss a beat, due to the structure already in place, which had teams based in Santa Monica and Illumination Mac Guff in Paris prior to the worldwide shutdowns.
Like it's Predecessor, Sing 2 Will Combine Classic Rock And Pop In Numerous Musical Performances
And, just like the first entry in the franchise, Sing 2 will include a combination of dozens of classic rock and pop songs from yesterday and today. While neither Illumination nor Universal have announced a list of songs that will be featured in the upcoming jukebox musical animated comedy film, its 2016 predecessor's soundtrack included renditions of everything from Leonard Cohen's "Hallelujah" to Queen and David Bowie's "Under Pressure," and Taylor Swift's "Shake it Off" to Stevie Wonder and Ariana Grande's "Faith." Expect to hear more about the music of Sing 2 in the coming months.
There is still a decent amount of time before Sing 2 lands in theaters, so make sure to check back for more updates on the upcoming Illumination animated film and all the other 2021 movies coming to theaters and streaming services near you.
Philip grew up in Louisiana (not New Orleans) before moving to St. Louis after graduating from Louisiana State University-Shreveport. When he's not writing about movies or television, Philip can be found being chased by his three kids, telling his dogs to stop yelling at the mailman, or yelling about professional wrestling to his wife. If the stars properly align, he will talk about For Love Of The Game being the best baseball movie of all time.
Your Daily Blend of Entertainment News
Thank you for signing up to CinemaBlend. You will receive a verification email shortly.
There was a problem. Please refresh the page and try again.