Even Ryan Reynolds Can Pause A Feud For Long Enough To Admit When His 'Pal' Hugh Jackman Has Chops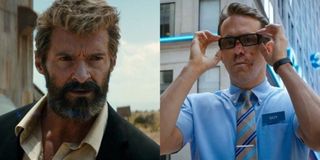 It's fair to say that Ryan Reynolds and Hugh Jackman have one of the most hilarious celebrity relationships in all of Hollywood. If you'd ask fans, they'd say the two have a bromance but, if you ask either of them, both might say they're frenemies. Their "feud" has led to some seriously hilarious moments in the past. Still, the two do have their occasional ceasefires, which can lead to some pretty nice moments. Just recently, Reynolds actually had to wave the white flag, so to speak, to give his "pal" Jackman some chops on a social media post.
Hugh Jackman is currently in the process of prepping for his return to Broadway, as he'll soon be headlining The Music Man. As you'd expect, the role will come with plenty of singing and dancing and, in a recent Instagram post, Jackman showed off how he's mastering the latter. His moves were quite impressive, especially considering that Ryan Reynolds couldn't even deny them. The actor responded to the clip with a genuinely sweet post on his Instagram stories. Check it out down below:
There's absolutely truth to the phrase "game recognizes game," and it's always nice to see friends (or frenemies, in this case) supporting each other. And of course, you can't help but appreciate Hugh Jackman's commitment to his craft. Check out the Greatest Showman alum's killer tap dancing skills in his post:
The tit for tat nature of Hugh Jackman and Ryan Reynolds' feud is like clockwork at this point. For instance, Jackman could be celebrating the anniversary of Logan's release, and Reynolds will be at the ready with a witty photo and remark. Or Reynolds could be paying tribute to his mom on Mother's Day and be met with a hilarious, backhanded compliment from Jackman. And don't even get them started when it comes to awards season.
Nevertheless, as with this situation, it's always nice when the two find common ground, especially when it benefits a good cause, like encouraging people to wear masks amid the COVID-19 pandemic. Recently, Hugh Jackman also showed major support for Ryan Reynolds after he spoke out on his longtime struggles with anxiety. And despite their comedic squabbles, the two stars also do hang out together when they're able to.
The humorously sweet nature of Hugh Jackman and Ryan Reynolds' relationship is enough to make one wish they'd teamed up for another superhero film after 2009's X-Men Origins: Wolverine. The chances of their two X-Men characters appearing alongside each other again are likely slim, but that doesn't mean they couldn't join forces for an entirely different kind of movie.
Until the two do star alongside each other in a movie again, fans are sure to be fine with settling for their A+ social media banter. Meanwhile, some may also be readying themselves for Hugh Jackman's return to the stage. Ryan Reynolds appears more than ready to see the show but, hopefully, he won't be shooting spitballs or making jokes while his friend performs.
Covering superheroes, sci-fi, comedy, and almost anything else in film and TV. I eat more pizza than the Teenage Mutant Ninja Turtles.
Your Daily Blend of Entertainment News
Thank you for signing up to CinemaBlend. You will receive a verification email shortly.
There was a problem. Please refresh the page and try again.