Hugh Jackman And Ryan Reynolds' Feud Has Gained Momentum Thanks To Awards Season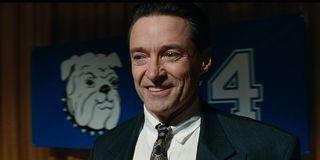 Will Hugh Jackman and Ryan Reynolds ever let bygones be bygones? It's unlikely. The two have been trading barbs for years now, and while that seemed to have subsided somewhat, the advent of awards season has sparked new momentum for the fabled feud.
Hugh Jackman just got the good news that he's scored an Emmy nomination for Outstanding Lead Actor in a Limited Series or Movie for his work playing Dr. Frank Tassone in the HBO movie Bad Education. In response, Ryan Reynolds posted a video congratulating Hugh Jackman in the most Ryan Reynolds' way possible. So, while speaking with ET, Hugh Jackman joked back:
They're just having too much fun, aren't they? The back and forth doesn't really stop there, either. Hugh Jackman also responded to Ryan Reynolds' short video on social media. Check it out:
I'm not sure if calling Ryan Reynolds' green was supposed to be about envy, a Green Lantern joke or both. Either way, well played. I think they've nigh-perfected the faux celebrity feud.
Of course, over the years, Hugh Jackman and Ryan Reynolds' feud has ebbed and flowed. Sometimes the two would even bury the hatchet and call a truce. Though, as we all now know, they can't help themselves and have dived right back into the fight.
While things had settled down for a bit in the last few months, just this month, Hugh Jackman poked fun at Ryan Reynold's upcoming movie Free Guy. He used his Laughing Man Coffee social media handle to show a picture of Hugh Jackman wearing a mask, which was superimposed over Ryan Reynold's character in the movie.
It's not all bad, though. In fact, the two actors have used the feud to help good causes. Due to current events, Ryan Reynolds' harnessed his feud with Hugh Jackman while simultaneously donating $1 million to Feeding America and Food Banks Canada. Ryan Reynolds also made a faux attack ad against Hugh Jackman's Laughing Man Coffee, but it was really just to announce that Reynolds would donate 30% of the profits to bartenders in need.
Supposedly, the feud between the Wolverine and Deadpool actors started when Ryan Reynolds married Scarlett Johansson; Hugh Jackman teased him about being on his best behavior. Even though Reynolds' and Johansson divorced in 2011, the feud's roots must have sunk in too deep. Now, there's little end in sight for their clash, but considering how funny it is, maybe that's not a bad thing.
Your Daily Blend of Entertainment News
Thank you for signing up to CinemaBlend. You will receive a verification email shortly.
There was a problem. Please refresh the page and try again.