Boss Baby: Family Business Voice Cast: Where You've Seen The Family Business Actors Before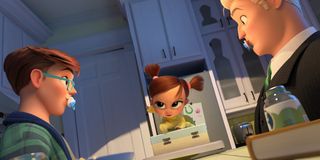 When The Boss Baby released back in 2017, the animated comedy ended up becoming a hit for DreamWorks, even spawning an original Netflix TV show, The Boss Baby: Back in Business. Afterward, it was only a matter of time before a sequel inevitably came along. Now, nearly four years after the first movie arrived, The Boss Baby: Family Business, has made its official release into theaters, and streaming on Peacock.
With a star-studded cast featuring amazing actors such as Alec Baldwin and Lisa Kudrow, there's no doubt in my mind that you have heard or seen them before. If you're curious, here is where you've seen Boss Baby 2's actors and actresses before – because trust me, you have.
Alec Baldwin (Ted Templeton Jr.)
I believe all of us fell in love with Ted Templeton Jr. in the original The Boss Baby film, so it was only a matter of time that he would be brought back to being a baby in its sequel. Alec Baldwin returns to the role in The Boss Baby: Family Business.
Alec Baldwin has done plenty in the film industry – including several voice roles prior to The Boss Baby: Family Business. These include such hits as The Spongebob Squarepants Movie, Madagascar 2, Rise of the Guardians, and more. If you've seen him in live-action, you might recognize him from his award-winning guest appearances on Saturday Night Live as former President Donald Trump. Or, you might have seen him in some amazing movies, such as The Aviator, The Departed, BlacKkKlansman, and so many others. His earlier movie roles include Beetlejuice, Working Girl and Glengarry Glen Ross
Or, if you're thinking TV is where you've seen him, Alec Baldwin has done plenty besides Saturday Night Live. Back in the 1980s, he had a main role on the soap opera, Knots Landing. However, one of his major roles on television was starring as Jack Donaghy on the classic comedy 30 Rock. Truly, a staple of this generation, and someone everyone needs to see at least once on TV or film.
James Marsden (Tim Templeton)
While The Boss Baby had Tobey Maguire voicing adult Tim Templeton, James Marsden stepped up to the plate for its sequel, The Boss Baby: Family Business.
James Marsden is yet another big star on this list, having appeared in so many films from your past and beyond. Marsden has shown off his singing chops in films like the musical Hairspray, and the Disney film, Enchanted – for which he will be appearing in its sequel soon, Disenchanted. However, music is not the only talent Marsden succeeds in. From his role as Cyclops in the X-Men movies to comedic roles in films like Anchorman 2: The Legend Continues and Zoolander, Marsden has been all over the board.
James Marsden has also done a couple of romantic comedies/drama's as well, like the classic The Notebook, and the comedy 27 Dresses. Honestly, adding voice-acting to this already long list of talents doesn't surprise me.
Amy Sedaris (Tina Templeton)
A new addition in The Boss Baby: Family Business is Tina Templeton, the undercover executive at BabyCorp just like her uncle was, and the youngest daughter of the now-adult Tim. Portrayed by Amy Sedaris, Tina is just as serious about business as her uncle.
Amy Sedaris has done her fair share of voice work, including performances in Chicken Little and Shrek the Third. In Disney's live-action remake of The Lion King, Amy Sedaris did the voice-work for Guinea Fowl. However, she's also had a lot of live-action appearances as well, including the cult horror film, Jennifer's Body, the comedy Old Dogs, and an appearance in the Jon Favreau film, Chef.
Sedaris has appeared in several television shows – almost too many guest roles to mention. However, some of her highlights include a main role in The Heart, She Holler as Hurshe Heartshe, a minor recurring role in The Mandalorian, and in the Netflix series, BoJack Horseman as Princess Carolyn. And many are likely to know her best from her starring role in Strangers With Candy.
Ariana Greenblatt (Tabitha Templeton)
Ariana Greenblatt is the youngest out of everyone on this cast list, but this young actress has done a lot of work that you might recognize her from. Tabitha Templeton in The Boss Baby: Family Business is the eldest of Tim's daughters, portrayed by Greenblatt.
Ariana Greenblatt, again, may be young, but she has done so much. Recently, she had a small role in the Lin-Manual Miranda musical In The Heights as young Nina, as well as portraying Minnow in Love and Monsters, and Julia in the Disney+ original, The One and Only Ivan. Prior to that, Ariana Greenblatt was actually young Gamora in Avengers: Infinity War, the little girl that held the hand of Thanos.
Greenblatt's biggest role so far was playing Daphne Diaz in the comedy series, Stuck in the Middle. However, with how far this actress has come at such a young age, I wouldn't be surprised if we started to see her a lot more often soon.
Eva Longoria (Carol Templeton)
Back to the bigger stars of this cast list, we look at Eva Longoria's Carol Templeton in The Boss Baby: Family Business, the wife of Tim and the mother to Tina and Tabitha.
Eva Longoria has been around in the business for a long time, appearing in several television shows and films. Her biggest roles where you might have seen her was portraying Gabrielle Solis on the hit drama series, Desperate Housewives, as well as portraying Isabella Brana on the long-running soap opera, The Young and the Restless. Besides that, she also starred in her own comedy television series, titled Telenovela, based on the TV genre of the same name. If you're thinking you've seen her in films, you wouldn't be far off, because Longoria has done plenty of film work.
From the political action film Sentinel to the comedy Over Her Dead Body, to drama film Frontera, Eva Longoria has truly been all over the map. While she's done voice-work before in guest roles on TV, like in BoJack Horseman and The Simpsons, The Boss Baby: Family Business is her first major voice role in film since Arthur Christmas, and she rocked it as usual.
Jimmy Kimmel (Ted Templeton Sr.)
I feel like if you don't know who Jimmy Kimmel is, you're living under a rock. Returning from The Boss Baby is Ted Templeton Sr., popping up in The Boss Baby: Family Business. Jimmy Kimmel himself has been seen everywhere, but we can start off with some of his biggest hits.
Besides having several cameos in films (honestly, way too many to put down here), Jimmy Kimmel has hosted his own late-night talk show for several years now, simply titled Jimmy Kimmel! Live! Prior to that, however, Jimmy Kimmel co-hosted the Comedy Central series, The Man Show, did many voices in Crank Yankers, and appeared on the MTV show, The Andy Milonakis Show, showing off his comedy skills. If you haven't seen any of his sketches yet, you should definitely check it out.
Lisa Kudrow (Janice Templeton)
Janice Templeton returned in The Boss Baby: Family Business, alongside its original voice actress, Lisa Kudrow. This comedic actress starred in one of the most iconic comedies of all time in my opinion, Friends, playing Phoebe Buffay – and, prior to that role, she played Phoebe's twin-sister, Ursula, in Mad About You, a character that was brought over to Friends later on. However, even before and after Friends ended, Lisa Kudrow has been extremely busy in the film world.
Kudrow starred in the cult comedy Romy and Michele's High School Reunion, and in the romantic comedy, The Opposite of Sex. Later on down her life, she had appearances in such big comedy hits like Easy A, led by Emma Stone, P.S. I Love You, both Neighbors films, the coming-of-age film Booksmart, and so many others.
Lisa Kudrow has also been active in the television world after Friends ended, producing, writing and starring in her own HBO comedy series titled The Comeback, as well as the Showtime series, Web Therapy. She reunited with her castmates of Friends in Friends: The Reunion in 2021, but I wouldn't be surprised if you saw her in plenty of other projects soon. There's no stopping this iconic actress.
Jeff Goldblum (Dr. Erwin Armstrong)
The last on our list, but certainly not the least. Jeff Goldblum plays Dr. Erwin Armstrong, a rival of BabyCorp, and I can't think of a better actor to do it than the man himself. Jeff Goldblum, in my opinion, was a 1990s legend. While Jeff Goldblum did plenty of amazing work prior to that, such as his breakout roles in Invasion of the Body Snatchers, The Big Chill, and The Fly, I always remember him for his roles as Dr. Ian Malcolm in the Jurassic Park movies and as David Levinson in Independence Day, two iconic roles he would go on to play again in both series' sequels.
However, Jeff Goldblum has done plenty more besides that. He's done voice roles before, including the Wes Anderson movie Isle of Dogs and the animated film The Prince of Egypt. Besides that, he's been in plenty of other films, like The Grand Budapest Hotel, Cats & Dogs, and as the Grandmaster in Thor: Ragnarök, and will be in its upcoming sequel, Thor: Love and Thunder.
Jeff Goldblum has also had some experience in the television world as well. He portrayed Detective Zack Nichols for two seasons in Law & Order: Criminal Intent, and even had his own show recently on Disney+, titled The World According to Jeff Goldblum, which already has a second season on the way, according to Deadline. To me, he's always been one of the most iconic actors ever, so a film like The Boss Baby: Family Business is just another great addition to his already amazing resume. And if you haven't seen some of his most iconic films, please do so now.
With all these 2021 movies, it's no surprise that there are some truly star-studded casts out there just like The Boss Baby: Family Business. There's no doubt that this film is full of talent – and now, you have an idea of where you might have seen them before. Now, if you'll excuse me, I'm going to go watch Friends for the millionth time.
Your Daily Blend of Entertainment News
Big nerd and lover of Game of Thrones/A Song of Ice and Fire. Will forever hate season eight. Superhero and horror geek. And please don't debate me on The Last of Us 2, it was amazing!