Where You've Seen The Falcon And The Winter Soldier Cast Before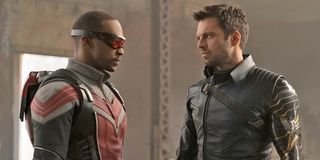 Marvel has been upping their game lately with some of these shows that have been coming out on Disney+. They started out 2021 freaking strong with WandaVision, becoming one of, if not the most popular show on the platform at the time. Now, however, The Falcon and the Winter Soldier has smashed the records on Disney+, becoming one of the most viewed premiers so far.
It's clear that the fans are here for this awesome continuation of these great characters, but because of Sam Wilson and Bucky Barnes, there are several other characters to explore – which means there are plenty of other actors that have been around in Hollywood for some time now. While Sebastian Stan and Anthony Mackie have made appearances in some of our favorites movies and TV shows, other costars like Emily VanCamp, Don Cheadle, and many others have popped up here and there just as much. This is where you've most likely seen The Falcon and the Winter Soldier actors.
Anthony Mackie (Sam Wilson)
Anthony Mackie has been around in the business for a while. Fun fact: he even attended the legendary art school, Juilliard, in New York City prior to becoming a famous actor, so he's not short of awesome talent. His first ever film that he appeared in was the Eminem classic, 8 Mile, playing Papa Doc, followed by some other big hits.
Mackie also had a supporting role in the Oscar-winning film The Hurt Locker, and starred opposite fellow Marvel actor Frank Grillo in the 2019 Netflix thriller Point Blank. Anthony Mackie has always stepped into television a bit recently. He had a starring role in the HBO film, All the Way, talking about the years of Lyndon B. Johnson's presidency. Mackie has also had guest roles on a Black Mirror episode, "Striking Vipers" (yes, that episode), and a starring role in the second season of Altered Carbon on Netflix. It's refreshing to see him get another lead role in The Falcon and the Winter Soldier, and I can't wait to see how much more we learn about Sam Wilson.
Sebastian Stan (Bucky Barnes)
Bucky Barnes has been around since the first Captain America movie, so it was about time he was actually given some real lines and a nice storyline to go along with it in The Falcon and the Winter Soldier. Sebastian Stan, who has portrayed Bucky since the beginning, has been in plenty of other films and TV that you most likely saw. For example, he portrayed the Mad Hatter for some time on the hit TV show, Once Upon a Time, and had a supporting role in Gossip Girl.
In terms of film, Stan has had several appearances. He's played main roles in plenty of movies as of recently, such as the Oscar-nominated film, I, Tonya, where he starred alongside Margot Robbie, The Martian – another Oscar-nominated movie – and Black Swan, yet another Oscar-nominated movie. Seems like Sebastian Stan really knows how to pick 'em.
Other than that, he's appeared in other films like the supernatural thriller The Covenant, the comedy Hot Tub Time Machine, and several others. It seems like no matter what, you'll be seeing Stan showing off his acting chops in all kinds of genres.
Emily VanCamp (Sharon Carter)
Okay, let's not talk about the strange romance that she had with Captain America in Captain America: Civil War. Other than that, Sharon Carter is a badass agent of S.H.I.E.L.D. and deserves all the praise in the world. Emily VanCamp, the actress behind Sharon Carter, is considered a queen of TV to me.
Why do I say that? Because she has been in so many television shows that are absolute hits. Currently, Emily VanCamp has the main role in the thriller, The Resident, a medical drama that follows the story of a doctor that is secretly a psychopath. Emily VanCamp has also had main roles in Everwood, another medical drama, Revenge, a classic and pure vengeance tale, and Brothers & Sisters, a drama that focuses on the problems a family faces when their patriarch passes away. Truly, she has been around for some time and deserves so much more praise. Hopefully, with The Falcon and the Winter Soldier, she can bring a little bit more personality to the otherwise unexplored Sharon Carter.
Don Cheadle (James "Rhodey" Rhodes)
While his role is smaller in The Falcon and the Winter Soldier, Don Cheadle still shines as James "Rhodey" Rhodes, the former best friend of Iron Man himself, Tony Stark. Don Cheadle, like Anthony Mackie, has been in the business for some time, with one of his first famous films being the hit heist movie, Ocean's Eleven.
This would be a role he would go on to reprise in both sequels, Ocean's Twelve and Ocean's Thirteen. Cheadle also had a main role in the Oscar-winning movie, Crash, where he played a detective who was investigating recent murders that were based on racial tensions. In terms of TV, Don Cheadle also had a main role in House of Lies, a comedy series that follows the story of management consultants who will stop at nothing to somehow get business deals done.
Wyatt Russell (John Walker)
Yeah, I don't want to talk about that new Captain America in The Falcon and the Winter Soldier either, but we gotta because Wyatt Russell is the man behind that reveal. His character, John Walker, is a high-ranking member of the military and has been chosen to become the new Captain America – but Steve in my heart will always hold that place, sorry not sorry.
Besides that, the actor behind him, Wyatt Russell, has appeared in a couple of projects you might recognize. One main hit was the sci-fi action movie, Cowboys & Aliens, about what you would probably expect it to be – cowboys vs a group of aliens. Russell also had a role in 22 Jump Street, the sequel to 21 Jump Street. He played Zook, the friend and later roommate of Channing Tatum's character, Jenko. And you may also know him from 2018's Overlord.
On the small screen, you may have seen Wyatt Russell before is in the Black Mirror episode, "Playtest," where his character experiences the advancements (and dangers) of reality technology. Don't know how well he'll be as the New Captain America but we can only wait and see.
Erin Kellyman (Karli Morgenthau)
While her character has been flying a little bit under the radar, Erin Kellyman's version of Karli Morgenthau, the leader of the anti-patriotism group the "Flag-Smashers" is already proving to be a big threat, considering the group, in Episode 1, is causing some hysteria nice and quickly.
The actress herself hasn't been in many things that have gone mainstream, but among her growing list of credits, there have been some great roles. She recently played Eponine on a British TV miniseries version of the classic story, Les Miserables. Erin Kellyman also had a part in the British drama, Raised by Wolves, and had a minor role in one of the more recent Star Wars spinoffs, Solo: A Star Wars Story as Enfys Nest, the leader of the group of pirates called the "Cloud Riders." Hopefully stepping into The Falcon and the Winter Soldier will get this young actress some better footing in mainstream TV and movies.
Danny Ramirez (Joaquin Torres)
I know it's only been a couple of episodes, but I love Joaquin Torres so much. He seems like he's the type of guy who has that golden-retriever energy and just wants to help out as much as he can despite not technically being a superhero. I can't wait to see where his character goes as The Falcon and the Winter Soldier progresses.
However, the actor behind this new character is none other than Danny Ramirez, a relative newcomer to Hollywood. While he hasn't had any super big roles, Ramirez has appeared in multiple shows as guest spots and supporting characters. He's been on the Netflix dramedy, Orange is the New Black, as well as had a recurring role on The Gifted, which is actually a superhero show. Danny Ramirez also had a small part in another Netflix show, On My Block, a coming-of-age story about four friends navigating the gritty streets of the inner city of South Central Los Angeles. However this is his first main role, so I'm excited to see where he goes.
Georges St-Pierre (Georges Batroc)
Georges St-Pierre is likely better known for his work as a mixed martial artist than for his acting to date – though he does have some credits to his name, including his portrayal of George Batroc, a mercenary and leader of a criminal group under the name of LAF. While Georges St-Pierre may not have much on the acting side just yet, you may have seen him fight once or twice – maybe several in the UFC.
St-Pierre was a two-division champion in the Ultimate Fighting Championship and has won titles in both the welterweight and the middleweight divisions, so there's no holding back this awesome mixed martial artist. It was only a matter of time before he had decided to come over to Marvel to show off his amazing talent. However, you might have seen this character, Georges Batroc, before in Captain America: The Winter Soldier, as he is reprising the role in The Falcon and the Winter Soldier. You'll most certainly see this man kicking butt.
Adepero Oduye (Sarah Wilson)
One of the things I'm really enjoying about The Falcon and the Winter Soldier is the inclusion of Sam's family, and that includes Sarah Wilson, Sam's sister. I always wondered what it was like to have a superhero as a sibling and if it really affected people's lives. It's refreshing to see a different take in a series that's otherwise going to be about two superheroes, you know?
Adepero Oduye is portraying Sarah Wilson, and so far, she's done a great job of showing just how much stress has been put onto her family since the blip and everything else. Oduye has made plenty of appearances in movies that you most likely have seen before, but here are just a few for example – she portrayed Eliza in the Best Picture-winning 12 Years A Slave back in 2013, had a role in the Oscar-nominated The Big Short, played a part in the action film Geostorm, and even stepped into the world of heist films by portraying Breechelle in Widows.
She's surely going to rock it as a Wilson with that list of different genres. I'm super pumped.
Daniel Bruhl (Helmut Zemo)
You might recognize this name from Captain America: Civil War, and that's because you are right – that is the same Zemo from the third Captain America movie that is making a return in The Falcon and the Winter Soldier. Not much is known about his role in the upcoming episodes, but if it's as dangerous as his role in Captain America: Civil War, you'll find yourself worried about the friendships between supers. This man is an expert at tearing the Avengers apart.
Daniel Bruhl, the actor behind Helmut Zemo, has had a couple of memorable roles that you might have seen him in. He portrayed Fredrick Zoller in the Quentin Tarantino film, Inglourious Basterds, and Niki Lauda in the film, Rush. Some of his more recent roles have been playing Lutz Heck in The Zookeepers Wife and Ernst Schmidt in The Cloverfield Paradox, the third film in the Cloverfield franchise.
I'm sort of lowkey terrified that Zemo will find a way to somehow split up Bucky and Sam after Captain America: Civil War, so I'm on the edge of my seat waiting for him to show up.
With all these actors, The Falcon and the Winter Soldier is looking to be an utter showcase of some of the best in Hollywood. I can't wait to see what their characters do – and the brilliance behind each actor who plays them. It gets me even more excited for the upcoming Marvel movies and upcoming Marvel TV shows. I can feel the nerd-ness overtaking me.