Ryan Reynolds Has A Cheeky Response After Deadpool Made His MCU Debut With Korg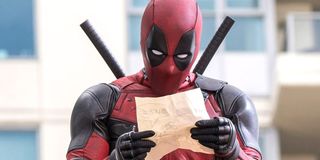 For anybody who worried that Disney would change Deadpool into something completely different from what we've come to know and love when he made his transition to the MCU, well, those fears can probably be set aside. In a recent trailer review of the movie Free Guy with none other than Marvel fan-favorite character Korg, we saw that Deadpool would retain the classic humor that made his first two movies so popular. Interestingly, the man behind the mask, Ryan Reynolds, had a cheeky response after Deadpool made his MCU debut with Korg.
In a series of recent Instagram posts, Ryan Reynolds showed that he's going to be just as silly beneath the mask as he is while wearing it. He's come a long way from being the silent Merc with the Mouth in X-Men: Origins: Wolverine to the man he is today. He's even taken the opportunity to remain in character and deliver his trademark humor in a recent Stories post about thinking of stealing another Deadpool suit.
Again, in classic Deadpool fashion, Ryan Reynolds (Or is it Deadpool?) decides that he's going to sidestep the rules and steal another suit anyway. Because a Deadpool's gonna do what a Deadpool's gonna do.
I especially like how Ryan Reynolds is essentially acting with only his eyes and mouth in these posts. In the first picture, we see that Ryan Reynolds looks to actually be considering whether he's going to be a model citizen and try to set a good example for all the little boys and girls at home. Then, in the second picture, he gives a puckish smirk that seeming shows "nah, forget that noise." And then, in the final post, he notes how all of this has been fun.
I'm really glad that Ryan Reynolds is continuing to show his commitment to the character with these posts. You know, there was a time when a lot of fans were worried that the MCU was going to sanitize Deadpool or that he wouldn't fit into the MCU given his foul-mouthed tendencies. We now know that Deadpool 3 will be R-rated, just like the other two films in the series. It was also brilliant to pair Deadpool off with Korg, who is voiced by Thor: Ragnarok and Thor: Love and Thunder director Taika Waititi. They have great chemistry together.
I also wonder if there will be more trailer reviews with other MCU characters in the future? This might be an interesting way to gauge which characters would work around Deadpool. (I would love to see him pair up with Wolverine again in some shape, form, or fashion, whoever that Wolverine turns out to be.) It would also help me to gauge which ones he would not fit with. (For some reason, I don't really see Deadpool and Dr. Strange having great chemistry together; I don't know why.)
We still don't have a release date for Deadpool 3, or even know if Deadpool will appear in any other MCU films at this point. That said, if Deadpool keeps popping up in videos like this one, or if Ryan Reynolds keeps posting on Instagram, then maybe the wait won't feel so long.
Rich is a Jersey boy, through and through. He graduated from Rutgers University (Go, R.U.!), and thinks the Garden State is the best state in the country. That said, he'll take Chicago Deep Dish pizza over a New York slice any day of the week. Don't hate. When he's not watching his two kids, he's usually working on a novel, watching vintage movies, or reading some obscure book.
Your Daily Blend of Entertainment News
Thank you for signing up to CinemaBlend. You will receive a verification email shortly.
There was a problem. Please refresh the page and try again.