Fear Street: What To Watch If You Like The Netflix Movies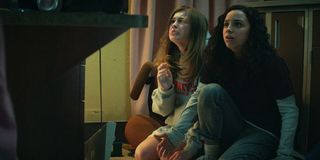 Sometimes, all we want is to be scared. And that is exactly what the Fear Street movies on Netflix have been doing for us since they dropped. Fear Street Part One: 1994, Fear Street Part Two: 1978, and Fear Street Part Three: 1666 have created a great horror trilogy that has captured the minds of viewers, and given us heart attacks at the same time.
However, there are plenty of other films out there to watch if you're going through withdrawal after watching the last installment of the horror trilogy. From classics like The Nightmare on Elm Street to newer successes like Goosebumps, these are some of the best movies out there for you to watch if you like the Fear Street movies.
Scary Stories To Tell In The Dark (2019) (Showtime)
As a 90s/00's kid, I grew up reading this book, and the movie did not disappoint. In Scary Stories to Tell in the Dark, a group of teenagers discovers a haunted book in an abandoned mansion, and after they decide to take it, it creates a world of horrible horror stories, sucking them in, with every story becoming all too real.
As someone who was terrified of this novel as a child, they really do a fantastic job bringing it to the big screen. The classic stories are told wonderfully, with the costuming on point, and I feel that it's the perfect way to bring one of our most beloved childhood novels (as twisted as it is) to the big screen. For fans of Fear Street, this is definitely a pick for you with the story of teens surviving some scary situations.
Stream Scary Stories to Tell in the Dark on Showtime.
IT (2017) (HBO Max)
How can you not love It? In this 2017 adaptation of the classic Stephen King novel, we follow a group of young teenage misfits who band together when mysterious disappearances of children start to happen around their town, leading them to face off against a monster that has them on its dinner menu.
When I watch Fear Street, I get heavy influences from It. A part of me just loves seeing teenagers band together to take down evil things. It's like the perfect horror movie in my eyes. It itself is such a great story too, and with two parts, one of when they were younger and when the group of older and adults, there's so much to enjoy. It's a classic for a reason. Ah, killer clowns. Gotta love them.
Stream IT on HBO Max. (opens in new tab)
Rent IT on Amazon. (opens in new tab)
Friday The 13th (1980) (Starz)
Part two of Fear Street is reminiscent of this film, taking place at a sketchy camp. Friday the 13th is the origin story of the classic horror icon, Jason. In this film, a killer is stalking and murdering teenagers preparing to reopen Camp Crystal Lake, creating a dangerous mystery that could get anyone killed.
This is one of the greats of the horror movie golden age back in the 70s and 80s. The music is amazing, the story intense and fun, and the reveal at the end is worth the wait. Fear Street Part Two: 1978 in my opinion was clearly heavily influenced by films like this, so if you enjoyed the second part, this is definitely up your alley.
Stream Friday the 13th on Starz. (opens in new tab)
Rent Friday the 13th on Amazon. (opens in new tab)
Midsommar (2019) (Amazon Prime)
After watching the Fear Street saga, something that stood out to me was how well it really fit into many modern horror films, with several moments that were just disturbing and others that were plain scary. That's what I think of when I look at Midsommar, one of Ari Aster's horror films. In Midsommar, we follow a girl who has just recently gone through a horrible tragedy, who travels to Sweden for a cultural festival there, but it takes a dark turn.
Let me just say, you need to go into this film completely blind. That's what I did and it remains as one of my favorite horror films, maybe even one of the best horror movies ever. Florence Pugh is absolutely amazing in her role alongside her castmates, and the story is just bizarre. I love Ari Aster's other horror film, Hereditary, as well, but Midsommar has a special place in my heart for just how twisted it is. Watch it. You won't regret it.
Stream Or Rent Midsommar on Amazon Prime. (opens in new tab)
The Witch (2015) (Showtime)
For fans of the third part, Fear Street: 1666, this is the one for you. In The Witch, a family back in the 1930s is torn apart by the evils of witchcraft, black magic, and possession, creating a horrible circumstance for them and bringing out the dark sides of each other.
This sounds quite familiar, doesn't it? It's not a surprise that both of these films are set back in the 1600s, considering many people were persecuted for supposedly practicing witchcraft. But if the third part of Fear Street was your favorite, The Witch is one to remember. Anya Taylor-Joy gives a fantastic performance, and the story is eerie and unsettling – the perfect mood for some black magic sorcery.
Rent The Witch on Amazon. (opens in new tab)
Scream (1996) (HBO Max)
Honestly, a lot of Fear Street Part One: 1994 could be considered a homage to this horror film by Wes Craven in my opinion. In Scream, Sidney Prescott is terrorized by a new killer a year after her mother died, when she and her friends begin to experience some strange phone calls.
In Fear Street, there are so many easter eggs that are related to this classic slasher film. Scream was an iconic horror movie for a reason – even the opening scene of Fear Street Part One: 1994 is pretty similar to the opening scene of Scream with that first phone call. I mean, how can you like horror and never have seen the origin story of Ghostface? If you haven't watched Scream yet for some reason, do yourself a favor and head on over to HBO Max.
Stream Scream on HBO Max. (opens in new tab)
Rent Scream on Amazon. (opens in new tab)
The Craft (1996) (HBO Max)
Another amazing witch film, The Craft is the perfect combination of Fear Street Part One: 1994 and Fear Street Part Three: 1666. In The Craft, we follow four teenage girls, outcasts at high school in Los Angeles who decide to pursue the art of witchcraft for their own gain – and of course, experience some bad repercussions.
For those who like the setting of Fear Street: 1994 but enjoy the sorcery aspect of Fear Street: 1666, this is your film. It has all of the '90s culture that you can expect, with teenagers taking over the school, but with the influence of magical powers. There's even going to be a remake soon. As someone who loves witch movies, this is definitely one of my favorites and will be for you too if you decide to watch it.
Stream The Craft on HBO Max. (opens in new tab)
Rent The Craft on Amazon. (opens in new tab)
Jennifer's Body (2009) (Hulu)
Oh, Jennifer's Body. Now, this is a great example of a modern horror film that shook boundaries up. In Jennifer's Body, we follow the titular character, Jennifer, and her best friend Needy, after Jennifer is possessed by a demon after she and her friend attend a concert at a bar that goes up in flames.
There's so much to this film that makes it a cult classic. The chemistry between Megan Fox and Amanda Seyfried is great, and the story itself is a ton of fun. For fans of the Fear Street series, this is a perfect fit for you because not only does it keep the story in high school – as all the great horror films do – it uses the paranormal aspect as well that is often used in Fear Street. Plus, the dark comedy in this is top tier. You'll be jumping in your seat one second and then rolling on the floor laughing the next.
Stream Jennifer's Body on Hulu. (opens in new tab)
Rent Jennifer's Body on Amazon. (opens in new tab)
A Nightmare On Elm Street (1984) (HBO Max)
I mean, come on, it's almost the same title.
Jokes aside, A Nightmare on Elm Street gave birth to one of the most classic movie icons of all time – Freddy Krueger. This 1980s film tells the story of four teenagers who live on one street, Elm Street, whose dreams are invaded by an evil murderer, and they are killed within them – therefore, killing them in real life.
Just the premise sounds terrifying. Everyone needs to sleep, so there's no way around this villain unless you find a way to outsmart him. It's a brilliant masterclass film in horror, about how suspense should be done, gore should be handled, and how scary a true villain can be. To me, Freddy Krueger will remain as one of the scariest horror movie villains of all time. For fans of Fear Street, this film is perfect for you, with plenty of scares that will remind you of the Netflix trilogy.
Stream A Nightmare on Elm Street on HBO Max. (opens in new tab)
Rent A Nightmare on Elm Street on Amazon. (opens in new tab)
Goosebumps (2015) (Amazon Rental)
While not as scary as the Fear Street trilogy, Goosebumps is written by the same man that wrote the Fear Street series, R.L. Stine. In Goosebumps, a teenager teams up with the daughter of a famous author – R.L. Stine in the film – once the writer's imaginary demons are released upon their town, creating chaos.
Goosebumps itself is a classic horror franchise for kids who grew up in the '90s and '00s. I can't even recall how many of those books I read. But the film does the series justice and pays homage to some of the classic monsters from the series, like Slappy the Dummy and or the Werewolf of Fever Swamp. Plus, Jack Black is amazing as R.L. Stine. He really brings a surprising amount of comedy to the young adult horror writer. Considering it's by the same author of Fear Street, you're going to like this movie, even if it's not as terrifying as its counterpart.
Rent Goosebumps on Amazon. (opens in new tab)
To me, these are some of the best movies on Amazon Prime or the best movies on Netflix. There are so many amazing options – it gets me excited for any upcoming horror movies that are releasing soon. Halloween Kills, anyone? Regardless, the Fear Street trilogy was a great addition to the horror movie world, and I can only wonder what the next great horror film will be. In the meantime, check out some of these – they'll be worth your time.
Big nerd and lover of Game of Thrones/A Song of Ice and Fire. Will forever hate season eight. Superhero and horror geek. And please don't debate me on The Last of Us 2, it was amazing!
Your Daily Blend of Entertainment News
Thank you for signing up to CinemaBlend. You will receive a verification email shortly.
There was a problem. Please refresh the page and try again.