Scarlett Johansson Humorously Calls Out Mark Ruffalo For Not Getting Group Avengers Tattoo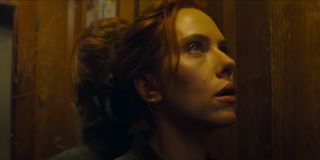 The Marvel family is a pretty tight-knit group. They almost have to be considering the amount of movies, televisions shows and other projects they've all participated in over the years. The original team of heroes, which consisted of Scarlett Johansson (Black Widow), Robert Downey Jr. (Iron Man), Chris Evans (Captain America), Chris Hemsworth (Thor), Jeremy Renner (Hawkeye), and Mark Ruffalo (the Incredible Hulk), have been working together since the release of the first Avengers movie almost ten years ago. To commemorate their life-changing experience, the first Avengers decided to get matching Marvel-themed tattoos - well, all of them except for one.
Scarlett Johansson appeared on Late Night with Seth Meyers to promote the release of her new film Black Widow, as well as spill some tea. She revealed that when the original Avengers each got a matching tattoo, Mark Ruffalo decided to pass. As Johansson explained:
Scarlett Johansson doesn't actually seem mad at Mark Ruffalo, so it's probably safe to assume the ribbing is all in good fun. Although one has to wonder why he was so reluctant to get inked in the first place. It's hard to imagine not feeling left out when the rest of your friends get matching tats, but Mark Rufflao could be immune to FOMO. That in and of itself would be a superpower. The actor has said he's afraid of needles, but we know the real reason. And that reason, of course, is that any tattoos would get super stretched out when he transforms into the giant green Hulk.
The Avengers crew isn't the first cast to get matching ink. Arguably the most notable example is the Lord of the Rings cast. After filming wrapped on The Return of the King, the original Fellowship members (Elijah Wood, Sean Astin, Billy Boyd, Dominic Monaghan, Viggo Mortensen, Sean Bean, and Ian McKellen) each got the word 'nine' in Elvish. Ironically, there was also one member of the Fellowship who opted out: John Rhys-Davies, who played Gimli. However, the cast invited Brett Beattie, who acted as Gimli's stunt double and stand-in, to get in on the tattoo action.
Whether or not Mark Ruffalo got the Avengers tattoo, it doesn't change the fact that he and Scarlett Johansson are major parts of one the biggest franchises in the world. The original Avengers film was released in 2012, and now Black Widow will mark the eighth time Scarlett Johansson has portrayed the Russian superspy. Black Widow is out in theaters and on Disney+ Premier Access now, so catch it on both the big and small screens.
Your Daily Blend of Entertainment News
Actor, singer, and occasional dancer. Likes: fashion, books, old buildings. Dislikes: cilantro, the NJ Turnpike, sneaker wedges.